Tracer L.E.D. Fairing Lower Grills
Chaparral Motorsports
|
January 28, 2020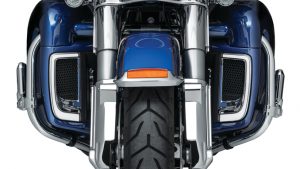 New Kuryakyn® Tracer L.E.D. Fairing Lower Grills feature an intense "racetrack-style" diffused lighting effect that completely transforms Harley-Davidson® fairing lowers.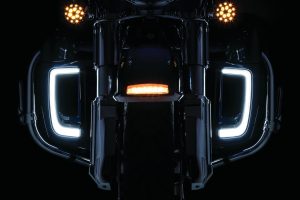 Available for all 2014-newer H-D twin-cooled models with fairing lowers, Tracer L.E.D. Fairing Lower Grills provide powerful full-time white running lights with additional amber switchback turn signals to significantly enhance rider visibility. The advanced diffused lighting technology combines high-output L.E.D.'s and specially designed lenses that absorb and distribute light over a greater viewing angle, eliminating shadow effects for crisp, concentrated and uniform illumination.
Housings are made from durable and lightweight injection-molded ABS offered in chrome or satin black, with both finish options featuring opaque polycarbonate smoked lenses and honeycomb-styled steel grills. These direct "snap-in" replacements for the OEM radiator grill panels also feature easy plug-&-play wiring through existing harnesses in the fairing for hassle-free installation.
Additional Kuryakyn Tracer lighting products are currently in development with expected release dates slated for early Spring 2020.
Source: Motorsports Aftermarket Group press release