Top Five Takeaways From Supercross A2 2020
Chaparral Motorsports
|
January 22, 2020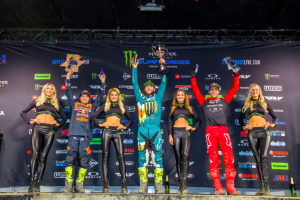 A mix of highlights, lowlights, or just random observations this is some of what we saw, or what we thought we saw at this past weekend's Supercross race.
Tomac is Back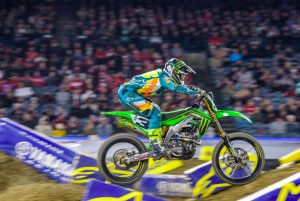 Eli Tomac and his Kawasaki KX 450 were on a tear Saturday night and proved once again that when everything is going good is the fastest guy on the track. He took an early lead in his heat race by passing reigning champion, Cooper Webb, on the first lap like it was nothing and never looked back the rest of the race. In fact, Tomac put down the fastest lap of the night, (51.620) on the opening lap and took the heat race win with a 9+ second lead.
When the gate dropped for the main Tomac made quick work of his mid pack start and by lap three was in 5th place looking to get around Jason Anderson and then blazed Webb again on lap five to take over the second spot behind Ken Roczen. From there it only took Tomac about three laps to chase down Roczen and take over the lead. The next 17 laps would be the first time ET3 had led a main all season and would also mark his first podium of the season. He now sits third overall in points, trailing Roczen by only five points.
Days and Days
If you (like me) forget how long it really had been since Ken Roczen had won a SX450 main, it was solidified with his butt patch on Saturday night. Nearly three years just doesn't seem to have the same effect as 1,092 days. Or better yet 94,348,800 seconds, or 1,572,480 minutes, or 26,208 hours. He now has the point led in the series; I just hope he keeps it.
Reed's Last Go 'Round
There's no denying that Chad Reed is one of the crowd favorites, and although he has seen a few podiums in the past couple years he hasn't won a main since 2015. With this being his last year before retiring from racing the crowd and just about everyone else would love to see Speedy Reedy at the top of the podium one final time, but that's going to be tough to do if he has to keep qualifying for the main event by going through the LCQ. He's had to go through the LCQ to make the main at all three races so far this season. And while that does give fans more opportunity to watch him race and root for him, it's a tiring, taxing, and tough route to go both mentally and physically.
It's not going to be tough because of his age, although that does play a bit of a factor. It's going to be tough because it's rarely been done. Sure Tomac did it last year at round 14 in Nashville, but it hadn't been for about six years since Dungey did it in 2013 at round five back when there were three rounds at Anaheim. So yeah it can be done but it will be exhausting.
Ferrandis Gets More Than the Win
Dylan Ferrandis got plenty of boos on Saturday night; unfortunately it wasn't the champagne type. Ferrandis screwed up. He heard it from the crowd when he was interviewed on the podium after winning the 250 main, you could barely hear anything that was said over the chorus of boos coming from the stands. He heard it from the AMA in the form of 12-month probation. And he's continuing to hear it from the fans on his and his wife's social media channels. I understand that people are upset about the way he was racing and yes he could have seriously injured Christian Craig. Riders make poor decisions sometimes, whether intentionally or unintentionally. We all make poor decisions at times.
In the heat of a race sometimes riders just get caught up and don't think things through or what type of outcomes their actions may have. It's understandable. We are talking about split second decisions in continually evolving, fast-paced scenarios. However, the amount of hate and vitriol people have been spewing at Ferrandis and his wife is just sad. Memes and jokes are to be expected but when people just barrage him and his wife with hatred or telling them to go back to their country is just pathetic. This type of stuff isn't just isolated to Ferrandis and what happened Saturday night, it happens all the time all across social media. The unfortunate part is this won't be the last time fans gang up and harass a rider.
The bright side to all this, is that the two people who were ACTUALLY affected by Ferrandis' riding on Saturday night have shown more class, maturity, and respect than the people who had absolutely nothing to do with it and were NOT personally affected at all.
Jett Lawrence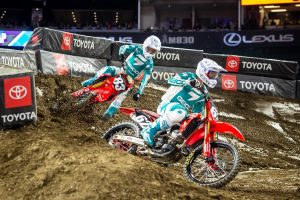 Jett Lawrence was definitely the hero of the night. That kid had the crowd so fired up. I was screaming and yelling at my TV. It's very unfortunate how things played out for him at the end of the race but he put on one hell of a show. He definitely earned a lot of respect and thousands of new fans after that awesome main event ride. The way he was on the cusp of disaster at nearly every obstacle after he went down towards the end of the race was insane. Once Ferrandis caught him and he did his best to fight him off I thought Lawrence was going to pull it together for 2nd but unfortunately that wasn't the case. At only 16 he's proven he can hang with some of the best 250 riders out there.
He's got some time to heal up from his broken clavicle and will come back more determined than ever. In time he'll get better at how to handle mounting pressure and we'll see him winning races and hopefully championships soon.