Can-Am Wins Third Consecutive Dakar Rally With World-Dominating Performance From Maverick X3 Pilot Casey Currie
Chaparral Motorsports
|
January 17, 2020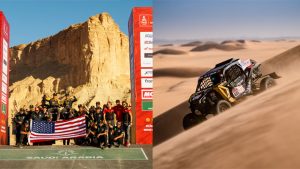 It's settled. Casey Currie is an American Legend. Never in the 41-year history of the world-renowned Dakar Rally has an American come out on top. Americans have won races all over the world on the road, track, dirt, water, snow...but never Dakar, the World's Toughest Race. Until Now. Currie, an SSV class racer, accomplished the feat the same day as fellow countryman and two-wheeled racer Ricky Brabec, becoming one of the first Americans to win Dakar.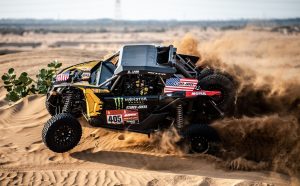 Currie (California) and his co-driver, Sean Berriman (Nevada), reached the pinnacle of achievement as part of Team Monster Energy Can-Am during the grueling 7,500 km, 12-day race through the Saudi Arabian desert. As it is every year, the 2020 Dakar Rally was a true test of man and machine, and Currie and Can-Am proved up the daunting task.
And while it's the first victory for an American racer, the win marks the third-consecutive for Can-Am Off-Road Vehicles in the side-by-side vehicle (SSV) category, firmly cementing the Can-Am Maverick X3 as the performance vehicle of choice.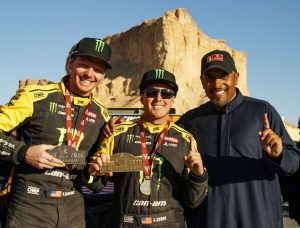 "Winning the 2020 Dakar Rally is a dream come true and took a lot of hard work," said Currie. "There is no other race on the planet like Dakar, because it's as demanding emotionally as it is physically. I'm thrilled to be one of the first Americans to win. And I'm stoked for our team, Can-Am, my co-pilot Sean Berriman, our families and everyone who helped make this dream of winning Dakar a reality. The Can-Am Maverick X3 again showed why it's the best platform for serious racing and desert adventures, outlasting all that Saudi Arabia and the competition threw at it."
Currie, who earned the 2019 Rookie of Dakar award, was a model of consistency, earning four daily stage podiums and never once finishing outside the top seven amongst the daily finishers in the first 11 stages. The American, who cruised to a comfortable finish on the final race day, always kept the focus on the ultimate prize. He found himself ranked within the top two spots in the general standings for the first six stages and in the top spot the remainder of the 12-stage race.
The complete lineup of Can-Am Off-Road Vehicles is designed from the rider down to enhance the rider experience, from racing or ripping around dunes on the weekend, to trail riding or pushing limits while working land or hunting.
Source:Bombardier Recreational Products Inc. press release