Top Five Takeaways From Supercross A1 2020
Chaparral Motorsports
|
January 7, 2020
A mix of highlights, lowlights, or just random observations this is some of what we saw, or what we thought we saw at this past weekend's Supercross race.
Barcia! Barcia! Bacria!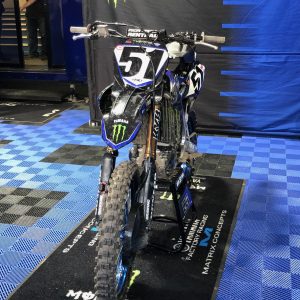 That headline will make much more sense and be more relevant next season if Justin Barcia starts the season opener on top of the podium for a third time in a row. As for now let's just revel in the fact that he's now two for two at A1.
Just two seasons ago Bam Bam wasn't even signed to a team until he got a late call from the Yamaha factory team to fill in for an injured Davi Millsaps. That was supposed to be a temporary assignment but with three podium finishes within the first six rounds it turned into a full season. Unfortunately Barcia was injured in Arlington and had to sit out the middle of the season, but even after missing seven rounds he still completed the season 10th overall. Last season's A1 mudder looked like a complete reset with his first round win but that wasn't exactly the case. JB took Multiple top 10 finishes but never hit the podium and then a mid-season concussion put him out several rounds and then a tailbone injury had him sitting (not literally) out the final three rounds.
Saturday night's win wasn't exactly easy for Barica but it did prove that his mud win last season wasn't a fluke. After a good start he was looking for a spot to take over Vince Friese and made an impressive move on the opening lap by jumping the slightest edge of a corner tuff block to push Friese up high and take the lead. Barcia led for the majority of the race until he drifted right into the tuff blocks and went off the track. This left the door open for 450 rookie Adam Cianciarulo to get some shine on his big night. If it wasn't for Cianciarulo making a similar mistake it's hard to say whether or not Barcia would have been able to reel him back in. The way he looked Saturday night, if Barcia can continue to get out ahead of the pack early and stay out of the mix he could make a run for his first 450SX title.
Believe the Hype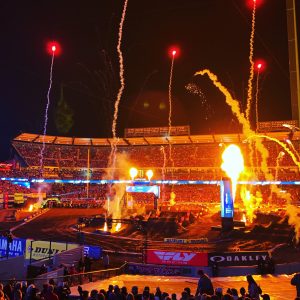 45,000+! Saturday night saw a sold out crowd flow through the pits and filter into their seats in Angels Stadium for the most anticipated race of the season. More butts in stadium seats (or watching from home on the couch) equates to more butts on dirt bike seats. Viewership has been continually on the rise with record numbers achieved which is awesome. The more eyes, exposure, and younger audiences the sport can attract is good news for everyone. The pits seemed extremely busy with fans young and old milling about looking to snap a pic with their favorite rider or at least to scope out the factory bikes and see what the pros are running. What will be really interesting to see is how moving the finals from Las Vegas to Salt Lake City, Utah affects attendance.
Count on AC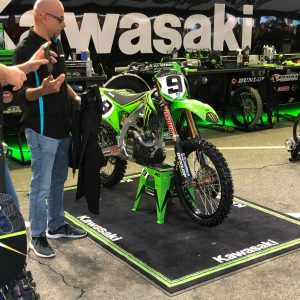 Adam Cianciarulo will win a 450 Supercross Championship. This kid is fast and he has proven it time and time again. Unfortunately small mistakes and injuries turned into big time misses for him in the 250 SX class with back to back 2nd place overall finishes in the West the past two seasons. That two point loss to Aaron Plessinger in 2018 was a real stinger. Thankfully he's made up for it in the Pro Motocross series winning the 250 Championship last season.
Who knows if its nerves that causes these minor mishaps but as he proved at Monster Energy Cup when he gets it's together and keeps it together he's tough to beat. I mean who would have thought it would be the 450 rookie and Barcia leading the first main event of the season.
Actually AC was up in Barcia's business in their heat race as well and although Barcia took that event too, Cianciarulo made his way from 5th up to 2nd by lap five. Cianciarulo and Barcia were the only ones to put down sub 58 second laps in that race. AC was throwing down heaters all day, and put in the fastest lap with a 56.453 in the second qualifier and was fastest in the first qualifier with a 57.296. After getting past Tomac on lap eight of the main he turned a 58.530 lap for the fastest lap of the race. The potential is there, the determination is there, the speed is there...Soon enough the championship will be there.
Let's Eat!
I know it's early but the 250 West is already having a cookout and Austin Forkner and Justin Cooper are bringing the beef. In the first 250 heat race Forker was looking to get ahead of Alex Martin when suddenly Cooper snuck Forkner high in a corner and Forkner went down. Forkner was able to remount but had to settle for third. Cooper ended up winning but also ended up with an earful from Forkner. In the presser at the end of the night Forker commented "I basically said, that's a bold move for the first race of the season, " when asked what he said to Cooper after the race. " I was mad about it, I should have just left it, but, whatever."
The Main didn't go much better for Forkner-well actually it kind of did until the 11th lap and then things fell apart. Forkner was leading the majority of the race but then made a mistake and ended up catching a peg in a tuff block. Of course who was right behind him ready to take the lead but Cooper. While Forkner didn't go down he did get spun around and ended up cutting the track. This mistake would cost him the final podium spot as we he was penalized and knocked down two spots with a 5th place finish. Long story short, it just wasn't Forkner's night and it appears frustration got the best of him. It'll be interesting to see how he handles Cooper on Saturday.
Blu Crew is Tops
Yamaha couldn't have asked for a better opening night taking the top podium spots in both the 250 and 450 class. Ferrandis took the second in the 250 Main giving Yamaha a total of three Main podiums for the night. It was a hell of night for Cooper as well with his first 250 Main win of his career. No better way and place to do than at A1 in front of a sold out crowd.