Scott Recoil Xi Goggles With WFS Offer Clear Vision With The Best Of Both Worlds
Chaparral Motorsports
|
December 23, 2019
Clear vision is of utmost importance when you're riding a dirt bike. If you can see where you're going you won't know who's about to pass you, what lap you are on, or what you're about to crash into. Dirt bike goggles are a must when riding, because they help protect your yes from flying debris and keep your peepers from getting filled with dust.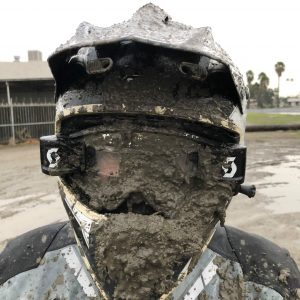 When it comes to extremely dusty or wet and muddy conditions there are two products you can use to keep your goggle lenses clean and vision clear: tear offs or roll offs. Both do a great in clearing obstructions from your goggles so you can see but each does have its drawbacks.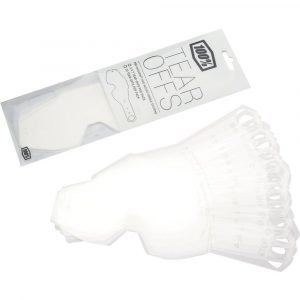 Tear offs, as the name implies are individual thin clear sheets of film that get stacked on top of the goggle lens. Posts on either side of the goggles help keep the tear offs in place and then there is a tail that hangs off on the left side that allows you to grip and pull off each tear off as needed.
Some of the issues with tear offs is that if you stack too many it can distort the view/clarity. There is also the issue of pulling off more than one in the heat of an intense moto; you continue to pull two or three sheets off at a time before you know it you'll be out and the race might not even be over. Lastly, tear offs make a mess, they basically get left behind wherever they fall. This may not be a major issue at a closed track but out on the public trails and deserts no one wants to see the area littered with discarded tear offs. Tear offs are goggle specific so you need to make sure you get the right ones per the goggles you are running.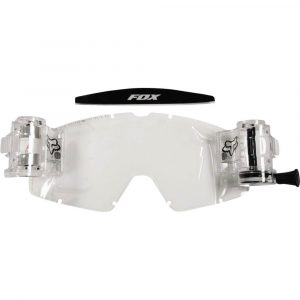 Roll offs are like clear old school film rolls that fit into film like canisters. A fresh roll of gets placed into the canister in the right side of the goggle and then you feed the end across the lens to the canister on the left side. Then as you are riding whenever you need to clear your view you pull the string hanging from the left side canister and it pulls a fresh field of film into position. The problem with roll offs is that is the string breaks or the canister system gets jammed up your screwed. You can also pull too often and run out of fresh roll off material. The other thing with the roll offs is you only get a narrow clear/clean strip as opposed to an entirely clean/clear lens with the tear offs.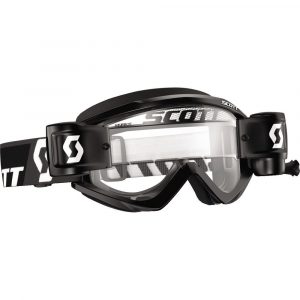 Most MX goggles these days come with lenses that will work with tear offs and if you want to go with the roll offs you'll need to purchase a roll off specific kit (if available) for your goggles. If you're not sure whether you want tears offs or roll offs or you want to start out with both options then the Scott Recoil Xi Goggles with Works Film System (WFS) is the way to go. No need to change out lenses or worry about swapping anything out because they come ready to go with either tear offs or roll offs. All you need to do is make sure you have a stack of tear offs or a fresh roll offs (the package comes with both).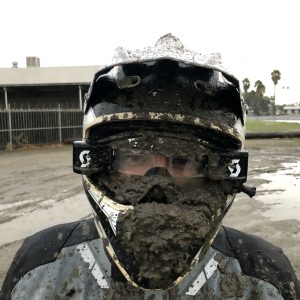 The Recoil Xi WFS are designed to provide a clear view in the muddiest of conditions while also offering great ventilation and a comfortable fit. The key to keep the view obstructed with these dirt bike goggles besides the tear offs and roll off system is that there is an anti-stick guard and mud flap that allows for easy movement and prevents mud and debris from sliding down behind the film.
If you're still not convinced these goggles are the way to go or are curious as to how you can run both tear offs and roll offs at the same time and how they work check out the video we shot demonstrating just how well they work.