2019 Havasu NGPC
Chaparral Motorsports
|
December 18, 2019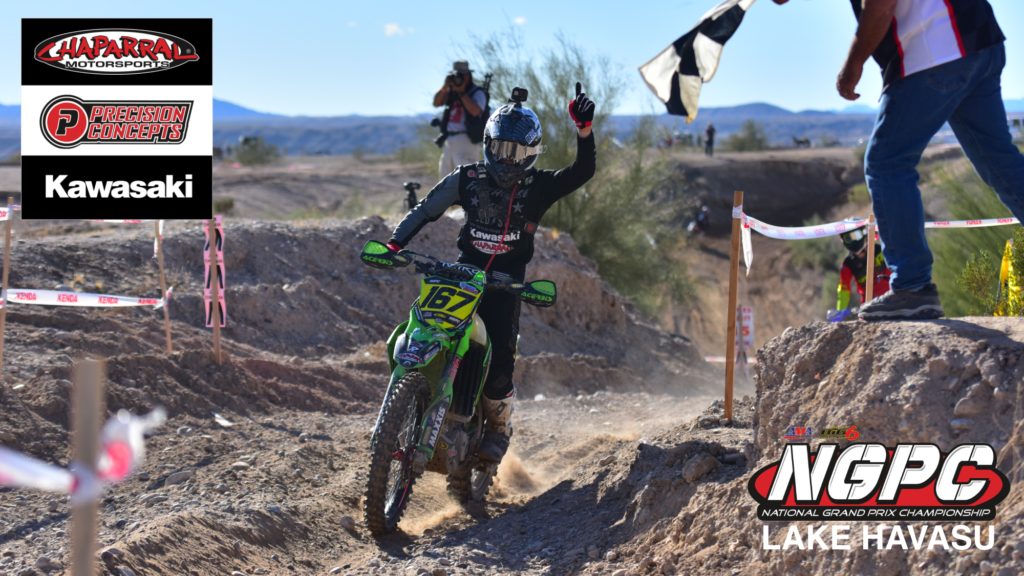 The final race of the 2019 season went to Lake Havasu City, AZ for the AMA National Grand Prix season finale. The Havasu location is a notoriously rough one. Because of tight confines, and the sandy terrain, the course chops up quickly, while also forming deep holes. Chaparral Motorsports, Precision Concepts, Kawasaki's Zach Bell was looking to maintain his win-streak at the final round. He also had an outside chance at the title if he took the win and series leader Trevor Stewart were to finish sixth or worse. Additionally, JP Alvarez made his unofficial debut for the team. Though his official term with the team begins in 2020, this was a good opportunity to get some testing time on the bike.
Zach Bell - 1st place Pro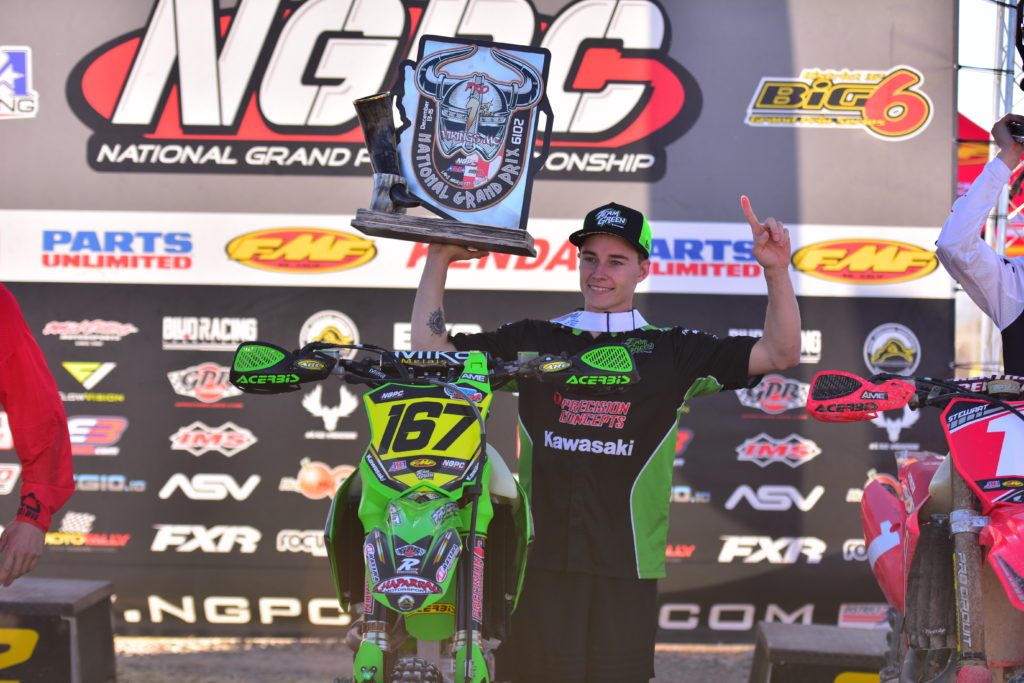 As the pro class thundered into the first corner, Zach looked to have the hole shot. However, Justin Seeds was able to come from the outside to grab the early lead, placing Zach in second. Bell didn't waste much time getting to the point position, however. Through the second corner, he squared up Seeds, and though the two got pretty close, Zach was able to make a clean pass and set sail. Bell later said he was working through a bit of arm pump early on, but was still able to stretch away each lap. By the finish, Zach had amassed over a minute and a half lead and was able to take his sixth win of the NGPC season. Though he'd done everything he could do in terms of the championship, series leader Stewart was able to finish third. This meant Zach came up just six points short in the end after missing two rounds due to scheduling conflicts.
In His Own Words
"It was a good weekend, for sure. Sunday's [pro race] started off good with a half-hole shot. Justin [Seeds] got by me, but I passed him right back and put in some good solid laps. Once I found the flow of the track, I felt really good. I didn't want to put the pressure [of the championship] on me. It was there, but I knew all I could do was get a start and win the race. That's what we did and ultimately we came up a little short. But with missing two rounds this year, coming so close to winning the championship is still really good. So, it was a really good weekend and I'm excited to kick it off next year."
JP Alvarez - DNF Pro II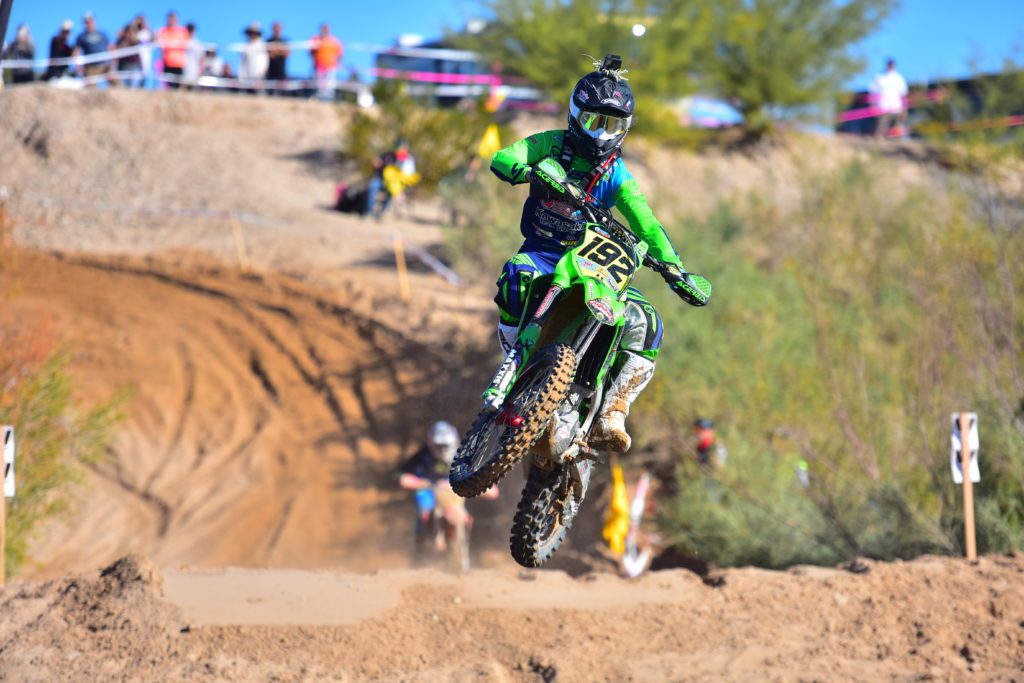 Alvarez got off to the best possible start as he grabbed the hole shot on the Pro II line. He was able to lead most of the first lap until a quick tip-over in a corner dropped him to third. Not long after, Alvarez's front disc bent, causing his front brake to fade in and out. Even with the issue, JP battled at the edge of the podium positions for the first hour, even taking the lead briefly through the pit rotations. Unfortunately, with just a few laps to go, JP's KX250 would suffer an issue and he wouldn't be able to finish the race. Looking at the positives, the team was able to get a lot of good data from the race and Alvarez showed he has the potential to be a contender in 2020.
In His Own Words
"I got the hole shot, which was really good. You need that hole shot at this race. From there, I kind of settled in. I had some issues the first few laps when the front brake happened. It would fade in and out so I was blowing out a lot of the corners, but I was able to get used to it and calculate how to come into the corners differently. After the pit stop, I was planning to put in a charge. I felt really good, but then the bike had an issue. It's a bummer. Overall, I feel really good. My strength is good, I could probably work a little more on the hour-and-a-half so I can charge the whole way. Other than that, I feel really good coming into 2020."
Robby Bell, Team Manager
"We knew the title was a bit of a long-shot, but for Zach to be so close after missing two rounds shows the dominance he had this season. He did everything he could do at Havasu, getting he lead early and taking off to the win. Trevor rode a smart race and did more than he needed to secure the championship, so congratulations to him. We're looking forward to 2020 and keeping the momentum Zach's built rolling.
"JP had a great race going. He showed the speed I believed he had, which was more impressive considering the front bake issue. It's such a bummer he wasn't;t able to finish the race. We take DNF's really personal as a team, but we learned about the bike and it should be a pretty simple solution. So, on the whole, it was a really positive weekend and a good shake down for next year."