Polaris Off Road And Diesel Brothers Support America's First Responders Through United We Ride Custom-vehicle Program
Chaparral Motorsports
|
November 25, 2019
Polaris Off Road, the world leader in powersports and off-road innovation, today announced United We Ride - a partnership and fundraising effort with the Diesel Brothers that honors our nation's military, police and fire departments. The program is highlighted by a Diesel Brothers' customized series of recently launched Polaris machines. Each machine has been custom-made to honor a specific branch of American "first responders" - the RZR PRO XP Ultimate for policemen and policewomen, the RANGER CREW XP 1000 for firemen and firewomen, and the GENERAL XP 4 1000 for members of the U.S. military.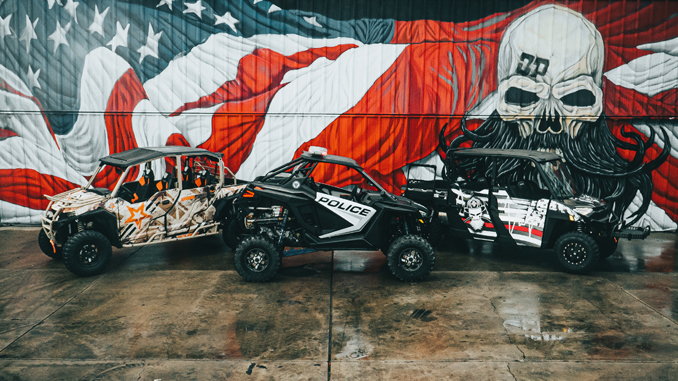 The program is powered by a national voting process where consumers vote for their favorite build, and voting totals determine the donation amount from Polaris to each of the program's three charity beneficiaries - $25,000 to first place, $15,000 to second and $10,000 to third place. By casting their vote, consumers are automatically entered for the chance to win an all-new RANGER CREW XP 1000 with Ride Command, RZR PRO XP Ultimate or a GENERAL XP 4 1000 DELUXE.
"We are forever grateful for the commitment and sacrifice made by members of our military and first responders, and we are proud to continue our 15-year tradition of providing vehicles for their duties and their well-deserved free time," said Kyle Duea, vice president of Off-Road Vehicle Marketing, Polaris. "Partnering with the Diesel Brothers to customize our machines and drive awareness of these charities is merely one way we can show our appreciation, while honoring their daily efforts to protect us, our communities and our freedom."
The United We Ride program will be donating to the following charities:
Concerns of Police Survivors (C.O.P.S.) - Provides resources to support the families and co-workers of officers killed in the line of duty as they cope with the tragic loss and work to rebuild their lives.
The Gary Sinise First Responders Foundation - Provides critical funding for emergency relief, training, and essential equipment to ensure our heroic firefighters have the resources they need.
Your Grateful Nation - Provides support, guidance and resources to transition special operations veterans into their next successful career.
"The whole Diesel Brothers' family has a deep respect for those who selflessly protect, serve and care for this great country," said Dave Sparks, Diesel Sellerz. "That's why we jumped at the opportunity to work with our most valued industry partners at Polaris to build the unique UTVs intended to honor the hard-working men and women of the U.S. military, law enforcement, and first responders. This is just a small token of our gratitude for their hard work and dedicated service."
Customers are encouraged to vote for United We Ride at Polaris.com/UnitedWeRide until December 22. For the last 15 years, Polaris' Commercial, Government and Defense team has proudly partnered with military and public safety organizations across the country to design and upfit Polaris vehicles for professional use. More information on Polaris' military vehicles, turn-key law enforcement and fire-fighting vehicles, and grant assistance programs can be found on Polaris.com/Gov.
Source: Polaris