Styling, Comfort And Performance Enhancements To Rebel 500 And Rebel 300 For 2020
Chaparral Motorsports
|
November 6, 2019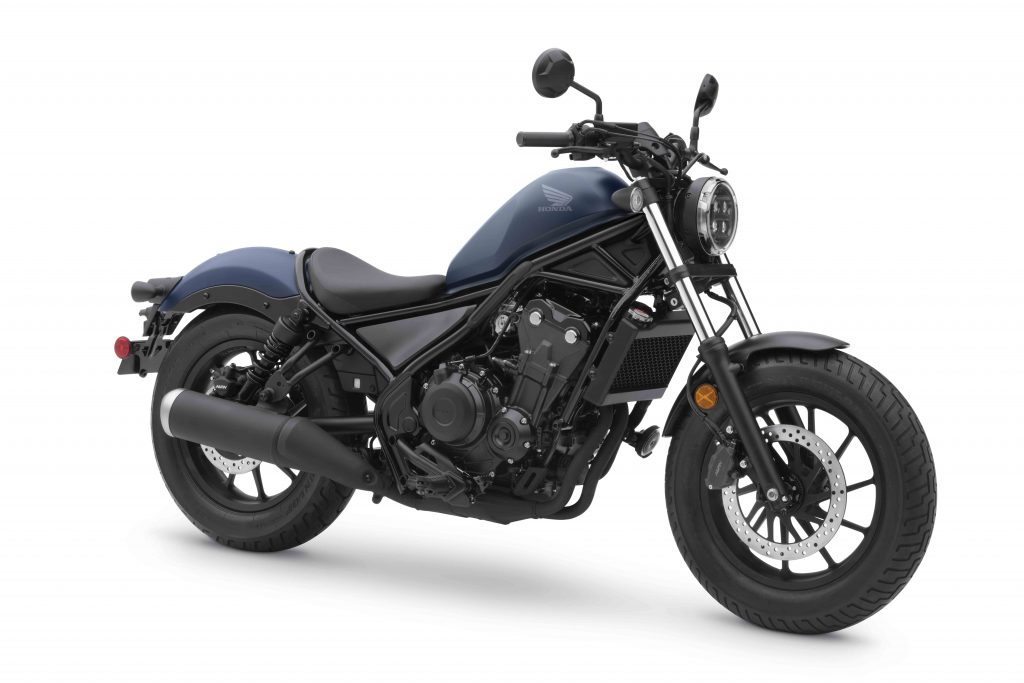 American Honda announced today that its small-displacement cruisers receive a number of important updates for 2020. Already the industry's top-selling small-displacement cruiser models, the Rebel 500 and Rebel 300 have welcomed throngs of new riders to motorcycling, thanks to an affordable price, user-friendly performance and hip design (highlighted by an iconic peanut-shaped tank, fat tires and blacked-out mechanical components). Now, with an increased focus on styling, comfort and performance, the models are even better, and an expanded accessories lineup provides customers the opportunity to further personalize their bikes-a key ingredient to the sense of freedom, enjoyment and individuality that comes with being a motorcyclist.
"The Rebel 500 and 300 are great examples of the sense of freedom that draws so many of us to motorcycling, which is why they're the choice of new riders who want a fun ride but aren't willing to sacrifice style," said Chris Cox, American Honda's Manager of Experiential Marketing/Public Relations. "With key updates to the 2020 model and an expanded suite of accessories, these models will deliver even more independence and enjoyment."
REBEL 500 / REBEL 300
Already known for their user-friendly performance and ability to deftly navigate city streets, the Rebel 500 and Rebel 300 now have an assist-slipper clutch that reduces clutch-lever effort by 30% while also offering additional control under deceleration. A new fork with stiffer spring rates and revised oil levels delivers improved handling for when those city streets turn to twisting backroads, while an updated shock with stiffer spring rates provides similar levels of support. An improved meter provides important information such as gear selection and fuel level, while a seat with updated thickness and density offers increased support. A repositioned and reshaped LED headlight is paired to new LED turn signals and a redesigned LED taillight, further enhancing the stylish looks of the two models. The Rebel 500 is powered by a 471cc liquid-cooled parallel-twin engine with strong bottom-end torque and a smooth, linear power delivery, and the Rebel 300 has a 286cc single-cylinder engine with strong character and user-friendly power delivery.
Pricing: TBD
Availability: March 2020
Colors

Rebel 500: Matte Armored Silver, Graphite Black, Matte Blue Jeans Metallic
Rebel 300: Matte Fresco Brown, Graphite Black Metallic, Matte Blue Jeans Metallic
During the same announcement, Honda welcomed a strong lineup of returning motorcycles for 2020, including models in the cruiser, adventure, dual-sport and scooter categories:
FURY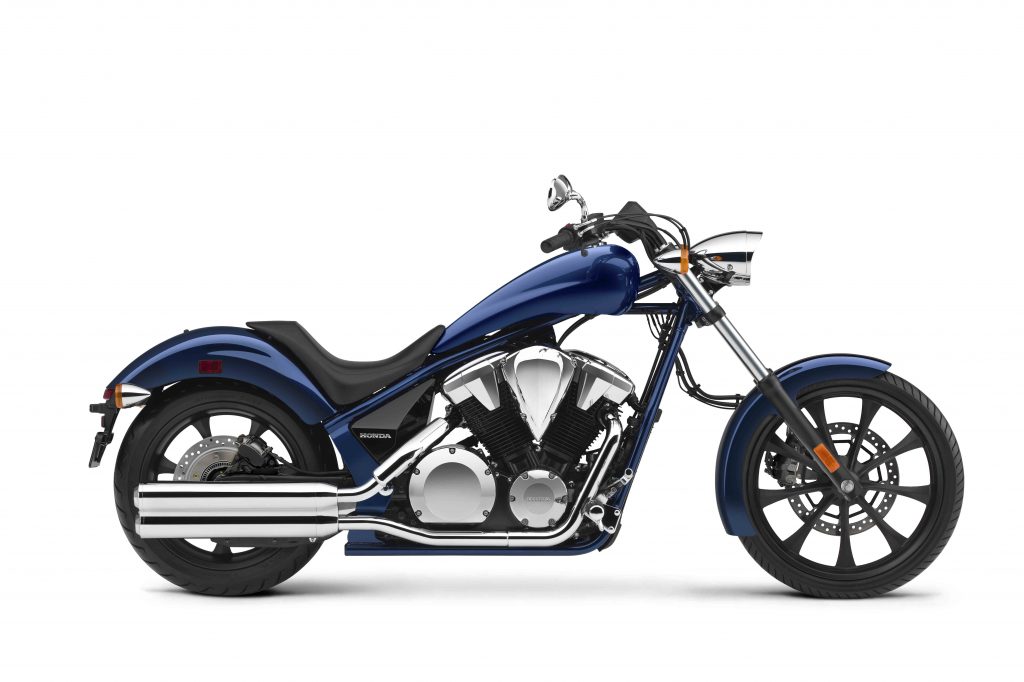 The problem with most motorcycles with an appearance as extreme as the Fury® is that their beauty is only skin deep, but this bike has the same fit, finish, functionality, affordability, quality and reliability that are built into every Honda. Boasting a robust exhaust note that fits perfectly with its head-turning looks, the Fury is pure, undiluted chopper essence.
Price: $10,599
Availability: March 2020
Color: Pearl Hawkseye Blue
SHADOW AERO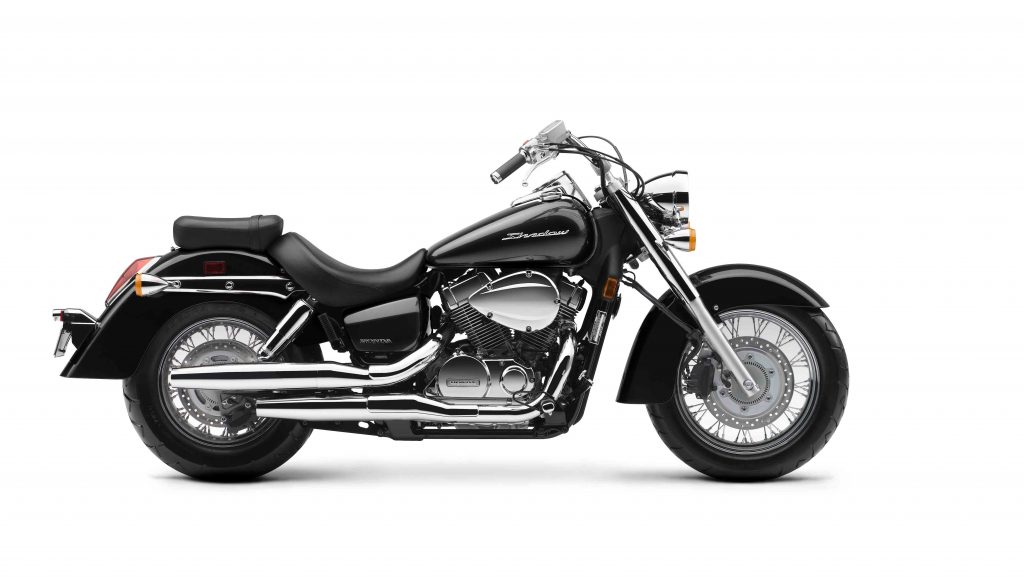 Honoring tradition and style while still prioritizing performance and ease of ownership, Honda's Shadow Aero® is a satisfying ride for a wide range of enthusiasts. Classic V-twin cruiser styling emphasizes retro lines, an ample front fender, chrome highlights and spoke wheels, but it comes with sensible elements like programmed fuel injection and shaft final drive, all for an affordable price.
Price: TBD
Availability: February 2020
Colors

Shadow Aero ABS: Black
Shadow Aero: Black, Pearl Stallion Brown
SHADOW PHANTOM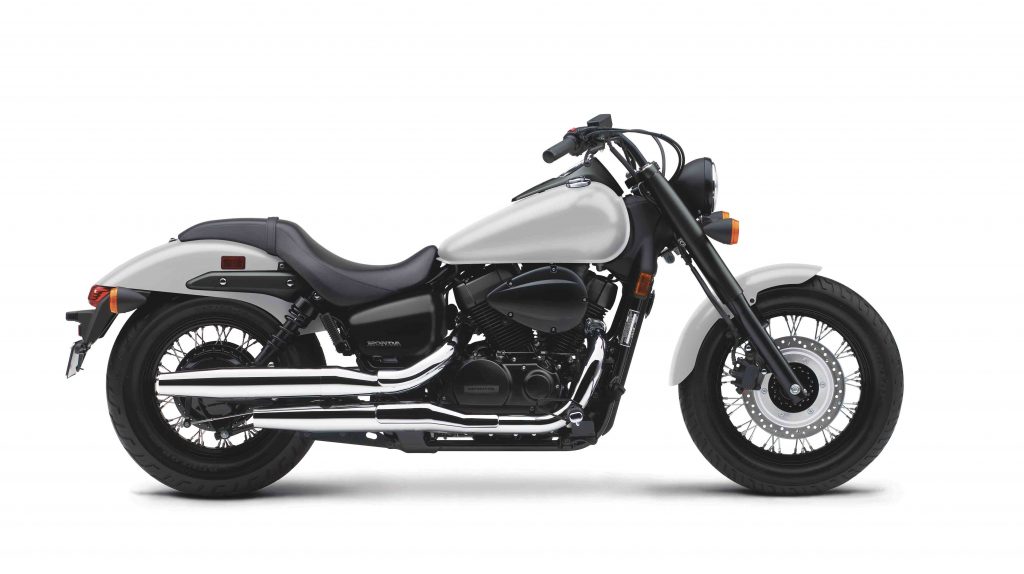 For those who eschew bling and prefer their bobber-inspired V-twin cruisers to have a minimalist, uncluttered look with an extensive blackout treatment, but also appreciate the convenience of reliable performance and programmed fuel injection, the low-profile Shadow Phantom® continues to be a popular staple in Honda's lineup.
Price: $7,899
Availability: February 2020
Colors: Black, Matte Pearl White
Long heralded as the ultimate commuting motorcycle, the NC750X is also a legitimate adventure machine. For the former application, features like excellent fuel efficiency, convenient storage compartment and smooth power are the standouts, whereas the ADV styling, upright riding position and long-travel suspension are welcome when it comes to recreational expeditions. In both cases, this midsize machine's affordable price, legendary reliability and available dual clutch transmission (DCT) appeal to riders of varying backgrounds and skill levels.
Price: TBD
Availability: January 2020
Color: Graphite Black
Again and again since its 2013 launch, Honda's CB500X has enjoyed popularity that caught many people by surprise, but it really shouldn't-especially after last year's adventure-focused makeover, which included a bump-absorbing 19 inch front wheel, a long-travel shock, a slipper clutch and more. A true adventure machine, the CB500X is available in standard and ABS versions, and it shines when conditions reward light weight, maneuverability and smooth power. And when the work schedule doesn't permit a real adventure, the CB500X also boasts stellar performance as a commuter.
Price

CB500X ABS: $6,999
CB500X: $6,699

Availability: January 2020
Color: Grand Prix Red
The CRF250L is the motorcycle industry's top-selling dual-sport model by a large margin, and it's easy to understand why. With an affordable price, unmatched reliability and solid on- and off-road performance, Honda's 250cc class dual-sport machine is an excellent value. With a long-travel 43mm inverted fork, single-shock Pro-Link® rear suspension and styling cues carried over from Honda's CRF Performance line, both the standard and ABS versions of the CRF250L are ready to provide low-cost transportation and true dual-sport adventure.
Price

CRF250L ABS: $5,499
CRF250L: $5,199

Availability: March 2020
Color: Red
CRF250L RALLY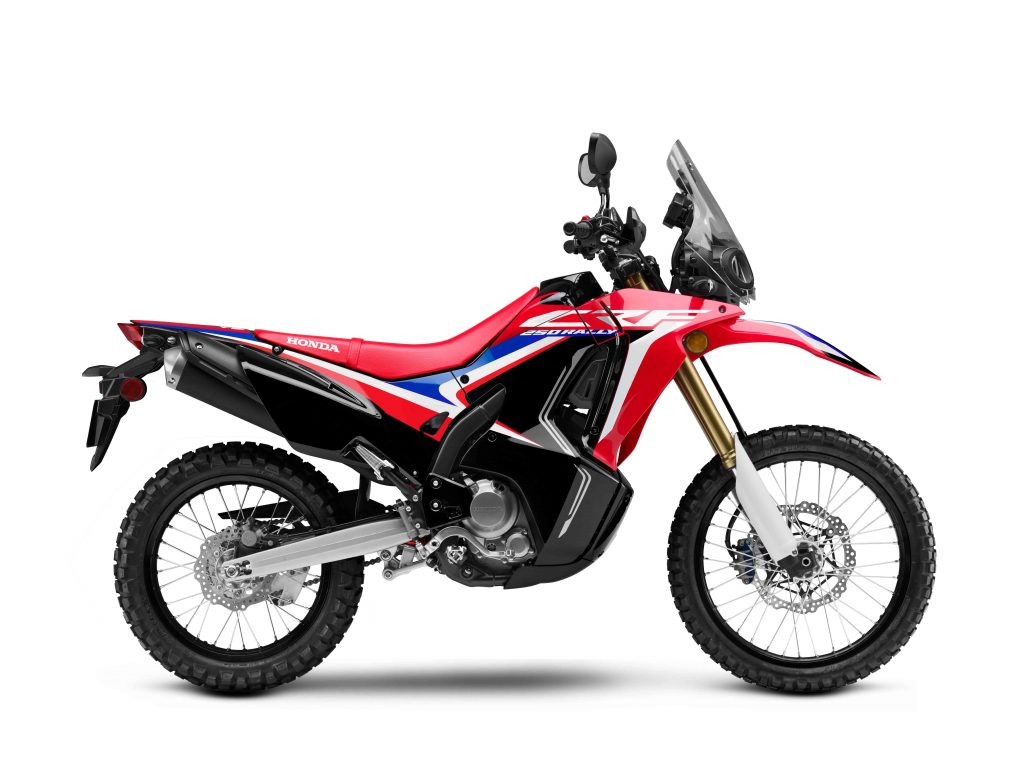 Based on the popular CRF250L but with rally styling inspired by the factory HRC Monster Energy Honda team, the CRF250L Rally touts a large 2.7-gallon fuel tank and a frame-mounted wind screen that make it comfortable for long-distance adventuring, but it also offers nimble handling in city traffic or on technical trails. Available in standard and ABS versions, the CRF250L Rally possesses relaxed dirt-bike ergonomics, long-travel off-road suspension and smooth power.
Price

CRF250L Rally ABS: $6,249
CRF250L Rally: $5,949

Availability: March 2020
Color: Red
Combining abundant practicality and enjoyment, Honda's PCX150 is the ultimate tool for tackling urban environments in style. Boasting congestion-busting maneuverability, zippy power, incredible fuel efficiency and low emissions, this scooter makes completing around-town tasks simple and fun. Friendly for new riders and agreeable for more experienced customers, the PCX150 comes with convenient characteristics like smart-phone-ready auxiliary power and ample storage under the hinged seat, plus performance features such as quick-stopping brakes and comfortable suspension. For 2020, it's available in an attractive Candy Luster Red color.
Price

PCX150 ABS: $3,999
PCX150: $3,699

Availability: March 2020
Color: Candy Luster Red
METROPOLITAN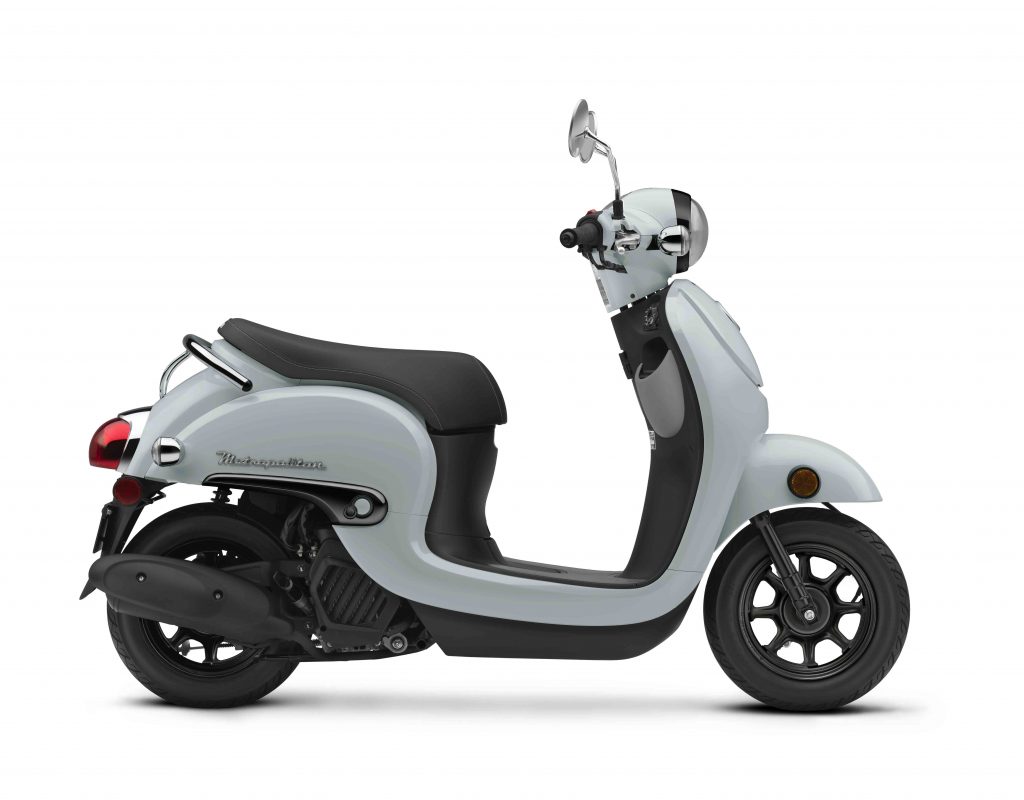 Affordable and simple to operate, Honda's Metropolitan is a European-style scooter that's a fun, super-sensible choice for anyone seeking around-town transportation. Practical features include incredible fuel range, storage compartments in the dash and under the seat, a convenient hook to secure a bag, and an available rear carrier. Notable for its appealing, rounded lines, the Metropolitan turns short hops into big fun.
Price: $2,499
Availability: March 2020
Colors: Coastal Blue, Pearl Soft Beige
RUCKUS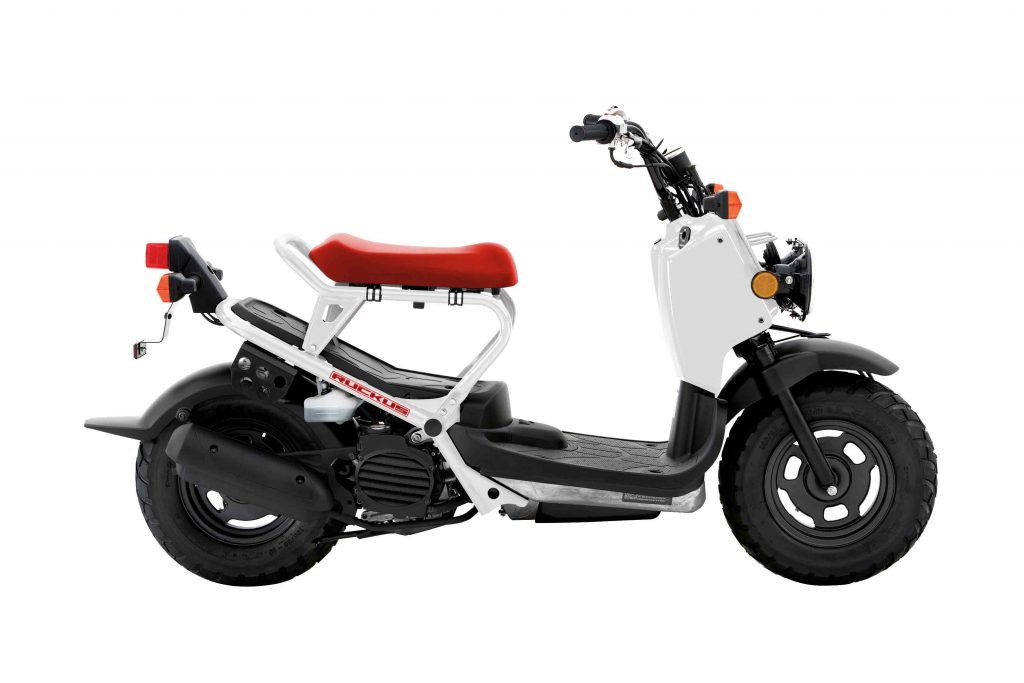 Featuring a unique, industrial-looking design, the Honda Ruckus® oozes personality and attitude. With its exposed frame and dual, round headlights, this scooter has inspired a cult following, but it's also extremely affordable and fuel-efficient, making it popular with not only those seeking a great platform to customize, but also anyone seeking nimble, fun, reliable around-town transportation.
Price: $2,749
Availability: February
Colors: Black, White/Red
Source: Honda