Pirelli Tire And Phil Nicoletti Capture 2019 Rockstar Energy Triple Crown Championship
Chaparral Motorsports
|
October 28, 2019
ONTARIO, CANADA - October 26, 2019 - Pirelli Tire North America congratulates Rockstar Energy OTSFF Yamaha's Phil Nicoletti on capturing the 2019 Rockstar Energy Triple Crown Series Championship in the premier 450 class. The Canadian series wrapped up this past weekend where Nicoletti's Yamaha YZ450 was equipped with Pirelli SCORPION™ MX32™ Mid Soft front and rear tires, the ideal setup to handle the dark, tacky soil inside of the First Ontario Center arena. As the winner of the Triple Crown, Nicoletti was the grand prize winner and took home a $100,000 check to go alongside his number one plate.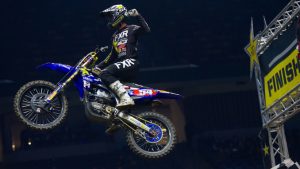 "Congratulations to Phil and the entire OTSFF Yamaha team on a successful season," said Nick Walton, off-road race manager, Pirelli. "Throughout the season Phil continued to raise the bar with both speed and consistency. The SCORPION MX tire range has proven its championship capabilities around the globe and Phil confirmed the performance in a variety of conditions and soil types throughout Canada."
When the gate dropped on the final Main Event of the season, Nicoletti quickly found himself out front of his fellow competitors, however, he decided to play it smart with a championship on his mind and settled for the second position. He would cross the checkered flag in second, which was good enough to capture both the Rockstar Energy Supercross Tour Championship and Rockstar Energy Triple Crown Championship. The Triple Crown winner is determined based on the rider who earns the most combined points throughout the season from Arenacross, Motocross and Supercross.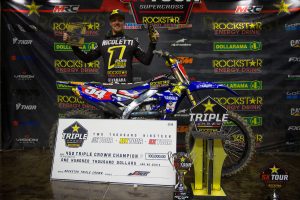 "I'm very happy to seal up the Triple Crown Championship as well as the supercross title," said Nicoletti. "Pirelli has been there since the start of the year in arenacross and also motocross. The tires consistently performed every step of the way and helped me win on the many different types of terrain that we faced throughout the year."
In addition to their championship-winning efforts, the Rockstar Energy OTSFF Yamaha team claimed awards at the season-ending awards banquet, including Best Team Set-Up, Most Consistent Rider (Nicoletti), and Rookie of the Year (Sam Gaynor).