New Yoshimura R-77 Race Series Exhaust For Honda CB300R
Chaparral Motorsports
|
September 27, 2019
The 2019-20 Honda CB300R is a naked entry level bike that has the foundation to be a fun track day bike, so Yoshimura wanted to make the track days better for this 286cc single cylinder bike.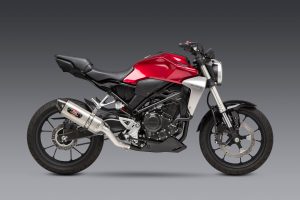 Right off the bat the engine responded to the Yoshimura R-77 Race Series Works Finish full systems and slip-ons are perfect for keeping the dB levels at acceptable limits while providing the the great performance that the little Honda craves.
In performance testing the CB300R gained substantial numbers on the dyno adding performance across the entire spectrum with a 4.2% gain in peak HP and 3.0% peak torque. Lets head to the track!