Vented Motorcycle Jackets
Chaparral Motorsports
|
August 12, 2019
|
Last Updated: May 8, 2020
While we're nearing the end of summer, there's still plenty of scorching temperature days ahead which means motorcycle riding in hot weather. With its long daylight hours Summer riding can be great, as long as you have the proper riding gear-most importantly a vented motorcycle jacket.
Just like there's a plethora of motorcycle makes and models to choose from, there's a variety of vented motorcycle jackets available. While most vented motorcycle jackets are associated with warm weather or summer riding, there are fall and winter jackets that are outfitted with vents to help regulate your temperature so that you can enjoy a comfortable ride during colder weather.
The most common types of vented jackets you'll come across will either have an assortment of zippered or Velcro vents incorporated into them, or they will feature mesh or perforated materials that let a constant flow of air hit your body. For this article we are going to focus on a couple of different jackets to highlight some of the various styles, materials, and features that are available when shopping for a vented motorcycle jacket.
Fly Racing Flux Air Vented Textile Jacket
If you're looking for hot weather jacket to wear in the middle of summer the Flux Air Vented Jacket from Fly Racing is an excellent choice. Nearly the entire jacket is made from high flow mesh material save for the forearms and shoulder/neck area. The mesh design make this jacket extremely lightweight which will be a much welcome characteristic when riding through 100 degree desert temperatures. Even with the accompanying protective back protector and C.E. level 1 removable armor in the shoulders and elbows the Flux Air still feel as light as a windbreaker. Don't let the mesh material fool you, even though it's highly ventilated, the jacket is still designed to hold up well against a slide with high abrasion fabrics utilized in critical areas. One of the best things about this jacket besides how cool it is, is that it's available in a variety of colors.
Motonation Dominator Vented Leather Jacket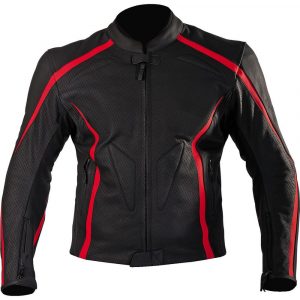 Not everyone is into textile motorcycle jackets, so to appease the traditionalist that prefers a leather jacket there's the Dominator Vented Leather Jacket from Motonation. The Dominator is comprised of 1.22mm premium leather with 1.4mm thick leather in the high impact areas. There is a large swath of perforated leather that encompasses the entire front half of the jacket allowing for massive airflow to hit the rider's core. Perforation continues down along the front of the arms as well as down along the sides of the back of the jacket. Additionally there are two zippered vents on the back of the jacket that act as exhaust ports heling to expel heat out at the back of the shoulders. One really nice feature about this jacket is that it has upper and lower zippers at the cuffs. The dual zippers allows you to adjust the bottom zipper (closest to the end of the sleeve) so that the cuff fits your wrist or you can zip the top zipper down to open up the lower sleeve and allow more air flow.
In the event that the weather turns a bit on the cold side the Dominator comes with a zip-in/zip-out quilted vest liner. With its clean styling, and minimal colors the Dominator would appeal to most cruiser and sport bike riders as a summer/early fall motorcycle jacket.
Cortech Adrenaline 2.0 Leather Jacket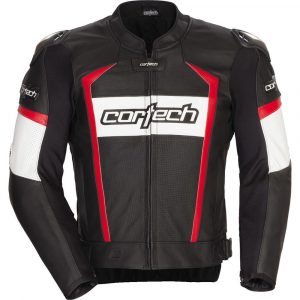 For those that want protection and ventilation the Adrenaline 2.0 is a superb sort bike jacket the delivers both. This jacket offers the same CE-approved armor that Cortech uses in its Adrenaline RR-one piece race suits. There is TPU molded stainless steel external armor in the shoulders and elbows for increased protection as well as removable CE-approved dual-density KNOX® back protector and removable CE-approved KNOX® shoulder and elbow armor. On the upper back there's a low-profile aerodynamic speed hump similar to that you'd find on Cortech's one-piece race suits.
When it comes to airflow you'll get plenty thanks to the massive perforated panels on the front that runs from the waist up to the neckline. There also perorated leather around the upper elbow and another big section down the lower back. The two external waist pockets are lined with mesh which provides additional air to hit sides of the body when riding.
The jacket comes with a removable insulated vest liner to help warm you up in cooler weather but with some much perforated material allowing for extreme airflow this isn't a jacket you'd really want to wear when if you know it's going to get chilly.
Tour Master Pivot Textile Jacket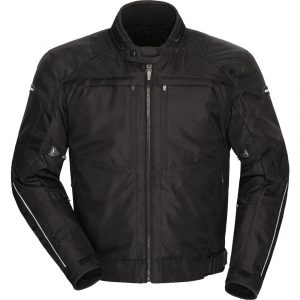 If you're looking for a jacket that can handle just about any type of weather you can throw at it then the Pivot Jacket is a great option. The Pivot is constructed from extremely durable 600 Denier Carbolex with even more abrasion resistant 1680 Denier ballistic fabric used in critical slide areas. Visually it doesn't look like this jacket would be that great of a choice for summer time or hot weather riding but the opposite is true. This jacket has massive amounts of venting that is hidden behind zippers and then can be fine-tuned to moderate exactly how much air flows through the jacket.
At the pectoral area there is are two large zippered panels that can be unzipped and then tucked in to allow air to flow through the mesh lining. The biceps have zippered openings with Velcro strips so that you can partially close off the vents if needed. On the rear of the jacket nearly the entire back panel can be unzipped to expose the mesh behind it. It's a massive piece of ventilated real estate that will come in very hand during blistering summer rides-especially when the dual liner is removed and all the vents are opened up so that the all mesh interior can do its job.
For winter riding the Pivot has Aquatherm two-stage waterproof and insulated quilted liner to protect you from rain and colder temperatures. The dual liner is great because you can layer as needed depending on the weather and the waterproof liner allows for breathability so you don't end up in a sweltering sauna.
Besides is durability and high air flow features, the Pivot also offers great riders safety and protection with removable shoulder and elbow armor and a triple-density back protector. Lastly to make you more visible when riding at night the jacket has phoslite reflective piping in key areas.