CHAPARRAL MOTORSPORTS ANNOUNCES 2019 SIDE BY SIDE EXPO
Chaparral Motorsports
|
August 12, 2019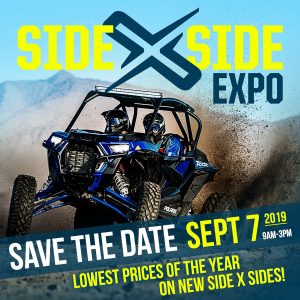 August 12, 2019 (San Bernardino, CA)- Sand season in southern California is right around the corner and that means it's time for to get ready for some sand shredding side-by-side action. Chaparral Motorsports is kicking off the season with its biggest side-by-side sales event of the year on September 7th with its annual Side-by-Side Expo. This free one day only side-by-side sales event will offer everything you need to hit the Glamis dunes or explore offroad trails. From new parts and accessories to customize or upgrade your vehicle to the hottest side-by-side models in the industry at discounted prices, this free event will have something for every UTV fan.
If you're in the market for a new side-by-side Chaparral will have an assortment of the latest 2020 models from Can-Am, Polaris, Yamaha, and Honda. There will also be deep discounts on non-current vehicles such as the highly popular Can-Am Maverick X3 and Polaris RZR models. For those that want a machine outfitted with all the aftermarket bells and whistles you'll find a huge selection of fully customized turn-key vehicles loaded up with nothing but the best components from top name manufacturers. Gates open at 9am and the event runs until 3pm with the majority of the festivities taking place in the massive parking lot in front of Chaparral Motorsports in San Bernardino.
As one of the largest side-by-side tire dealers in the country, the Chaparral Motorsports Side-by-Side Expo will have a massive selection of paddle tires and offroad tires all at deeply discounted prices. If it's time to upgrade your stock wheels or you're looking to step up in tire size there will be an assortment of wheel and tire packages on sale. Also on hand will be top name vendors showcasing hot new products and offering great deals. Inside Chaparral's massive 160,000 square-foot megastore you will find OEM parts for your UTV, deep discounts on helmets and sand goggles, and as well other gear and accessories you may need to get the family ready for some four-wheel offroad fun.
Unlike other side-by-side sale events, the ChapMoto Side-by-Side Expo has free parking and free entry. When you get hungry or thirsty there will be a bar-b-que and lemonade stand on site to help refill your tank. The family friendly Chaparral Motorsports Side-by-Side Expo will be a great way to spend a Saturday and get you excited for sand season.
Located at 555 South H Street in San Bernardino, CA, 92410; no matter if your favorite place to play is Dumont Dunes, Stoddard Wells, Hungry Valley, the San Bernardino National Forest, or Glamis, Chaparral Motorsports is right in the heart of some of the top riding and offroad destinations in Southern California.
About Chaparral Motorsports Chaparral Motorsports started as a family motorcycle parts business in 1980 and now encompasses a 160,000 square foot footprint in San Bernardino, California. Recognized as one of the largest motorcycle dealerships in the country, Chaparral Motorsports offers a great selection of motorcycle parts, accessories, motorcycle gear, and motorcycle tires. Over its 37 years in business, Chaparral Motorsports has developed into a multi-line motorcycle and ATV superstore, offering Honda, Yamaha, Kawasaki,