2019 Chaparral Motorsports Precision Concepts Kawasaki 29 Palms NGPC Report
Chaparral Motorsports
|
April 8, 2019
Text: Robby Bell
Photos: Mad Moose Media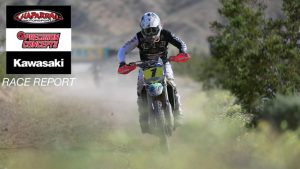 The Chaparral Motorsports, Precision Concepts, Kawasaki Team Green crew headed out to the 29 Palms desert for the fourth round of the National Grand Prix Championship (NGPC) Series. The location is well-known for offering speed, as riders can reach upwards of ninety miles per hour in sections. This year's course was no exception, with the hosting Hilltoppers club keeping the track in good condition for the ninety-minute pro race on Sunday.

Zach Bell - 1st place Pro, 4th in championship | 1st place Open AA
Zach chose to line up far inside on the starting line, and it nearly paid off. As the racers rushed into the first corner, Bell came out second place, just behind his teammate. For the first two-thirds of a lap, Zach tailed Blayne before making a sweeping pass around the outside of a high-speed left-hand corner. Once in the lead, Bell put down consistent laps, slowly stretching away from the field with each circuit. At the end of ninety minutes, Zach took the checkers to claim the win. It was his second victory of the series in as many rounds attended.


In His Own Words

"I got off to a second-place start behind Blayne and made the pass toward the end of lap one. From there I just rode my own race and pushed myself. It was a good race, very fast out there today, and hot. I felt good; didn't feel any pain in the back and my hands held up good, so I feel like we're going in the right direction with my training and my eating and everything. So, I'm just looking forward to the next races. [Vegas WORCS] will be good. Last year I should have run a Rekluse [auto clutch], but this year I have the Rekluse, so it'll be good. Every time I'm out there I'm learning and it's fun. This was a good weekend. For the whole team to go one-two [in the pro class] and first [in pro 2], couldn't have asked for a better weekend."

Blayne Thompson - 2nd place Pro, 6th in championship | 2nd place Open AA
From the middle of the starting line, Blayne's KX450 hooked up perfectly, netting him the holeshot. Thompson lead early, before a bit of indecision cost him the point position. Entering a fast, left-handed corner, Blayne hesitated as he thought of whether to guard the inside or rail the top of the berm. In the end, Thompson decided to go inside, but Zach was able to carry more momentum around the outside to take the lead. Over the next few laps, Blayne held a firm second place, though Trevor Stewart and Dalton Shirey were not far behind. A small crash with just a couple laps to go allowed Shirey to close right up to Blayne's rear wheel. Fortunately, the Kawasaki rider was able to respond and pulled back away to the checkers, taking a well-earned second place.


In His Own Words

"We got a really good start with the holeshot. I lead about three-quarters of the first lap until my teammate Zach got around. It was through a corner and he even saw me debating if I should go inside or outside. I ended up taking the inside and he ended up going around the outside and getting around me. Obviously, looking back, I know which line I should have taken, but I took the inside trying to cover the bases and he took advantage. After he got around me, we just rode our race. I had a little crash on the second-to-last lap and got caught by Dalton, but I put the hammer down that lap, and the last one and pulled back away. I felt really, really good. Maybe I could have done better to keep Zach honest for a little bit, but I'm just going to keep working during the week, come back at the next one and see what we can do."

Clay Hengeveld - 1st place Pro 2, 4th in championship | 1st place 250 AA
Clay took a cue from Zach, lining up all the way inside for the second-row Pro 2 start. In similar fashion to his teammate, Clay came out of the first couple corners in second-place behind the Husqvarna of Ciaran Naran. Over the first half of the race, the gap between the two leaders had an accordion effect back and forth as the two worked their way through riders from the first line. The gap was never more than ten seconds as Clay stalked from second, and the two had pulled a healthy gap on third. Clay pitted a lap earlier than the leader, but after both riders had pitted, the gap was still locked at around eight seconds. With just a couple laps to go, a difference in speed finally appeared between the two as Hengeveld closed the gap and was able to make the pass. Instantly, Clay pulled out over a minute lead and continued to pull away to the finish as he took his first Pro 2 win of the NGPC season.


In His Own Words

"I had a pretty good day today. Got off to a second-place start and was trying to chase the Husky down as fast as I could. I was able to make the pass with a few laps to go and ended up winning by a pretty good margin today. The 250F is so much fun, I always enjoy riding it and I felt really good today. It always puts a smile on my face and was able to take the win yesterday in 250 AA too, so that was pretty awesome. I'm super happy with how I rode today. I just want to keep the ball rolling and head into WORCS. [WORCS Vegas] is more of a one-off race. It's different than what we normally do, but I've been riding tighter stuff. I'm going to go into it with a clear head and do the best that I can do."

Robby Bell, Team Manager
"These are the weekends when it feels as if it comes easy. However, putting into perspective what we went through at Peoria WORCS, and how that-along with other struggles-has helped us learn and improve, it really just makes me that much more grateful for experiences like today. I'm so stoked for each of the guys to put in the effort that they did and have the return on that effort with stellar results.

"Zach was in control today. He is incredibly fast, and when he gets out front early, it's fun to watch him control the race and comfortably flow. Blayne had a great ride, especially late-on when a fall put some pressure on him. His response was great, and I think the best is still to come from Blayne if he continues to work and improve, as we continue to try to improve the bike alongside. Clay was patient today, which is needed at times coming from the second line and being underpowered when coming through the 450's that started ahead. But then he seemed to have that push when he needed it. Once he got into the lead, he really gapped the 250's and was able to enjoy the last couple laps.

Racing can be a rollercoaster experience, so we'll enjoy this moment fully. But then we'll look to how we can continue to execute like this, as a team, more consistently."