WEBB VICTORIOUS AT HOUSTON SX TRIPLE CROWN; MUSQUIN CLAIMS RUNNER-UP POSITION
Chaparral Motorsports
|
April 2, 2019
(Press release) HOUSTON, Texas - Cooper Webb once again led the Red Bull KTM Factory Racing Team to a 1-2 sweep in the 450SX class with a big victory at Saturday's Houston SX Triple Crown, Round 13 of the AMA Supercross Championship. With 2-1-3 Main Event finishes, Webb bested his teammate Marvin Musquin (5-3-1) by only three points for the overall win in Texas.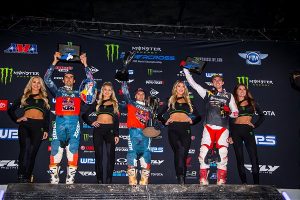 450SX

Webb's eighth-place qualifying position left more to be desired early in the day but he quickly turned things around as he powered his KTM 450 SX-F FACTORY EDITION into a favorable start position in the first Main Event. He battled for third early on with Musquin, where he eventually made his way into second. In Main Event #2, Webb grabbed the holeshot and immediately put himself out in front of the pack. From there, he never looked back as he led all 16 laps of the race. In Main Event #3, Webb got off to a third-place start, engaging in an intense three-way battle early on. He got into second on lap six and continued to dice back-and-forth before settling into third in the final race. With a consistent string of podium finishes, Webb was able to top the class in the Triple Crown format thus taking home the maximum championship points from Round 12.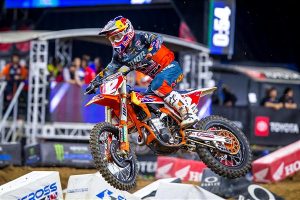 Webb: "It was a great night overall with a 2-1-3, and I got a Main Event win, which was cool. Consistency was key to this race - it's tough to line up for three Main Events and go to battle with the best-of-the-best, so it's a good night to get the win, I'm stoked on it!"

For Musquin, the day started off positive with a fourth-place position in timed qualifying. In Main Event #1, Musquin put his KTM 450 SX-F FACTORY EDITION into third on the opening lap and he battled with his teammate Webb early on. The duo diced back-and-forth for the first four laps before Musquin got pushed off the track and dropped to sixth. From there, he made a charge back up to fourth and as he was gunning for third, he went off the track again and went down. Beginning back in sixth again, Musquin made another big charge to ultimately finish fifth. In Main Event #2, Musquin got a sixth-place start and worked his way into third halfway through. He battled in second for the second half of the race but a mistake on the final lap caused him to crash and finish third in the race. Musquin came back swinging for the third Main Event, as he claimed the lead early on the opening lap. He rode a nearly flawless race to conclude the night on a positive note after leading all 16 laps of the race, contributing to a solid second-overall for the night.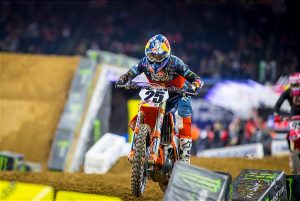 Musquin: "Coming off two wins and going into Triple Crown format, you know it's going to be intense. I showed great riding in all three Main Events but unfortunately, I had issues in the first two that kept me from taking the overall win tonight. The last race, I put it all together with a great start and rode like myself. I was so happy to have a clear track ahead of me and it was super enjoyable to ride in the lead."

250SX West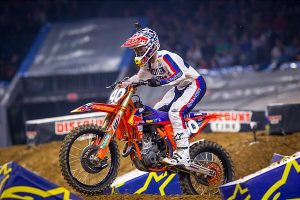 Troy Lee Designs/Red Bull/KTM Factory Racing's Sean Cantrell had a solid night of racing, finishing eighth-overall for the night. Cantrell powered his KTM 250 SX-F to great starts in all three Main Events, as he battled his way through the chaos to ultimately finish with 11-7-13 results for the night.

Next Race: Nashville, Tennessee - April 6, 2019

Results 450SX Class - Houston 2019
1. Cooper Webb (USA), KTM, 2-1-3




Marvin Musquin (FRA), KTM, 5-3-1

Dean Wilson (GBR), Husqvarna, 3-2-5

Other KTM




Justin Bogle (USA), KTM, 8-5-7

Blake Baggett (USA), KTM, 9-9-6


Standings 450SX Class 2019 after 13 of 17 rounds
1. Webb, 288 points




Musquin, 271

Tomac, 262

Other KTM




Baggett, 215

Bogle, 124


Results 250SX West Class - Houston 2019




Dylan Ferrandis (FRA), Yamaha, 2-1-2

RJ Hampshire (USA), Honda, 3-2-4

Colt Nichols (USA), Yamaha, 5-4-1
Other KTM

Sean Cantrell (USA), KTM, 11-7-13

Killian Auberson (USA), KTM, 14-16-18

Mathias Jorgensen (DEN), KTM, 20-15-16


Standings 250SX West Class 2019 after 8 of 11 rounds
1. Cianciarulo, 182 points




Ferrandis, 177

Nichols, 142
Other KTM
13. Pettis, 66

Cantrell, 61

Robin, 30