History And Nitro Circus Team Up Again For "Evel Live 2" Motorcycle Stunt Event
Chaparral Motorsports
|
March 28, 2019
(Press release)
New York, NY (March 27, 2019) - History and Nitro Circus announce the return of the unprecedented live television event Evel Live 2 premiering Sunday, July 7, at 8 p.m. As part of the network's third annual Car Week, the live broadcast produced in partnership with Nitro Circus will follow athletes, including champion freestyle motocross athlete Axell Hodges and female freestyle motocross athlete Vicki Golden as they set out to break world records with three jaw-dropping motorcycle stunts. Professional motorsports icon, Travis Pastrana, will return to co-host the special.

[caption id="attachment_72481" align="aligncenter" width="200"]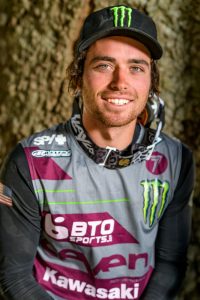 Axell Hodges[/caption]

In Evel Live 2, viewers will watch as Golden aims to shatter the motorcycle firewall record where she will speed through a series of flaming wooden boards. Golden will be the first female to attempt to break the current record which was set back in 2006. Next fans will witness as Hodges attempts to soar over more than 24 beverage trucks to break Evel Knievel's 1971 attempt and Evel's son Robbie's 2003 record. The television event will culminate with a stunt so daring few would even think of trying: Hodges will put his life on the line by attempting to jump farther than anyone ever has on a motorcycle, a distance that was set in 2011 at 379'9" feet.

[caption id="attachment_72480" align="aligncenter" width="300"]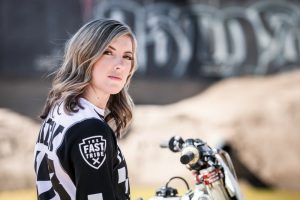 Vicki Golden[/caption]

"This second iteration of Evel Live 2 will feature a motorcycle stunt that is longer, higher and more dangerous than any before," said Eli Lehrer, Executive Vice President and Head of Programming, History. "Hodges and Golden will attempt to break records as they honor the history and tradition of American daredevils, including a jump that even Evel Knievel himself couldn't have dreamed possible."

[caption id="attachment_72483" align="aligncenter" width="200"]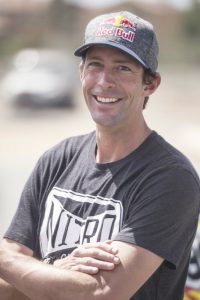 Travis Pastrana[/caption]

"I'm stoked to be a part of this History special and to attempt two motorcycles jumps that could cement my name in history," said Axell Hodges on his upcoming jump attempts in Evel Live 2. "Evel and daredevils of the past have helped pave the way for guys like me. What Travis, Nitro Circus, and History did last year in Evel Live inspired a lot of freestyle athletes and a new generation of motorcyclists. I'm ready to make my mark."

[caption id="attachment_72482" align="aligncenter" width="244"]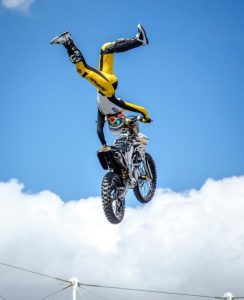 Vicki Golden[/caption]

"I've been racing and jumping dirt bikes for as long as I can remember, but it's not often you hear about women breaking records on motorcycles," said Vicki Golden on her upcoming record attempt. "This is right in my wheelhouse. I'm looking forward to holding it down for women alike and to make my own history on History."

[caption id="attachment_72485" align="aligncenter" width="300"]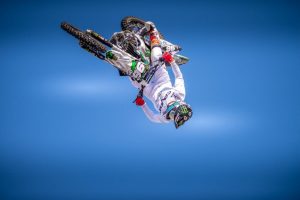 Axell Hodges[/caption]

"Last year was about honoring Evel's iconic legacy," Nitro Cirus Senior Vice President of Media Trip Taylor explained. "Travis stepped into Evel's boots that night, paying homage to his hero and creating a historic moment of his own. Now we are teaming up with History to take it to the next level and celebrate Evel's passion for pushing the limits by attempting these record-breaking feats. Evel never let anyone tell him something was impossible, and with that same spirit we look forward to creating historic moments of our own."

In July 2018, 3.5 million Total Viewers witnessed history in the making as Pastrana honored legendary daredevil Evel Knievel in History's Evel Live. Pastrana broke records by completing three of Knievel's most dangerous feats live from Las Vegas, Nevada, all while riding a motorcycle inspired by the ones Knievel used. The stunts included breaking Knievel's record jump over 50 crushed cars by clearing 52 cars, another record-breaking jump over 16 full-size buses, and making history as the first person to successfully jump the Caesars Palace fountain on a bike similar to the one Knievel used 50 years ago. Pastrana holds the record as the only person to successfully beat two of Knievel's distance records and land a jump over the fountain on a V-twin motorcycle in one night. He will return to the live event as a co-host of Evel Live 2.

"Evel Live 2" is produced by Nitro Circus. Trip Taylor, Dave Mateus, and Andy Edwards are executive producers for Nitro Circus Media Productions. Zachary Behr, Mary E. Donahue and Eli Lehrer are executive producers for History.