BarX Motorsprorts, Chaparral Motorsports, Suzuki Team Freestone Spring Championship Results
Chaparral Motorsports
|
March 25, 2019
The 2019 James Stewart Freestone Spring Championship, which took place last week at Freestone Raceway in Wortham, Texas, was quite the success for the Bar X Motorsports, Chaparral Motorsports, Suzuki team with a collection of wins and top 5 finishes.



Austin Black went 1-1 to take the overall win in the College (18-24) Sportsman class. He also rode his new Suzuki RM Z-250 to a third place finish in the 250 B class with a 2nd in the first moto and 3rd place finish in the second moto. Stepping up to the RM Z-450 B he went on to finish 4th overall with a pair of 4th place finishes in moto 1 and 2 in the 450 B(12+) class.



McClellan Hile was trailing right behind Austin in both motos of the College Boy class and took 2nd overall.



Preston Kilroy had an excellent series on his RM Z-250 in the 250 B (12+) Limited class by sweeping his heat race and both motos with first place finishes to take the overall win. He scored a 5th overall in the 250 B (12+) class with a 6th in the first moto and 4th in the second moto.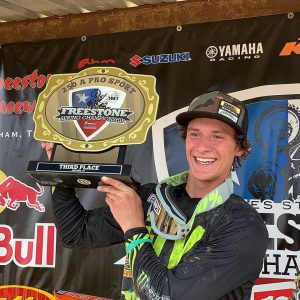 Lance Kobusch won 3rd place overall in the 250 A Pro Sport by going 3-7-4 in motos one, two, and three. In the Open A Pro Sport class he took second in his heat race and then went on to ride to a 2nd place finish in moto one, 7th place in moto two, and 5th place in moto three for a 4th overall in the class.