How To Mount A Phone Onto A Motorcycle
Chaparral Motorsports
|
December 26, 2018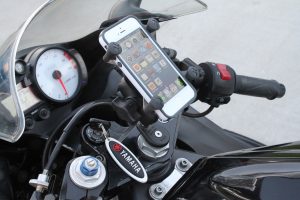 Our cell phones have become so important in our lives it's hard to imagine a situation where you wouldn't want your phone readily available at a moment's notice. Yes, even while riding a motorcycle your smart phone can be very handy. From providing traffic updates to giving your directions to your destination, having your phone accessible and located where you can quickly and easily glance down and look at the screen is important. Of course just like driving, texting or obsessing over your phone while riding isn't safe and definitely isn't recommended. However, taking quick glances down at your screen is the equivalent to looking at the speedo on your motorcycle and can be fine when done occasionally and when safe.
The big problem people run into when it comes to putting their phone on their motorcycle, is how to do so in a safe and secure manner so that their $600+ personal assistant doesn't become a $600 piece of garbage skidding across the highway. There are a couple options we really like that enable you to mount your phone to your motorcycle so that it can withstand high-speed winds but also bumps and hard jostles when riding offroad.
The first option we like is the RAM Mounts eco system of cradles, mounts, and arms. RAM Mounts has been around for quite some time and has a plethora of components that allow you to create the perfect motorcycle phone mount to suits your needs. You can either purchase a kit the comes with everything or you can mix and match components from the RAM lineup to build your ideal setup. For sport bike owners there's the Fork Stem mount Kit, or you can go with something like the Handlebar Rail Mount which has a u-bolt mount and an adjustable arm. There's also a Brake/Clutch Reservoir mount that allows you to bolt directly to your Front Brake Master Cylinder mount or the Clutch reservoir mount on the handlebars. The adjustable arms that RAM Mounts offers are available in different lengths so you can find the one that's right for your motorcycle. The arms are great because with a simple twist you can move and adjust your phone to sit exactly how you want and then tighten it down quickly.
To hold the phone in place RAM has its X-Grip, which is a spring-loaded X with rubber tips that can hold phones of all sizes. If however, you have an oversized phone like one of the Plus models from Apple you may want to consider RAM's Large X-Grip that will accommodate the bigger phones. The X-Grip does a great job of securing your phone in place but if you're still a little hesitant you can add some peace of mind by incorporating the X-Grip Tether. The rubber tether sits under the RAM Mount base and then has cut outs that enable you to wrap the edges over the corners of your phone for extra stability and security.
The other option we really like for mounting your phone to your motorcycle is from Rokform. Rokform takes the unique approach of incorporating their mounting system into their phone cases. The Rokform cell phone cases are extremely durable and do an excellent job of protecting your phone both on and off the motorcycle in the event of a crash or accidental drop. When it comes to securing your phone in place on the motorcycle the case has a double safety feature of a Twist Lock system and a heavy duty Neodymium magnet. The combination of both of these means your phone won't be going anywhere until you decide to remove it from the motorcycle.
Similar to RAM Mounts, Rokform offers handlebar and perch mounts as well as a fork clamp mount for sport bike riders. The handlebar mount is a universal fit for bars between 7/8" to 1-1/4" so that means it will work with most dirt bike and metric cruiser handlebars as well as Harley-Davidsons and custom oversized handlebars. The arm on the Rokform mount is adjustable so you can set the phone where you can best see/access the screen and then tighten it down so it won't move.
One of the cool things about the Rokform system is that with the magnet built into the phone case you can transfer your phone from your motorcycle to the inside of your car or truck and have your phone right in front of you by using either the Vent Mount or Swivel Dash Mount. Both of these mounts have magnets built into them so you can quickly set your phone in place and it won't slide down or move around. Rokform also has individual Twist Locks that you can stick to your dash so you can twist and lock your phone into place as well.