Yoshimura Introduces 2019 Kawasaki ZX-6R 3/4 System And FE Kit
Chaparral Motorsports
|
December 18, 2018
(Press release) CHINO, CA (December 18, 2018) Without a doubt the Kawasaki ZX-6R is one of the hottest middle weight sport bikes on the market. 2019 brings a refresher to the 636cc green machine, so Yoshimura went to work and refined our offering for this revised legend.

The heritage of the ZX-6R demanded our Alpha T 3/4 system which removes the stock muffler and muffler box to enable us to get even more performance then just developing a typical slip-on system. Did we mention there is almost an 11 pound weight loss?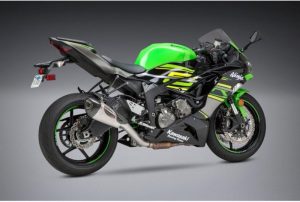 The results were amazing! More throttle response and torque made the ZX-6R come alive with peak torque gains at 4.7% and max HP at 2.2% the green machine is ready to rise to the top of the podium. Oh yeah, and that distinctive Yoshimura Alpha T exhaust note and that exclusive Works Finish will have your heart revving for more!



Also available is our Fender Eliminator Kit specifically designed for the 2019 ZX-6R.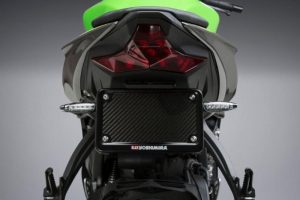 Proudly made in the USA!