Your 7 Step Guide To Washing And Shining Your Motorcycle
Chaparral Motorsports
|
December 11, 2018
Washing your motorcycle isn't just important for maintaining your bike's overall appearance - it's also important for maintaining its overall integrity. Your bike comes into contact with road debris and possibly corrosive substances, such as salt and oil, on a daily basis. You can prevent the body from corroding prematurely by wiping away all that dirt, grime and gunk on a weekly basis. However, don't just take a cloth and literally "wipe" your bike down. Treat your rig to a little TLC and give it a good, thorough bathing once a week. Use this guide to learn HOW to wash your bike the right way.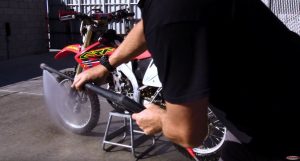 The Importance of Washing Your Rig the Right Way

Contrary to popular belief, there is a right way and a wrong way to wash a motorcycle. Motorcycles are intricate machines with several small and fragile components. If you go about the cleaning process in the wrong way, you risk damaging certain components and causing irreparable harm. Moreover, if you rush through the process, you may miss damage that you would have spotted had you taken your time and been more deliberate in your care.

Step 1: Establish a Work Space

A bike, like a baby, needs to be in the right "mood" and at the right temperature to take a bath. For this reason, you don't want to wash your bike outside on a cool day or give it a good washing immediately after shutting it off. By washing it in too cold of conditions or when the engine is still warm, you risk sending your bike into thermal shock.

Additionally, you don't want to wash your bike in direct sunlight. A lot of bikers do this, as they believe that the direct light helps with drying time. While it does, it also helps the soap dry faster to the bike, which increases the probability that your bike will be left with streaks and water spots instead of a mirror like finish. Additionally, there may be chemicals in some of the cleaning supplies that you're using that can have an adverse reaction to warm or hot surfaces exposed to the sun. Ideally, you should clean your bike on a warm day in a shaded area.

Step 2: Gather Your Cleaning Supplies

Once you've established a safe workspace, gather your cleaning supplies. Like when cooking a meal, it's best to have everything you need on hand. Also like when cooking a meal, it's best to have the exact ingredients that the recipe calls for, as improvising can result in a not-so-great outcome. If you don't have motorcycle cleaning supplies on hand, go get some. In addition to picking up soaps and waxes designed specifically for motorcycle, you also want to invest in the proper tools. Those include the following:



Rinseless wash

Sponges and cloths

Brushes

Microfiber

Step 3: Plug Your Exhaust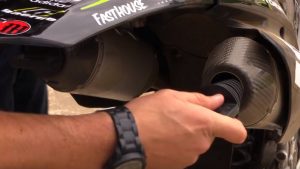 While motorcycles are generally pretty durable, if you don't have to take chances, don't. Use a muffler rubber plug or an old cloth or rag to plug up the exhaust. Don't skip this step if your exhaust is angled in such a way as to allow water to pool in.

Step 4: Spray Down Your Motorcycle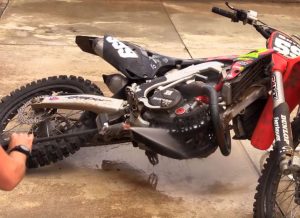 While you don't want to apply too much pressure to your motorcycle, you do want to loosen up and get rid of as much dirt and grime as possible. Apply an even stream of water and cleaner to your bike to help loosen the gunk before applying your own elbow grease. A power washer can be, however, before spraying your motorcycle down make sure the spray isn't too strong. A power washer can make quick work of stubborn dried up mud on dirt bikes. Once you've gotten the bulk of the dirt off apply the cleaner to the motorcycle. There are plenty of motorcycle cleaners on the market such as Maxima's Bio Wash. Let the cleaner sit for the recommended time before spraying it off the bike.

Step 5: Rub a Dub, Dub

At this point, now that the majority of the harmful components have been rinsed off, it's okay to employ some elbow grease. However, before taking a sponge or cloth to your motorcycle, it's important to know the best process for washing it. We recommend doing the following:



Start from the front wheel and work your way to the rear wheel. Make sure to get in all the nooks and crannys like around the brake calipers, and under the engine.

If you have a dirt bike or your motorcycle has a chain final drive you can use a Grunge Brush to really give it a good scrubbing.

If your sponge picks up any dirt, grime or grease, replace it with a new one to prevent those materials from harming your things like your paint work or chrome finishes.

Rinse your bike before the soap has a chance to dry. Spray it down from all angles.

Dry your bike thoroughly, being sure to get into all the crevices and nooks to avoid premature erosion. The best way to do this is to use a leaf blower. There are also motorcycle specific dryers you can purchase such as the Bikemaster Motorcycle Detail Blow Dryer.

Step 6: Re-Lube Your Motorcycle Chain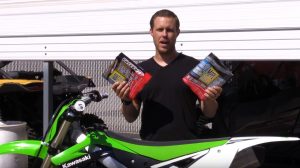 In the process of spraying your bike free of grime and dirt, you likely sprayed it free of lube as well. Re-lube your bike's chain to ensure a safe ride when you take it out again. For dirt bike owners pick up a chain care kit combo pack form Maxima they offer either a Chain Guard kit or a Chain Wax kit depending on which your prefer. Also check out this video on hot to properly clean and lube your chain-the same principles apply towards sport bike chains as well.



Step 7: Wax On, Wax Off

Waxing your bike is probably the most laborious part of the washing process, but it's also the part that yields the most results. Invest in a good bike wax that will seal in the shine and protect your paint from degradation. Products like S100 Detail and Wax is great for Painted metal surfaces for cruisers and Harleys, while Maxima's SC1 Clear Coat is great for shining up plastics and carbon fiber pieces on dirt bikes.

Of course, every biker has his or her own way of washing a motorcycle. The above seven tips are just the basic steps, but if you find others, incorporate them into the above regime, or even devise a regime of your own. For the wash products you need, shop our collection at ChapMoto today.