USA Team Finishes Sixth Overall After A Challenging Weekend At RedBud
Chaparral Motorsports
|
October 9, 2018
(Press release) Buchanan, Mich.-October 9, 2018-
The 72nd running of the Monster Energy FIM Motocross of Nations (MXoN) took place over the weekend at the iconic RedBud MX facility in Buchanan, Michigan. Yamaha bLU cRU riders Justin Barcia (Open Class) and Aaron Plessinger (MX2 Class) put forth hard-fought performances in less-than-favorable race conditions to capture a pair of top-ten finishes in their respective divisions. The USA Team, which also included Eli Tomac in the MXGP Class, went on to finish sixth in the overall team classification.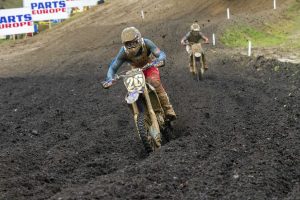 Hosting the event in the U.S. for the first time since 2010, American riders were eager to compete at one of the most highly regarded stops of their native AMA Pro Motocross Championship on a world stage. However, Mother Nature had other plans as steady rainfall created muddy and challenging race conditions for the otherwise ideal RedBud MX track, which proved to be difficult for the U.S. riders throughout the weekend.

Open Class

With an overwhelming crowd on hand at RedBud, Monster Energy/Yamaha Factory Racing's Justin Barcia came out strong with a second-place in Saturday's Open Class Qualifying Heat, finishing only 3.4 seconds away from the win. Despite his good result, Barcia and the U.S. squad didn't get the best gate choice going into Sunday's racing as they qualified ninth overall. In his first moto for the Open Class, Barcia got caught up off the start and was forced to fight his way from the back of the pack. He was able to power his YZ450F through the muddy conditions to reach a top-15 position early on, and eventually pushed his way to a ninth-place finish in the Open Class/MX2 bout.

In the final race of the day, it was the Open and MXGP classes on the line. Barcia was able to put himself into a better position off the start as he sat tenth on lap two. Just as he began an early charge, Barcia experienced a minor mechanical issue that would set him back. Despite the adversity, Barcia battled to a thirteenth-place finish in the last moto. With 9-13 race scores, Barcia finished seventh overall in the Open Class to contribute two solid scores toward the U.S. Team's overall ranking.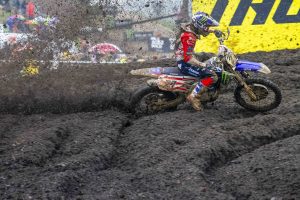 MX2 Class

In his first-ever appearance at the Motocross of Nations, soon-to-be Monster Energy/Yamaha Factory Racing 450cc competitor, Aaron Plessinger, had a tough weekend in Michigan. The bad luck began for Plessinger on Saturday when he experienced a big crash in the MX2 Qualifying Heat while leading the race. He ultimately finished eleventh.

In Race 1, Plessinger powered his YZ250F to a top-ten position off the start but he went down early on and lost his goggles, which forced him to pull into the mechanic's area for a fresh pair. From there, Plessinger was able to make up some ground but a second crash later in the race dropped him outside the top-20. Despite losing his goggles for a second time, Plessinger was able to fight his way back to finish eighteenth.

In Race 2, Plessinger started off in eighteenth and he immediately went to work moving through the field. With muddy and sandy conditions, Plessinger was faced with a lot of roost and he eventually removed his goggles with about six laps remaining. Despite poor vision, Plessinger was able to fight his way to a sixteenth-place finish in the second race to finishing eighth overall in the MX2 class.

It was a tough day for the U.S. Team as a whole, as they raced to a sixth-place finish in the overall Nations classification.

Jim Perry - Monster Energy/Yamaha Factory Racing Team Manager

"The Motocross of Nations did not go as planned for the U.S. Team. RedBud was packed with American spectators and fans cheering on the three riders but in the end, poor starts in the Main Events did not help our case. On Saturday, Justin Barcia rode outstanding to finish second in the Open Heat, which was the best finish of the three riders. Aaron Plessinger was leading the MX2 Class and had a big crash, which was definitely a bummer for him because he possibly could have won, and Eli Tomac struggled with a bike issue and did not finish the MXGP Qualifying Heat. After qualifying ninth overall, the U.S. Team held the ninth starting position and the way the field is set, that really hampered our ability to get up front and challenge for a win."

Justin Barcia, Open Class #27 (Race 1 = 9th / Race 2 = 13th / Open Overall = 7th)

"Saturday, for me, went pretty well. I got second in my qualifying race, which was a solid race for me. I felt like I rode really well, I just had a few things here or there but I felt like I could be better for Sunday. My teammates had a few issues - Aaron had a big crash and Eli had a little bike issue - so we didn't have the greatest gate pick, but we made the best of it. Sunday was difficult. I fought through the pack in the first moto and Aaron had to pull in for goggles or something, so that was definitely against us. In the second moto, I had a pretty good start, running top-ten and working my way forward and I had a little mechanical issue on the rear-end of my bike, so that kind of postponed my charge to the front and I lost a few positions at the end.

There were definitely a lot of things stacked against us for some reason. We're here in the USA and I felt like we could really do it but it really just didn't work out. It's really unfortunate because we had the fans here and everything felt right, but we had some bad luck. Aaron, Eli and myself tried our hardest 100 percent and gave it our all but unfortunately it didn't go as planned."

Aaron Plessinger, MX2 Class #26 (Race 1 = 18th / Race 2 = 16th / MX2 Overall = 8th)

"It didn't go as planned but it was a really good experience to see all these fans out here supporting us even after the motos when things didn't go so well. In the first moto, I was in a really good position and then crashed twice. I went out for the second moto and got a bad start, so I just tried to push my way up there. I lost my goggles with about six or seven laps to go, which made it really difficult to see after that. All-in-all it was a good weekend. It was a really cool experience and we all made it out in one piece, so I'm pretty stoked on that."

MXGP Class Results - RedBud



Jeffrey Herlings, KTM, NED (1-2)

Gautier Paulin, Husqvarna, FRA (2-3)

Antonio Cairoli, KTM, ITA (6-4)

Eli Tomac, Kawasaki, USA (4-7)

MX2 Class Results - RedBud


Jorge Prado, KTM, ESP (3-3)

Hunter Lawrence, Honda, AUS (8-2)

Dylan Ferrandis, Yamaha, FRA (7-8)

Ben Watson, Yamaha, GBR (15-4)

Michele Cervellin, Yamaha, ITA (10-14)

Jago Geerts, Yamaha, BEL (13-18)

Aaron Plessinger, Yamaha, USA (18-16)

Open Class Results - RedBud


Glen Coldenhoff, KTM, NED (1-1)

Alessandro Lupino, Kawasaki, ITA (12-5)

Jeremy Van Horebeek, Yamaha, BEL (6-11)

Justin Barcia, Yamaha, USA (9-13)

Nations Results - RedBud


France, 35 points

Italy, 37

The Netherlands, 41

Australia, 48

Great Britain, 48

USA, 49