Best Outlaw Style Motorcycle Helmets
Chaparral Motorsports
|
October 8, 2018
|
Last Updated: June 4, 2020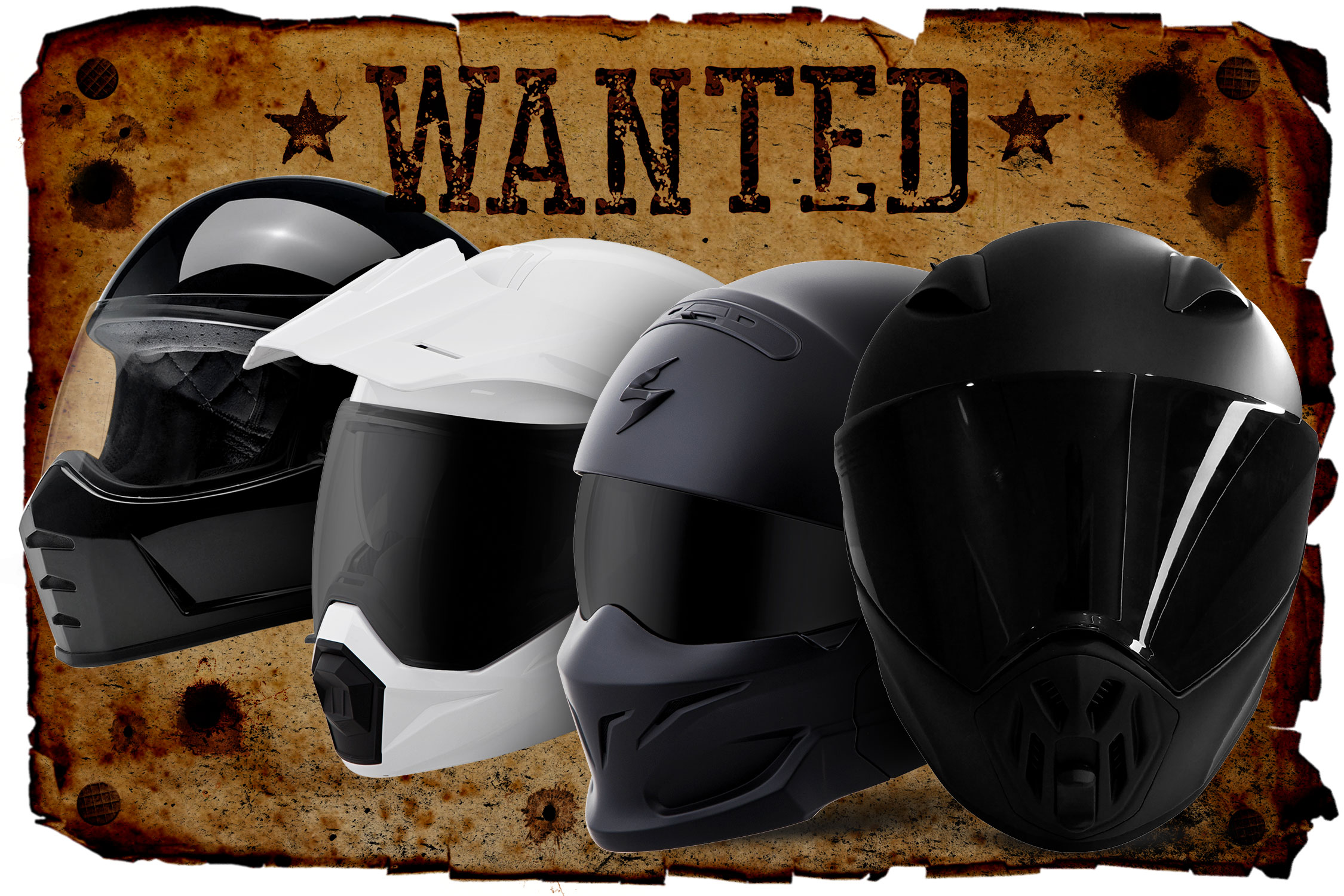 While the Simpson Bandit helmet has been around for decades, it most likely wasn't until Top Gear's mysterious test driver, The Stig, started popping up on people's TV screen that the helmet had a resurgence in popularity-particularly among motorcycle riders. The thing is, The Stig didn't wear the Bandit helmet, he wore Simpson's Diamondback helmet, which is an automotive racing helmet that meets Snell SA2015 standards. However, the aggressive styling resonated with many Harley riders and they began to look at the company's motorcycle lineup and found that the Street Bandit and Outlaw Bandit not only featured the same tough look but were much less expensive. And then next thing you know everyone had to have Bandit Helmet.
If you're a fan of what some have come to generally reference as the "outlaw" style helmet, but want to stand apart from what all your other riding buddies are wearing, or you don't like the $300+ price tag, we've found several helmets that feature similar sinister lines but are a bit more affordable.
LS2 MX419 ($129.98)
This fullface helmet originally started out as a dual sport/ADV helmet but then LS2 made it so that the peaked visor could be easily removed and the helmet was still full functional as a street helmet. So basically you are getting two helmets in one with the MX419. It's amazing how simply removing the visor can drastically change the look of this helmet, but with the visor gone your eyes instantly get drawn to the distinct chin line. The broad eye port offers great visibility with excellent peripheral vision through the optically correct Class A faceshield.
Besides looking sharp the LS2 MX419 offers a lot of great features such as great ventilation thanks to the prominent vent front and center on the chin bar and the two high-flow vents above the brow line. The shell is made from a Kinetic Polymer Alloy that equates to a lightweight and durable helmet. The oval helmet shape is good for most riders. Safety and ease of use have also been factored in to the MX419 as it comes with an emergency release cheek pad system that allows medical personnel to remove the helmet with little disturbance to the head or neck in the event of an accident.
Biltwell Lane Splitter ($249)
Even though Biltwell's Lane Splitter has only been around for a few years it has quickly gained a cult like following and for good reason; it's about as close to a Bandit stlye helmet as you can get without the $300 price tag. The helmet is constructed around Biltwell's proprietary ABS shell and a shock absorbing EPS liner. The front of the chin bar offers plenty of airflow through three vents of increasing size and one vent on either side. A small exhaust port on the back of the top of the crown allows for hot air to be pushed out. The only issue some may have with the intake vents is that they are always open-something to keep in mind if you live in cold climates or are sensitive to cold weather.
Coming in at $50 less than a Street Bandit the Lane Splitter looks as good on the inside as it does on the outside. The interior features a hand stitched brushed Lycra liner covering open cell foam padding. The liner not only adds a bit of style to an otherwise boring portion of a motorcycle helmet but is extremely soft and comfortable. And for those that like to ride with communication systems or speakers in their helmet the Lane Splitter features mesh pockets in the ear areas to accommodate speakers.
What many people will like most about the Biltwell Lane Splitter is the variety of colors available. There are more than 10 different shell colors and eight different lens options to choose from. You could buy one helmet and wear a different colored faceshield every day of the week.
Scorpion EXO AT950 ($289)
If you are looking to really get the most out of an outlaw style helmet the Scorpion EXO AT950 should be right up your alley. Similar to the LS2 MX419 where you have both a ADV/dual sport and traditional fullface helmet in one, the EXO AT950 takes things a bit further by integrating a modular chin bar that can be flipped up to chat with friends at stops or to just get more air to the face during a quick rest stop.
Want even more? Of course you do. This helmet also has an integrated sun shield that can be flipped down or retracted back into the top of the helmet simply by manipulating the lever on the left. This feature alone makes the AT950 a standout amongst the others because you can keep riding day or night and not have to stop to switch to a different colored faceshield or mess with sun glasses.
But wait, there's still more! If you are going to head out for some offroad motocross action you can remove the faceshield and use the helmet like a MX style helmet with a pair of motocross goggles. With the faceshield in place and by removing the peak visor you have a hard looking outlaw style helmet with intimidating lines. Speaking of the faceshield, it provides 100% UV A and UV B protection, and the Everclear no fog face shield means you won't be fighting with condensation. Besides being able to accommodate goggles in MX helmet mode, the large eye port offers exceptional visibility at all angles with the faceshield in place. You can dial in the internal temperature as needed via the dual position chin vent and adjustable top vents.
So yeah, even though EXO AT950 Battleflage graphic is only about $10 less than a Street Bandit you get a lot of bang for your buck.
Scorpion EXO Covert Modular Helmet ($209)
Ok, now this helmet might be bit different than the previous three but it has really mean styling-sort of like some kind of futuristic space warrior-and offers great functionality. Essentially with the EXO Covert you are getting a fullface, 3/4, and half helmet in one. There are three pieces that make this a truly convertible helmet. There is the main shell, the neck roll, and the face guard. All three connect together quickly and easily or can be separated to create the type of helmet you desire. One thing to keep in mind is that the face guard is bendable and not a structural component like on traditional fullface helmets. The face guard is more for wind and debris protection and not so much for hard impact protection.
Similar to the AT950 the Covert has a retractable sun visor that helps protect the eyes from flying pebbles, bugs, and dirt while also providing relief in bright sunny conditions. In fullface mode you'll get plenty of air flow through the vents in the face guard. There are adjustable vents above the brow line which come in handy no matter what mode the helmet is in. The Covert is available in either matte black, storm trooper white, or you can opt for the Ratnik which is like a distressed industrial camo graphic.