Sena Momentum Helmet Review
Chaparral Motorsports
|
September 13, 2018
There are numerous factors to consider when purchasing a new helmet. You need to think about how well it will fit over your head and how comfortable the interior liner is. However, in today's modern age, it also helps to look for helmets that are more technologically advanced. That is why many riders have turned toward the Sena Momentum Helmet. There are many things to love about this helmet, but above all else, it is a first-class Bluetooth helmet that will allow you to listen to music or hear your GPS system while you speed down the highway.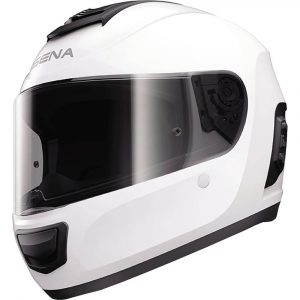 Bluetooth Capabilities

The electronics within this helmet are completely built-in, so no assembly is required once you get it. Other helmets may support Bluetooth-enabled products, but you will need to purchase them separately and install them on your own. The instruction guide you receive with this helmet will provide you with detailed directions on how to use the Bluetooth capabilities, but the basic set-up involves downloading the Sena utility app onto your smartphone. This allows you to listen to your GPS or music with ease.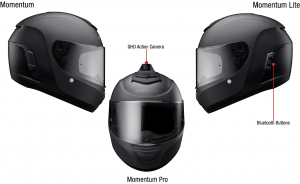 Another feature you will love about this helmet is that it comes with free, automatic updates. Many people worry about buying technologically-savvy products because they worry it will become obsolete in a year or two. However, with this Bluetooth helmet, even if you update your smartphone once every couple years, you can be confident you will still be able to use this helmet with it.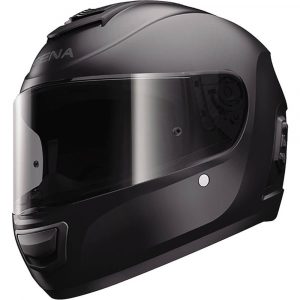 This smart helmet from Sena is available in three different models at three different price points to suit the needs and bank accounts of different riders. The Sena Momentum is capable of linking together with up to eight other riders at a one mile distance through the intercom system, where as the Momentum Lite offers a four way connection.

For the ultimate smart helmet experience there is the Momentum Pro which provides up to eight bluetooth connections but also has the added benefit of a compact actions sports camera built into the top of the shell. The QHD camera boasts a 135 degree field of view and shoots 1440p at 30fps or FHD 1080p at 60fps and has a looping video recording time of two hours.

Integration

There is a three-button set-up integrated on the left side. They blend in seamlessly with the rest of the helmet, but they are large enough to where you can find them even through thick motorcycle gloves. Built-in speakers allow you to hear everything effortlessly, and it also includes a microphone located within the chin bar. That means if you go riding with buddies, you can communicate with one another simply.

The battery for all this can be found in the right side. There is a mini USB charging connector, and you can charge it up completely in about two and a half hours. Once it is charged, you have approximately 20 hours of talk time. You can look at the LED lights on the side to know how much charge you have left, or you can select audio feedback, which will tell you whether your charge state is low, medium or high.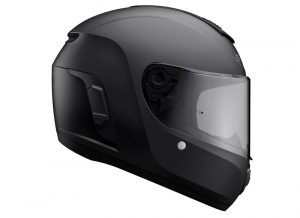 Additional Features

While Bluetooth capabilities are the primary highlight of this helmet, it comes with plenty of other features you can benefit from. It is both ECE and DOT compliant, so you know it is safe. It comes with a composite fiberglass shell along with a multi-density interior EPS foam liner. It also has vents located on the rear and top of the shell.

It comes with a face shield, but if you do not want it there, then it can easily be removed. To keep the helmet secured firmly to your head, you can utilize the "D" ring chinstrap. The snap fasteners and pull web are red for the benefit of first responders. Finally, this helmet weights about three pounds and 14 ounces. While it is certainly heavier than other helmets, it is not so heavy to where it becomes cumbersome. It is actually fairly light considering all the tech you find integrated within it.

The Sena Bluetooth helmet is available for purchase with Chaparral Motorsports. It is available in an array of sizes, and it is ready to use right out of the box. It is a true game changer in the industry, and it is highly likely many other helmets will follow suit in the near future. If you have a question about the helmet, then contact us online or via phone at 1-800-841-2960.