Wienen Wins Sixth ATV MX Racing Title Aboard Yamaha's YFZ450R
Chaparral Motorsports
|
August 16, 2018
(Press Release) KENNESAW, Ga. - August 15, 2018 -
Yamaha
Racing topped the podium this past weekend at Loretta Lynn's Ranch in Hurricane Mills, Tennessee, as Chad Wienen recaptured his AMA Pro ATV MX title to claim his sixth career championship, and Thomas Brown took third overall in the series, both on Yamaha's YFZ450R - the most technologically advanced Proven Off-Road sport ATV in the market. Wienen is only the second among all-time ATV motocross racers to earn six championships, solidifying his position as the most successful ATV racer of the 21st century.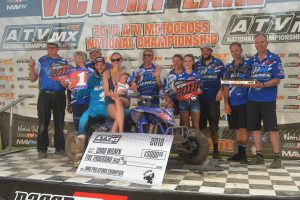 Wienen bested the competition with Yamaha's race-proven, Assembled-in-USA, YFZ450R sport ATV, earning himself the $10,000 bLU cRU championship bonus. He was the only Pro ATV MX racer this season to finish every moto race no lower than fourth, and was only one of two racers to finish on the podium in every round. Thanks to the unmatched consistency and performance of the YFZ450R, Wienen has finished 71 consecutive races on the podium.

"It feels incredible to be back on top, and to continue making history along my team at Yamaha and Wienen Motorsports," Wienen said. "The YFZ450R proved itself yet again thanks to its dominating reliability that played a vital role in helping me overcome the competition and securing my sixth championship."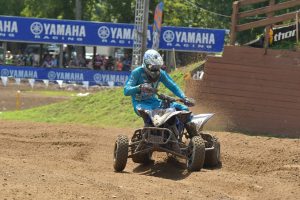 Thomas Brown also found success on his TBrown 84 Training / CST Tires YFZ450R this year, finishing third-overall with 326 points, marking his fifth podium season in his Pro ATV MX career. He finished third or higher five times this season, and was one of only three racers with a first place finish, which he earned at RedBud in Buchanan, Michigan.

"All of us at Yamaha are proud to work with Chad and Thomas as they continue to make history for both ATV MX and Yamaha Racing," said Donnie Luce, Yamaha's off-road racing coordinator. "For nearly a decade, both of these racers have been a thrill to watch, and have found continuous success while paired with the consistency and reliability of the YFZ450R."

In cross country ATV racing, Yamaha factory-supported racer and three-time GNCC Pro-class champion Walker Fowler continues to chase his fourth-straight XC1 Pro ATV championship, and the $10,000 bLU cRU championship bonus on his WFR / GBC Yamaha YFZ450R. With 226 points and five first-place finishes, Fowler leads with 34 points after nine rounds in the 13-round series.

On the national Side-by-Side (SxS) circuit, Yamaha factory-supported racer Brock Heger leads the Lucas Oil Off-Road Racing Series' (LOORRS) Production 1000 UTV class in his Maxxis / JM2 / Weller Yamaha YXZ1000R. In the first six rounds, Heger has amassed an impressive 47-point lead, and is the only racer to finish on the podium in every race, including four first-place finishes. Trailing in second is bLU cRU racer, Jason Weller, with 270 points and three podium-finishes in his Weller Racing YXZ1000R. The YXZ racer that comes out on top in the second half of the season will win the $15,000 bLU cRU championship bonus.

The Lucas Oil Midwest Short Course League's Pro Stock UTV series has been dominated by Yamaha racers, with Snow Dogg Snowplows Ryan Mulder leading with 258 points and Dialed In Racing's Jesse Klaus following with 243 points aboard the YXZ1000R. Rounding out the podium is Yamaha's factory-supported racer and last year's TORC Series Pro Stock UTV champion CJ Greaves of Greaves Motorsports / Mutant Super Soda with 229 points and two first-place finishes on the series. The three will battle it out for the championship and the $15,000 bLU cRU bonus on August 31 and September 1 at Crandon International Raceway in Wisconsin. Additionally vying for a Pro Mod SxS title in the Midwest series in a Powersports 1 prepared YXZ1000R is Rodney Van Eperen, who currently leads the class with four second-place, and one first-place finish.

In the Lucas Oil Regional Off-Road Series (LORORS), Paul O'Brien made a strong start in Arizona, capturing three-straight wins and a 36-point lead in the opening rounds with his Weller Racing YXZ1000R SS (Sport Shift). In the Southern California (SoCal) LORORS series, bLU cRU racer Jason Weller is third overall with 274 points in six rounds in his Weller Racing YXZ1000R. Should a bLU cRU racer finish first in either series with their YXZ, they'll walk away with Yamaha's $5,000 bLU cRU championship bonus.

Eligible racers can register or view more information on the bLU cRU program, including all guidelines and requirements for ATV and SxS racing at www.YamahabLUcRU.com. Follow Yamaha Outdoors and racing on your favorite social channels at www.Facebook.com/YamahaOutdoors, www.Twitter.com/YamahaOutdoors, www.Twitter.com/YamahaOutdoors, and www.Instagram.com/YamahaOutdoors. #YamahaRacing #YXZ1000R #YFZ450R #bLUcRU #ProvenOffRoad #REALizeYourAdventure #REALizeYourPodium #AssembledinUSA #Yamaha