Yamaha BLU CRU Riders Justin Barcia And Aaron Plessinger Selected To Represent The U.S. At 2018 FIM Motocross Of Nations
Chaparral Motorsports
|
August 14, 2018
(Press Release) New Berlin, N.Y. - August 11, 2018
- The American Motorcyclist Association (AMA) announced the U.S. team lineup for the 2018 FIM Motocross of Nations (MXoN) today prior to the start of the Unadilla Motocross National in New Berlin, New York. The three-rider lineup includes Yamaha bLU cRU riders Justin Barcia and Aaron Plessinger, along with American teammate Eli Tomac. The event takes place October 6 and 7 on their home soil at the iconic RedBud MX facility in Buchanan, Michigan.

Monster Energy/Yamaha Factory Racing's Justin Barcia is no stranger to representing the U.S. at the Motocross of Nations as he makes his fourth appearance with the team in 2018, competing in the Open classification. The New York native helped the Americans to achieve overall podiums in 2012, 2013 and 2015 with exceptional performances in his individual classification, including a race-win and class overall in 2015, a class overall in 2013 and third overall in class for his rookie appearance in 2012. This year, Barcia looks to aim his YZ450F to the sky once again as he prepares to fight alongside his American teammates to keep the coveted Chamberlain Cup inside the U.S.

Monster Energy/Yamalube/Star/Yamaha Racing's Aaron Plessinger joins the U.S. team for the first time this year following an incredible string of performances in 2018. As the current 250MX Championship points leader, the 22-year-old Plessinger will represent America in the MX2 class aboard the race-proven YZ250F.

Justin Barcia, Open Class #27

"To be chosen for the Motocross of Nations is an honor. I've been a part of the U.S. Team in the past and always have done really well in my class, pulled my weight really strong and always handled the pressure well. To be chosen again just shows that I'm getting back into my stride and I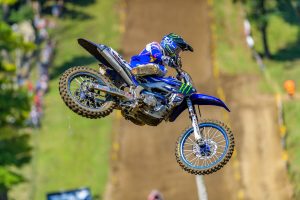 feel confident because the race is at RedBud and I've shown that I have great speed there. I know it's going to be a solid team this year and it's definitely time to get that win again. We've been searching for it for a few years now and we've come up short a lot, so it's pretty much do or die - we're going there to try and get that trophy back!"

Aaron Plessinger, MX2 Class #26

"Being selected to race for the U.S. is something I have dreamed about ever since I started riding. I'm so excited to get to represent my country and with It being in the U.S., it couldn't have been a more perfect year because if you know me, you know that repping the red white and blue is a part of my lifestyle! I'm just going to stay on the path that I'm on right now, it seems like it's working so far! I can't wait to see all the fans and hopefully make that #1 trophy stay in the states!"

Jim Perry - Monster Energy/Yamaha Factory Racing Team Manager

"It's an honor to have Justin Barcia and Aaron Plessinger represent the Yamaha brand on Team USA for the Motocross of Nations event. Justin has been riding solid all season and has had great success at previous Motocross of Nations events. Aaron Plessinger has been riding outstanding all year long, winning the Supercross Championship, while leading the Outdoor title and is looking forward to the Motocross of Nations event. This effort will not be taken lightly as the team is highly motivated to bring the trophy back to the U.S. where it belongs."

Yamaha Motor Corporation, USA would like to congratulate Justin and Aaron, as well as their teammate Eli Tomac, on this prestigious honor of being selected for team USA. We wish them the best in bringing home the Chamberlain Trophy in 2018!