Musquin Surprised By Not Getting Picked For France Motocross De Nations Team
Chaparral Motorsports
|
August 9, 2018
If Red Bull KTM rider, Marvin Musquin, placed his million dollar winnings from the 2017 Monster Energy Cup on a bet that he would be chosen to ride for the French Motocross De Nations (MDN) team this year, he'd have a million less dollars today.

[caption id="attachment_69976" align="aligncenter" width="300"]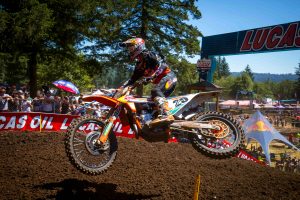 Image: Red Bull KTM[/caption]



Yesterday, the French team was announced and much to the surprise and chagrin of many, especially Musquin, he was not named as one of the three riders. The four-time defending French team will be fielded by Rockstar Energy Husqvarna Factory Racing's Gautier Paulin and Monster Energy Yamaha Factory Racing's Romain Febvre riding 450s in the MXGP class and Open class respectively, while Monster Energy/Yamalube/Star/Yamaha Factory Racing's Dylan Ferrandis will ride a 250 in the MX2 class. Obviously Musquin felt he should have been selected for one of the 450 spots, most likely the MXGP spot, and deservedly so. The past two years the French rider has been a force to be reckoned with not only on American soil but across the pond as well.

[caption id="attachment_69974" align="aligncenter" width="300"]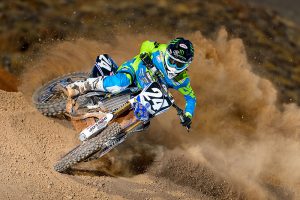 Image : Monster Energy/Yamalube/Star/Yamaha Factory Racing[/caption]

Starting in 2017 Musquin placed third overall in the Supercross season and then nearly rode away with the Outdoors title, finishing the season only 17 points behind the champion, Eli Tomac. The KTM rider quickly made up for those two short comings by sweeping the Monster Energy Cup and becoming the second rider in the event's history to win the $1 Million grand prize. He then slaughtered the competition in the Straight Rhythm Event and didn't lose a single race, capturing his second Straight Rhythm title in a row. Next, he fly home to France to win the Paris Supercross and then skipped over to Switzerland for where he was crowned King of Geneva Supercross.

For 2018 he started the Supercross season off with a bang taking the victory and red plate and the season opener in Anaheim. The following race in Houston he took a hard tumble in his heat race and owed out of the remainder of the event to a shoulder injury. Bruised and sore but determined to win his first 450SX title, he was back at the gate the following week for A2 where he would log his worst finish the entire season, 13th place. He chased Jason Anderson down all the way to the final race of the season in Vegas where he missed the championship by only 14 points.

Now more determined than ever with only three races left in the outdoors series Musquin is only 15 points back from series leader Tomac. And let's not forget only a month ago when he went 2-1 to win Redbud-where the MDN will take place this year. Oh AND the France Federation was there and watched him WIN!!! Actually, Musquin has done quite well at Redbud. Aside from winning this season, except for 2011 when he was out due to injury, he hasn't finished outside of the top 10 in either the 250 class (2012-2015) or the 450 class (2016-current).

[caption id="attachment_69975" align="aligncenter" width="300"]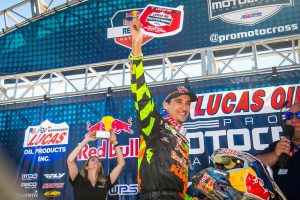 Image: Red Bull KTM[/caption]

So yeah you would have thought it was a no brainer that Musquin would be on the team-especially since he's been rather successful at RedBud the past seven years and would have more experience on that track than any of the other 450 French riders. In fact, according to the post Musquin made on Facebook in regards to him not being selected to ride for team France, he assumed he was a shoe in as well.

Hello everyone,

As you might have heard already thru the video posted by the French Federation today, I've had the unpleasant surprise to find out that I wasn't picked to race the MX of Nations for Team France.

I think it's now important that I say a few words about what Jacques Bolle, President of the French Federation, said at the team announcement were the reasons and factors they looked at in selecting the team this year.

First of all, the motivation... For the record, the French coach came to America for the Red Bud National and spoke with me there to make sure I was motivated and available to race Des Nations. I confirmed I was 100% motivated and that being teammate with Dylan Ferrandis would be great! Also, what greater motivation is there for me to perform than to race in front of the world here in the US, on a track I just won? If that's not motivation enough then I don't know what would be!

Jacques Bolle also talks about the importance for the rider to be healthy and performing good around this time of the year. Seriously, what do you want me to say to that... ? My results speak for themselves. I finished 2nd in the AMA SX Championship this year and I'm currently a title contender for the outdoor championship with three races left! I won Red Bud this year and I've been racing at Red Bud for the last 8years.....

I'll save everyone time and not go into details about the planning and logistics that have already gone in to be part of that race from either my side, my Red Bull KTM teams side, the factory, my sponsors and or the rest of my crew....

To me it's sad to be overlooked again especially given the race is going to be here in the US where I compete almost every weekend for the last 8 years now and against many top riders that I am sure will be selected on the US home team. But I do really want to thank everyone who has and continues to support me and thank all the French, American, and all the other fans who have shown their support for me after this announcement. It means a lot to me.

It's not to say that the three French riders that were chosen aren't' deserving of their spots. All of them have been doing quite well with Febvre taking the MXGP title in 2015 and Paulin right behind him in second. Most recently Paulin was third in MXGP for 2017. In the US Ferrandis is currently 10th in the 250 Outdoor series after missing the first three rounds due to injury he suffered in the 2018 250SX East season. All three riders have played roles in the French team's recent four-year win streak at MDN, most notably Paulin and Febvre helping the team win in 2015, 2016, and 217, and Ferrandis doing his part in 2014. Musquin has been there for the French team too, he helped the team win in 2015.

In 2016 Musquin wasn't chosen and in 2017 he made the decision not to participate because of an injury. Despite his riding, achievements the past two years, and success at RedBud, for the French coach to fly out to Redbud, speak with Musquin about his motivation to be on the team, watch him win the race, and then not select him seems to send a message that something is fermenting in France and it's not the Époisses.