Motorcycle Oil 101 With Liqui Moly
Chaparral Motorsports
|
July 25, 2018
Some people see motorcycle oil as a mysterious fluid that holds lots of secrets and confusion. Most people know they need oil in the engine of their motorcycle for it to operate properly but that's about it. They often don't know or understand the specifics about oils such as why you shouldn't use automotive oil in a motorcycle or what some of the different numbers and letter on the front of the oil container mean.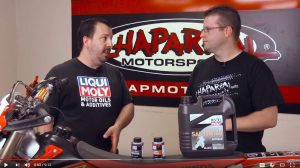 To help shed some light on many the questions we brought in Jason from Liqui Moly and had him go through some of the basics of motorcycle oil and explain how it all factors into the performance and longevity of an engine. In the video below, Jason talks about the difference between automotive oil and motorcycle oil, why oils are made for specific motorcycles like Harley-Davidson and dirt bikes and he briefly discusses the difference between full synthetic oil and semi synthetic oils. Jason also points out why when shopping for oil you need look beyond just the oil weight and pay attention to the smaller numbers and letters on the label.

Of course we couldn't have a discussion with a Liqui Moly representative without talking about some of their products, so we asked Jason about two of their most popular products, the Liqui Moly Speed Additive Shooter and the Engine Flush. If you aren't familiar with these products you'll definitely want to hear what Jason has to say about them and how they can improve the performance of your engine.