Barcia And Webb Look For Solid Finishes At The Series Favorite RedBud MX
Chaparral Motorsports
|
July 5, 2018
(Press Release) Cypress, Calif.-July 5, 2018-
The 2018 AMA Pro Motocross Championship heads into the second half of its 12-round series this Saturday, July 7, with Round 7 and the RedBud National, taking place in conjunction with the popular U.S. Fourth of July weekend. Known for its massive crowd, patriotic fan base and highly-regarded motocross track, RedBud is a much-anticipated round for Monster Energy/Yamaha Factory Racing teammates Justin Barcia and Cooper Webb, who can't wait to do battle in Buchanan, Michigan.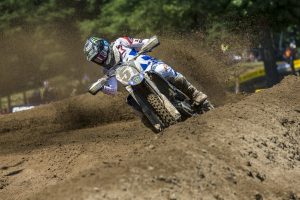 Barcia, who raced the YZ450F to a 450MX overall win at RedBud in 2015, looks forward to all aspects of this weekend's race. With a steady platform of podium finishes behind him, Barcia continues to strive for the top and his goals remain consistent for the second half of the season: racing for moto wins and working toward an overall victory.

After coming back from injury to earn a top-ten finish at the roughest track of the season in Southwick, Webb looks to continue building this Saturday as he works his way back into race mode. The 2016 250MX Champion has also experienced great achievements with the Yamaha bLU cRU at RedBud, claiming a 250MX overall win in 2016, in addition to overall podiums and moto wins.

Justin Barcia, 450MX #51

"Going into RedBud is super exciting for me. I've had good luck there in the past, so there's a lot of good feelings on that track. I'd have to say it's probably one of my favorite tracks - there's some cool jumps, good elevation and it gets really rough, deep and bumpy. The fans there are usually really gnarly and really excited on Fourth of July weekend, so that will be really cool. Going into the race, my goal is to win a moto, obviously, and that will set me up for trying to get an overall win, which is where I want to be in the future. RedBud is a place where I feel like I can do it, so this week I'm just going to be fine-tuning some settings for that track. It's also cool to go there because the Motocross of Nations is going to be there, so I definitely want to show my speed there and show that we have what it takes to be on Team USA."

Cooper Webb, 450MX #2

"With RedBud coming up this weekend, I'm excited to already get back to the races. RedBud has typically been a pretty good race for me, I've had some overall wins there and a lot of podiums in the 250 class, so it's a good vibe for me. It's always nice going there, it's one of my favorite tracks on the circuit and it's always a cool feeling being an American racing in front of the fans for the Fourth of July holiday. Hopefully I can have a good week, get some more speed and endurance on the bike, and try to improve my results at RedBud."

MEET JUSTIN BARCIA AND COOPER WEBB AT THE RACE TRANSPORTER DURING SATURDAY'S AUTOGRAPH SESSION­

Stop by the Monster Energy/Yamaha Factory Racing team transporter on Saturday from 11 - 11:45 a.m. (time subject to change due to scheduling). Justin and Cooper will be there to meet fans and sign autographs.

IF YOU CAN'T MAKE IT TO REDBUD, TUNE INTO MAVTV, NBC AND NBCSN

Beginning with 450 racing, the first set of motos from Buchanan, Michigan will be broadcast live on MAVTV beginning at 10 a.m. PDT, followed by live coverage of 450 Moto 2 at 12:30 p.m. PDT on NBC. 250 Moto 2 will air on Sunday, July 8, at 2 p.m. PDT on NBC Sports Network. All motos can also be viewed live on the NBC Sports Gold App, beginning at 10 a.m. PDT.