Alpinestars Soars Above The Competition With The Ultra-Light Supertech S-M10 Dirt Bike Helmet  
Chaparral Motorsports
|
June 6, 2018
When it comes to racing dirt bikes, saving weight wherever you can is extremely important. Racers and their mechanics will spend hours changing out parts and accessories and even resort to extremely expensive measures like using titanium hardware to make the motorcycle as light as can be. And let's not even get into the grueling training regimens they maintain to keep their bodies as lean as possible.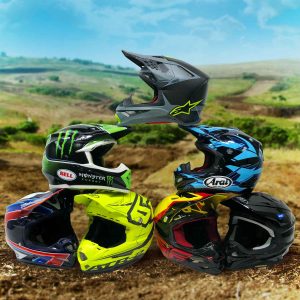 Basically what it comes down to is less weight means a better power to weight ratio and hopefully an edge on the competition. Even dirt bike gear is a consideration when it comes to weight savings, and for the past several years motocross helmet manufacturers have been trying to create MX helmets that are extremely light but yet deliver great head protection. And while there are several dirt bike helmets on the market that are extremely light, Alpinestars has just jumped ahead of the competition with its very first foray into MX head protection with the Supertech S-M10.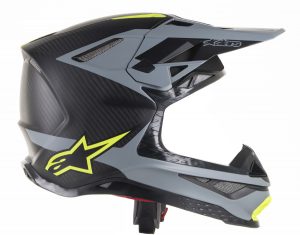 Comprised of a full carbon fiber shell, outfitted with MIPS head protection technology, and featuring a brand new visor attachment system created by Alpinestars, the Supertech S-M10 dirt bike helmet weighs in at less than 3 pounds (size medium). When we compared the top of the line helmets from Troy Lee Designs, 6D Helmets, Fly Racing, Shoei, Arai, and Bell, none of them made it under the 3 pound mark. In fact the lightest helmet we weighed was the SE4 Carbon from Troy Lee Designs that weighed 3.1 pounds, quite a ways off from the 2.14-pound of the S-M10.

Helmets We weighed:
Alpinestars Supertech S-M10 (medium): 2.14 pounds
Troy Lee Designs SE4 Carbon Squadron (medium): 3.1 pounds
6D ATR-2 (medium): 3.2 pounds
Fly Racing F2 (medium): 3.5 pounds
Shoei VFX-Evo (medium): 3.5 pounds
Arai VX-Pro 4 (medium): 3.7 pounds
Bell Moto 9 (medium): 3.7 pounds




Aside from helping riders save weight, the feather-light feel of the Supertech S-M10 also mean less stress on the rider's neck muscles and less of a bobble head feeling when skimming across whoops. Alpinestars really went to town on the design of this helmet and loaded it with some really great features. Check out the video below as Travis and Kyle cover the ins and outs of the new lid.