Chaparral Motorsports Helmet Fitment Clinic June 9 2018
Chaparral Motorsports
|
June 1, 2018
Hopefully if you're in the market for a motorcycle helmet it's because you want to protect your head in the event of a crash and not just because it's required by law in the state you ride in. Unlike most other riding gear and safety equipment, there's more to choosing a motorcycle helmet than deciding on the style and color you want. To get the most protection out of a motorcycle helmet it's best that you make sure it fits properly-this is especially true for fullface motorcycle helmets. To help our customers find a helmet that is not only comfortable but fits safely Chaparral Motorsports is hosting a Helmet Fitment Clinic with Arai Helmets on Saturday June 9th from 9am to 3pm.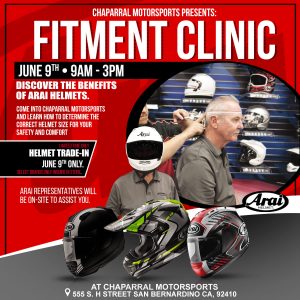 A motorcycle helmet that doesn't fit properly can be just as dangerous as riding with no helmet at all. A helmet that is too large can flop around and distract you or worse cover your eyes so you can't see in front of you. Figuring out the proper helmet size isn't too difficult you just need to measure your head and then determine your head shape. Head shape is just as important as head size. Not everyone has the same head shape, some people have oval shaped heads and others are more circular shaped. To accommodate different head shapes Arai offers different helmet models such as the Quantum-X which is designed for round oval and the Signet-X which is better for long oval head shapes. A few other helmet manufacturers offer helmets for different helmet shapes as well, and if find a helmet that is almost right but a little tight in some spots you can often make micro adjustments with different head liners or swapping out cheekpads--which is why it's best to always try before your buy whenever possible.

With Chaparral Motorsports' massive helmet selection and Arai's trained staff you will have the opportunity to learn how to correctly measure your head and find the best helmet for your head shape. As an added benefit, during the Helmet Fitment Clinic, if you trade in any old helmet and you'll receive a $100 voucher off select helmets. As you can see, attending this event is not only good for your head, but it can be good on your wallet as well.