Tech Tips: How-To Install A Galfer Oversized Brake Rotor Kit Presented By Vital MX
Chaparral Motorsports
|
May 14, 2018
If you're serious about racing dirt bikes, then you probably know that being able to stop or slow down quickly is equally as important as riding fast. Most of the time the majority of your braking is going to be applied to the front brake, and to help improve overall performance you can upgrade your stock front brake setup with an oversize rotor kit.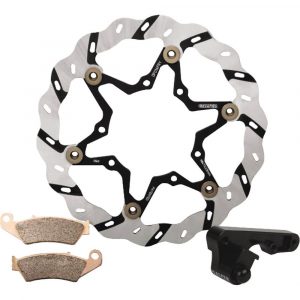 Galfer has been making motorcycle brake pads and rotors for quite some time and have become one of the leaders in high quality braking components. For dirt bike riders they created their Tsunami Oversize Rotor Kit that features a larger 270mm rotor to replace the smaller stock rotor on most dirt bikes. The combination of the lightweight material and large wave-cut, floating rotor design delivers better braking power and improved heat dissipation. Another benefit of a cooler running rotor is that it has less tendency to warp from excessive heat.

Galfer's Tsunami dirt bike brake rotor kit comes with everything you need such as the rotor, caliper bracket, and new brake pads. Installation is extremely easy and can be done with basic hand tools-the only specialty things will need is a torque wrench and some mild strength thread locker for the rotor bolts.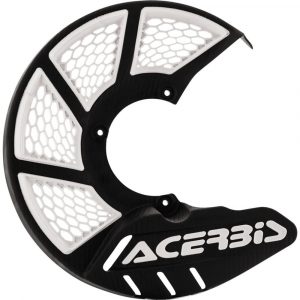 Some dirt bikes already come with 270mm rotors and if your bike falls into this category you can purchase the Galfer Tsunami rotor by itself. While working on the front brake you may also want to upgrade your stock brake lines with Galfer's stainless steel braided brake lines. Their steel braided lines offer great durability and protection, better brake modulation, and provide a positive feel at the brake lever without feeling spongy. Another thing to think about when working on your front brakes is adding some protection in the form of an Acerbis X-Brake 2.0 Vented Front Disc Cover.

You can see just how easy it is to upgrade your front brake rotor with a Galfer unit by check out the installation video below that Vital MX put together.



Tech Tips: Oversized Brake Rotor Kit on Vital MX