ChapMoto 2018 Supercross Race Recap Week 14
Chaparral Motorsports
|
April 20, 2018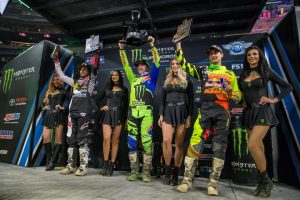 Last year we started a new series called the ChapMoto Supercross Race Recap, where several Chaparral Motorsports employees gave their thoughts on the past weekend's Supercross event. That series was so fun and popular that we decided to keep it going. It's a pretty simple concept; we pose about 8-10 questions to the group regarding the evening's activities, highlights, and lowlights and they reply with their thoughts. This is meant to be a casual, fun, and lighthearted series.

The Chaparral Motorsports staff (and one outsider) consist of:

Travis Snyder (TS): Chaparral Motorsports Offroad Products and Apparel Manager. Travis is one of our in-house moto racers. A Honda guy, Travis is either at one of the local tracks or prepping his bike for his next event.

Mike Medina (MM): Chaparral Motorsports Technical Advisor/Communications Specialist. When Mike's not at the office he's in the pits spinning wrenches for the Enticknap brothers, #722 Adam (The Seven Deuce Deuce) and #723 Tyler.

The Outsider (TO): N/A. The outsider is not a Chaparral employee but he is an industry veteran with a good perspective on the inside.

Kyle Bradshaw (KB): Chaparral Motorsports Marketing Department. The newest team member, Kyle is a highly experienced offroad/ADV/dual sport rider who splits his seat time between his stable of KTMs and his custom Honda VTX1300.

Eric Ellis (EE): Chaparral Motorsports Marketing Department/Social Media. Eric is just a Harley guy who likes to watch Supercross.

Who had the best night?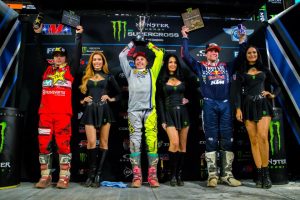 MM
: J Mart of the Geico Honda team for laying the smack down on the 250 class in front of his home peeps for the top step of the podium.

TO: JMart

KB: Martin was the only rider to make the Podium in all three races. That pretty much gives him the best night, hands down. Although, Tomac being so far down in the points to win this Triple Crown, that probably puts him up there too.

EE: Jeremy Martin. He looked real good out there. It'll be tough for him to get a hold of Osborne for the east title but those points helped. The door isn't completely closed yet.

Who had the toughest night?
MM
: Austin Forkner could not stay off of the ground in Main Event number 2 in the 250 class. He coughed up some valuable points to Wacko Osborne and is seeing is title hopes fade away.

TO: Forkner, Webb, Kyle Peters, Barcia's mechanic. Well, for starters to have someone that was in the mix for the championship and have that disappear has to be disheartening, but Forkner is super, super talented and young and so hopefully he will be back in time for Hangtown 100% ready to contend for the outdoors. Sucks for Coop to be injured again and his outdoor season in question. Kyle Peter's never got to line up as he got hurt outside playing in the snow or something. Barcia's mechanic getting run over by a trackside UTV must not have been too fun either.

KB: Forkner... 1st place in the 1st Main. He looked promising. In the 2nd main, he crashed himself so many times! And in the 3rd main... to crash, drop to last place, make it back to 9th position and then crashed AGAIN just in front of the finish line for a 19th place finish... Rough night for sure!

EE: Forkner for sure. Even though he won the first main, he was really struggling to keep in on two wheels almost all night, and then everything went in the toilet in the last main. He had a shot at a title too, bummer. Webb and the Yamaha Factory team have to be really disappointed as well. Just when they get the team back to full strength Webb gets injured again. That poor dude can't catch a break-or actually I guess his problem seems to be that he can catch a break-bad pun. But he seems to have a positive mental attitude and that goes a long way. #PMA. I wonder if Yamaha will toss someone else on the open YZ450F for any of the remaining races or just let Barcia do his thing?

Did anyone surprise you?
MM
: Jordan Smith is hanging in there for the TLD KTM squad and is keeping is 250 title hopes alive with some good finishes and a 3rd place overall.

TO: Barcia, especially him being out two months and coming right back into the swing of things and getting 5th overall is quite impressive for Bam Bam.

KB: Anderson skipping the rhythm section which was one of the reasons he was penalized. To double back just a bit would not have hurt him much... I would have liked for Anderson to bring home this Triple Crown Win.

EE: Barcia. It's like he was never gone. Dude is really proving himself this season and I doubt he'll be in limbo for factory ride next year.

Who had the worst spill?
MM
: Austin Forkner going to Endo-nesia in the rhythm section for one of his many crashes in moto 2.

TO: Forkner fell like 4-5 times throughout the night, but the one that caused his fracture to his collarbone has to be considered the "worst spill" due to this ending his championship run.

KB: Forkner's endo crash was the worst that I saw. Reports say he broke his collarbone... no fun. But Webb.. in the first main was taken off the track with help not to return after his crash. Looks like a Tib fracture from the wheel that ran him over. No good! Curious to see if we will see Webb back in action...

EE: Forkner.

The individual Triple Crown races count at regular points toward the season total, do you think there should be additional points or a weighted point structure for the collective triple crown results?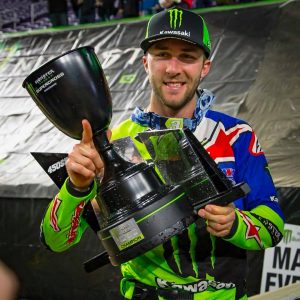 MM
: Yes, each main event should count for points, not an overall winner to get only 26 points. You can still give out the trophy for the overall winner, but points should be awarded for each main event in the night. Maximum of 75 points for the rider that can sweep all three main events.

TO: I think an additional 10 points or so would be cool for each Triple Crown race or some kind of extra cash bonus, but then again if we have these extra points and extra cash, would we have even more guys that may not be in the hunt for the championship "going for it" even harder? Tough controversial question up for some serious debates!!

KB: Not being a fan of the Triple Crown, these guys are still running three main events. That being said, each event should count as a main and points should be granted for each of these main events, just as they would for a standard main event. I do feel that it is a bit unfair for the other riders to not have a shot as they do weekly in the various heat races and LCQ's.

EE: If they keep the Triple Crown series around next season I think they need to look at structuring the points differently. Either each main is for points or setup some kind of bonus point that get doled out based on the results from all three triple crown events combined. Otherwise I don't really see the point of having the racers risk their health for three mains in one night is they points are the same as a regular season race.

Several racers, most notably Tomac and Anderson have stated that they are not fans of the three triple crown format, commenting that it's too risky to have all the fastest guys lining up three times in one night? What are your thoughts?
MM
: I do not care for the format, but not for ET3's and El Hombre's reasons. If you are not wanting to race against the fastest riders in the world in every race, then why are you here. The format is boring due to the points structure, they should flip the gate pick based on the previous main event results to make it more exciting, and a higher purse payout for those who qualify just to make the three main events.

TO: I agree, as most riders don't like this format as it is super risky in this format of the "GOING FOR IT" mentality, with the three race schedule. It is cool as a casual fan to see this style racing, but I'd rather see a healthy crop of riders when it's all said and done.

KB: I am not a fan of it either. There is something about all of the heat races that position the best racers in the Main event that I really like watching. The same guys... three races in a row, without having to battle to get there, not such a fan. Don't get me wrong, all of them deserve to be there as they are amazing, I just like the battle to the line.

EE: I'd agree with them. It is risky to have all the fastest guys charging into the first turn and then ringing it out three times in one night. Either do away with them or make them more lucrative for the riders.

The penalty Anderson received ended up being the difference between him winning the Saturday night's triple crown event, do you agree or disagree with the ruling/penalty?
MM
: El Hombre got shafted by the AMA. The rules state if you go off of the track, you may enter at the safest next spot without gaining positions. He lost five positions when he collided with Brayton in the exchange and entered at the end of the rhythm lane. He did exactly what anyone else would have done and it was not an advantage. Bad call by the AMA.

TO: Yeah, sucks for Anderson to lose the overall like this as I didn't think much of it when watching it, but rules are rules, but the overall big picture is he's healthy and has managed his championship points lead rather well. It's a heat of the moment, so it's a tough call for any rider to know what is right and wrong with trying to re-enter the track.

KB: I agree with the ruling. You need to ride the "entire track" not just part of it... and if you choose to skip a section... then you surely can't take the win.

EE: Anders on said he didn't gain any positions he actually lost positions. He entered at what seemed like the safest point of the track. We've seen plenty of riders go off the track and re-enter further down missing either a few obstacles or a section with no penalty. He didn't get an real advantage out of it, it just doesn't make sense to me.

What are your thoughts on the Tickle suspension and the WADA/AMA/FIM drug testing?
MM
: This WADA stuff is getting ridiculous. If Monster Energy Supercross is not raced outside of the USA, why is FIM, an international racing body, involved and why do we have an international drug testing body performing the tests? The same testing body tests world class Olympians. But, rules are rules and you are responsible for what enters your body and should know what you are taking. But also just eating certain foods will cause you to be dirty these days.

TO: Sucks for Broc for sure, but hopefully they can appeal it, so I wish him and the KTM team the best. I'm not 100% sure on how the WADA testing goes, but you can't really penalize the way they do it for the Olympics with the four year ban, as that kind of penalty in SX/MX racing is too harsh in my mind.

KB: These guys are professional athletes and with all of the controversy and scandal in all forms of sports... why would you even mess around with it. It was found in his system, and if it is against the rules... the yes, Suspend him. He knows (or should know) what he is putting into his body... and therefore you get what you get Mr. Tickle. Forego the drugs and eat more spinach.

EE: I don't know? But he's facing a four year ban, which at 28 years old would put him at the far end of the spectrum as far as age when he returns, if he were to return to professional racing-there are only a handful of racers who have won a SX race at 32 or older. I'm not saying his age should be a factor in his punishment, but it seems pretty harsh for what sounds like was possibly an unintentional action on his part. I don't think he meant to be #ridindirty.