Yamaha U.S. Announces 2018 BLU CRU Off-Road Motorcycle Racing Teams
Chaparral Motorsports
|
February 23, 2018
[caption id="attachment_66801" align="alignright" width="300"]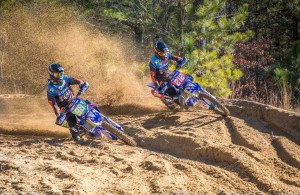 ampro russell and johnson action[/caption]

(Press Release) Cypress, CA - February 23, 2018 - Yamaha Motor Corporation, U.S.A., is proud to announce its bLU cRU Off-Road Motorcycle Racing Teams for 2018, which include AmPro/Yamaha, now in its 21st year as a Yamaha bLU cRU racing team, along with the Raines Riding University/Atlas Sales/Yamaha team. The announcement was made by Donnie Luce, Amateur MX/ATV/Off-Road Coordinator, Motorsports Racing Division, for Yamaha Motor Corporation, U.S.A.

[caption id="attachment_66802" align="alignright" width="300"]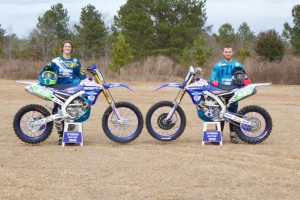 mattison and barrett with bikes static[/caption]

"We're excited to, once again, be working with Randy Hawkins and his AmPro/Yamaha team, as well as Jason Raines and his Raines Riding University/Atlas Sales/Yamaha team," Luce said. "Randy and Jason have both been faithfully and energetically flying the Yamaha bLU cRU flag for us in off-road racing for several years, and their reputations for developing winning riders are second to none. Their teams and programs are both topnotch."

The AmPro/Yamaha team is led by team owner, 7-Time AMA Pro Enduro Champion, 13-Time ISDE Gold Medalist, and AMA Hall of Fame Member Randy Hawkins, whose long-held mantra is "building Champions, one race at a time." The team's rider lineup includes Ricky Russell (#212), who will, once again, compete aboard a YZ450FX in the Grand National Cross Country (GNCC) Series' XC1 class, and Jonathan Johnson (#981), who is new to the team for 2018, and will race a YZ250FX in the GNCC XC2 class. Ricky and Jonathan will primarily focus on GNCC for 2018, but they will also compete at select rounds of both the AMA National Enduro Championship Series and the AMA Sprint Enduro series. In addition, 12-year-old bLU cRU rider Grant Davis (#30) remains with the team for 2018 and will again compete in the GNCC Youth class aboard a YZ85.

For more about the AmPro/Yamaha team, visit http://www.AmProYamaha.com

The Raines Riding University/Atlas Sales/Yamaha team, led by six-time AMA National Hare Scrambles Champion Jason Raines, welcomes Cole Mattison (#29) as a new teammate with returning rider Trevor Barrett (#945). Cole and Trevor will race YZ250FX machines in the GNCC XC2 class.