ChapMoto 2018 Supercross Race Recap Week 4
Chaparral Motorsports
|
January 31, 2018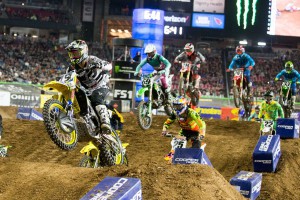 Last year we started a new series called the ChapMoto Supercross Race Recap, where several Chaparral Motorsports employees gave their thoughts on the past weekend's Supercross event. That series was so fun and popular that we decided to keep it going. It's a pretty simple concept; we pose about 8-10 questions to the group regarding the evening's activities, highlights, and lowlights and they reply with their thoughts. This is meant to be a casual, fun, and lighthearted series.

The Chaparral Motorsports staff (and one outsider) consist of:

Travis Snyder (TS): Chaparral Motorsports Offroad Products and Apparel Manager. Travis is one of our in-house moto racers. A Honda guy, Travis is either at one of the local tracks or prepping his bike for his next event.

Mike Medina (MM): Chaparral Motorsports Technical Advisor/Communications Specialist. When Mike's not at the office he's in the pits spinning wrenches for the Enticknap brothers, #722 Adam (The Seven Deuce Deuce) and #723 Tyler.

The Outsider (TO): N/A. The outsider is not a Chaparral employee but he is an industry veteran with a good perspective on the inside.

Kyle Bradshaw (KB): Chaparral Motorsports Marketing Department. The newest team member, Kyle is a highly experienced offroad/ADV/dual sport rider who splits his seat time between his stable of KTMs and his custom Honda VTX1300.

Eric Ellis (EE): Chaparral Motorsports Marketing Department/Social Media. Eric is just a Harley guy who likes to watch Supercross.

Who had the best night?


TS
: Eli Tomac did for sure. He executed what he should have done at A1.

MM: ET3 Eli Tomac of the Monster Energy Kawasaki team for having back-to-back wins at Anaheim 2 and Glendale, AZ.

TO: Eli Tomac. He's going to make a great finish to the season like last year. I would love the Final in Las Vegas to come down to Anderson, Barcia, Roczen, Seely and Tomac all within reach of the Championship.

KB: Plessinger had the best night in my opinion. He took the checkered flag and became the points leader. Nice work kid!

EE: Best night goes to Eli in the 450 class and Aaron Plessinger in the 250 class. For Eli to go back-to-back after his shoulder injury and in the fashion that he did it on Saturday night by getting the hole shot and then leaving the pack behind to play catch up (which Barcia and Roczen nearly did towards the end) was pretty impressive.
I think a lot of people were counting on one of the Kawasaki PC riders to be riding away with a west coast title, but Plessinger is proving that it's not going to be so easy. He's a force to be reckoned with this season and he proved it once again Saturday night by not only taking the win but the points lead.

Who had the toughest night?


TS
: The points leader Jason Anderson seemed to be off his game in the beginning of the main event, although he made his way back to 4th. Cole Seely seemed to have a tough night as well, finishing 12th.

MM: Cole Seely of the Honda HRC team had a dismal 12th place finish after coming off of the 3rd fastest qualifying lap time from earlier in the day. His worst finish thus far.

TO: Savatgy. After his heat race crash he didn't look as good as the first three rounds.

KB: Oldenberg I'd say. Several crashes... took him out of the running. Just couldn't get a break.

EE: Savatgy! He makes tiny mistakes that cost him big time. He nails his starts, he's got three holes shots this season but then just seems to bobble and lose it. Saturday night was huge though because his little mistakes nearly sidelined him with injury in his heat race and then cost him the points lead in the main.

Did anyone surprise you?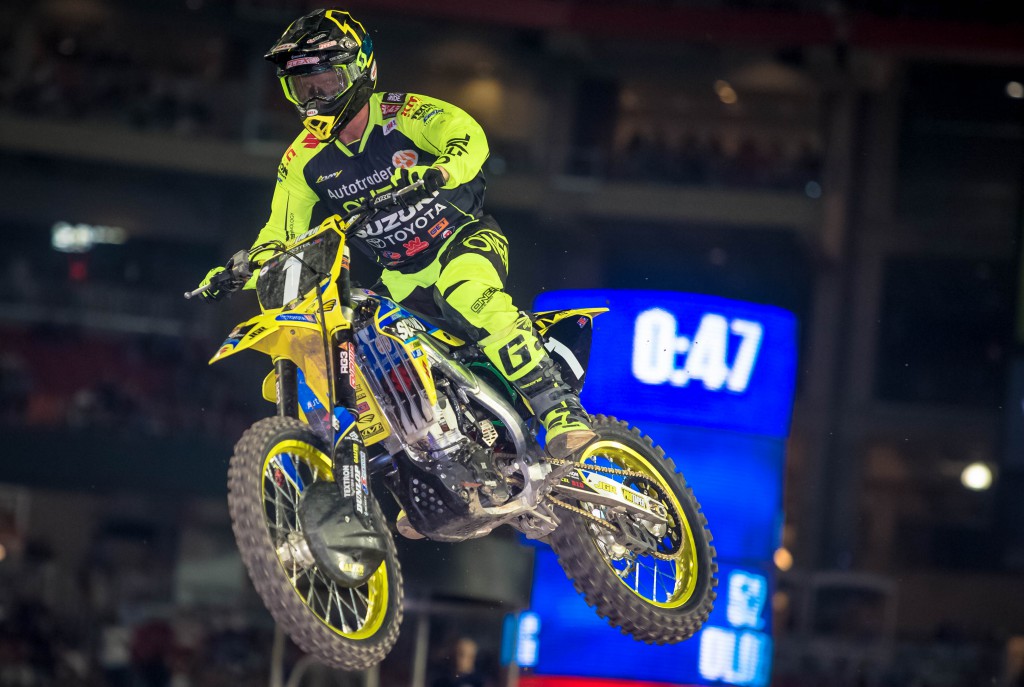 TS
: I'm still surprised Justin Hill hasn't made the podium with the #1 plate. Just goes to show he was spending too much time tuning his guitar in the off-season.

MM: Barcia Barcia Barcia for taking the runner up spot in the 450 main event, couple of small mistakes may have cost him the win as he was closing in on ET3 in the later frames of the race.

TO: Barcia continues to impress me. He's riding great and staying consistent. In the 250's Plessinger. I think he's going to make a great 450 rider when he moves up.

KB: Anderson not getting a podium this week after a seven-race podium streak. Bummer for him.

EE: Anderson. What happened in the main? He slipped from 4th to 7th by lap four and then spent 10 laps in neutral. It didn't even look like he was going to make top 10 and then he kicked it into gear and was able to get back to where he started with a 4th place finish. That was a weird race for him.

Who had the worst spill?
https://www.youtube.com/watch?v=KqWIfZ6vlwU

TS: I didn't catch anything too crazy.

MM: The worst spill has to go to SKVI Suzuki 250 rider Broc Shoemaker for going down in the start straight and getting his neck run over in the 250 LCQ, early results show a couple fractures in his back and neck. Honorable mention goes to SKVI rider Colton Aeck for trying out the berm restraint nets first hand by launching himself into it during the day qualifiers. If the net was not there, he would have taken a unpleasant concrete body slam.

TO: Savatgy

KB: Taking a rear wheel to the head, I'd give this one to Savatgy. Ouch!

EE: Savatgy in the heat race. The way he got bucked and then went over the bars and the bike slammed into his leg I thought for sure he was done for the night. Glad to see he was able to jump into the LCQ and ride way with the win.

Best pass of the night?
https://www.youtube.com/watch?v=TBNiGQzru8g

TS: I couldn't tell ya.

MM: Best pass goes to Versace Savatgy of the Pro Circuit team for passing 21 other riders off of the start of the LCQ from the outside gate to transfer to the main event. Bustin holies.

TO: Plessinger on McElrath to take the lead in the 250 final

KB: The best single pass would have to have been Plessinger on McElrath over the jump, overtaking him in the corner. They almost took each other out... But it was pulled off successfully. My favorite pass was the 250 Main holeshot. Savatgy has a not so good starting position all the way on the outside. He shot all the way across the pack to get the holeshot! Passed the entire field of riders, that was impressive!

EE: Roczen on Peick in the turn after the finish line jump the main. He set that up so nice, he had so much speed there was nothing Peick could do about it to fight to maintain the spot.

Best battle?


TS
: AP23 vs SM28... which got a little sketchy.

MM: Aaron Plessinger and Shane McElrath during the 250 main event, these two are making the 250 supercross class great again!

TO: Plessinger and McElrath

KB: The 450 Main battle for 2nd through 8th was pretty good. A lot of position changing going on.

EE: I enjoyed watching Plessinger go after McElrath.

Barcia is only nine points behind the points leader, Anderson, and still no word about a contract extension from Yamaha. What do you think Yamaha is waiting for?


TS
: Word around the pits is Yamaha plans to extend the "temporary" contract until the end of the year.

MM: I do not know but his stock is definitely rising with his continued success this year on the blue bike. From what I understand, he is still rebuilding relationships that were once burned before.

TO: Barcia and Cooper Webb not getting along might have something to do with it?

KB: Great question. Maybe to see if there is a "better candidate" for their team.

EE: I have no idea but Barcia couldn't be in a better position for contract negotiations. Yamaha hasn't had a 450 championship in quite some time and you know they want that all-new machine of theirs to shine and right now Barcia is the only one that's helping that cause. I hope Barcia has a really good agent to get him a great contact because with the comeback year he's having he absolutely deserves it.

The rider's all seemed to like the more technical track form this past weekend? Do you think they should have more input on track design? Should the track designs be decided so far in advanced as they currently are?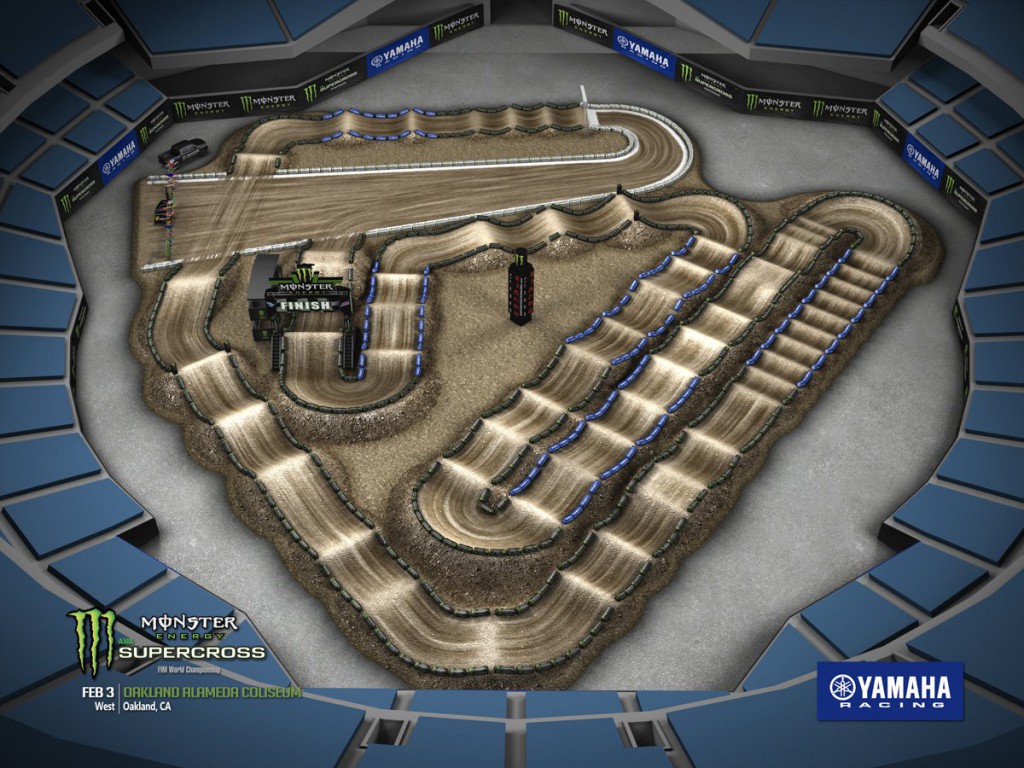 TS
: The animated track designs they show in advance are just directional lay outs. For the most part, the finish line, starting gate, and whoops tend to be where the animated map shows. But the rhythm sections should change based on how the riders react on press day.

MM: I think past riders should be able to design the tracks, not current riders. Also I do not feel any current riders or factory teams should have any say so or go cry to AMA to change the track between races or practices within the same night. Changes to the track happen a lot if Chad Reed is not cool with it, just an example. But track design cannot please everyone, someone will complain about something.

TO: I think the better the track, the better the racing. The track builders should make changes to the track after the riders go out for first practices to make improvements.

KB: I like seeing very different track styles week to week. This track was FAST with a lot of rhythm sections. It was fun to watch, but I did miss the big jumps. I do think that the stars should have a great deal of input when it comes to what they would like to see when it comes to the track. Another thing I'd like to see would be a bit more "technical" types of challenges. Challenges that only the top guys can clear.

EE: Other than Daytona which is designed by Ricky Carmichael, I don't know how they come up with the track designs, but I do know that when the rider's like the tracks it makes for better racing. And it seems as though they are all mostly in agreement when the track is good and when the track is bad. Maybe some kind of poll or questionnaire at the end of the night could be used to create like 2-3 "Riders Designed" tracks per season.