Listen Up: UTV Audio Buyers Guide
Chaparral Motorsports
|
November 9, 2017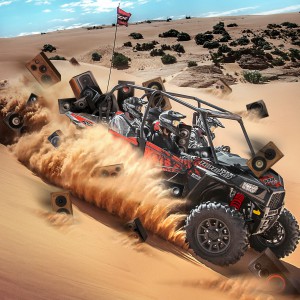 You would think with all the horsepower and suspension these UTVs come with that the stock MSRP would at least include some kind of sound system as well. Heck even a weak two speaker system is better than nothing and would satisfy most owners. Besides maybe some new UTV tires or additional LED lighting, it's safe to say the majority of side-by-side owners instantly upgrade their ride with some way to pump out tunes, whether it be a simple portable speaker or a full on multi-speaker package complete with an amp and Bluetooth capabilities.

If you are one of those people who think everything is better with music, then you've come to the right place. We've compiled this guide with a couple of different UTV audio options from the aftermarket and the UTV manufacturers themselves that will enable you to rock while you roll.

Bazooka 36" Party Sound Bar With L.E.D. Lights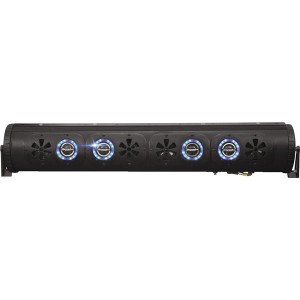 Bazooka has been in the audio game for quite some time and has become known for its great sounding speakers that drop mind numbing bass. With this setup they took two great things that go perfectly together "party" and "bar" and created an all-in-one kit that not only gives you great sound but lights up the night with its multi-colored LEDs. You'll become a roving rave at the dunes as this kit hits the lows with its 5-1/4-inch end cap subs, belts out the highs with front firing speakers, and then memorizes bystanders with its multi-colored light show.

Loaded with 10 marine grade speakers and the ability to pump out up to 450 watts with its internal amplifier, you'll be amazed with the capabilities of the [mageProductLink sku="810-bpb36" title=""]36" Party Sound Bar[/mageProductLink] (p/n 810-bpb36, MSRP: $499.99). Designed to work wirelessly via Bluetooth or with a 3.5mm headphone jack, you can connect just about any audio device and be rolling in audio bliss. If you need to invite more friends over or get an answer from Siri, you can use your smart phone paired with the speaker's Bluetooth functionality to do just that. The included RF remote allows you to be the DJ of the party with the ability to control all the audio functions as well as customize the LED display. This sound bar is designed to bolt up to just about any UTV roll cage and if you find that the 36-inch version doesn't work for you Bazooka offers a 24-inch version as well.

Pure Polaris MB Quart 8 Speaker Sound Bar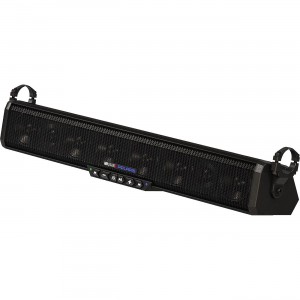 Another sound bar option for Polaris RZR owners is the [mageProductLink sku="2881465" title=""]Pure Polaris MB Quart 8 Speaker Sound Bar[/mageProductLink] (p/n: 2881465, MSRP: $649.99). Sporting a total of eight speakers, six mid-range/mid- bass and two tweeters this do-it-all unit is perfect for two seat RZRs or those who want to add tunes to their ride without going overboard.

With included roll bar mounts and an easy to read buttons you could mount this speaker bar to the front cross bar on your roll cage and easily control the audio. You can play music by connecting the speaker to an iPod or other mp3 player with the included wired 3.5mm headphone jack or you can stream music from your Bluetooth enabled phone. If you find that the 100 watts of power isn't enough you can build upon this system by incorporating additional speakers or getting more bass by adding another sub.

MTX Audio RZR System 2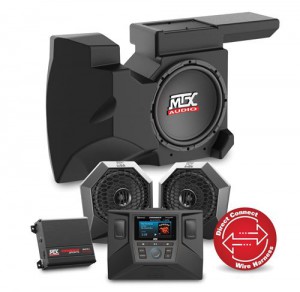 You'll roll loud and proud with the RZR System 2 (p/n MTX-RZRSYSTEM2, MSRP: $1,549.95) from MTX Audio. The kit includes an all-weather Bluetooth head unit, two dash-mount speakers, a 200-watt 2-channel amp, a 10-inch sub with its own enclosure to produce smooth bass, and the necessary wiring to make all the connections. With the head unit you have full audio control right from the center of your dash via 3-inch TFT display and large control buttons. The head unit gives you plenty of options for you to choose your music source as it has Sirius/XM satellite radio capability, an AM/FM tuner, and can stream music from your phone.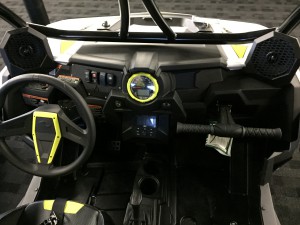 Tunes are pumped out through the two 6-inch speakers that bolt up to the front of the roll cage. The nice thing about the front mount speakers is that MTX really did their homework and designed the enclosures to fit seamlessly into the dash for a stock look. You'll feel the bass kick in from the 10-inch sub with its 250-watt amp. The sub enclosure mounts up under the passenger side dash and butts against the glove box so most people won't even know it's there (you do have to cut into your glove box which slightly reduces the amount of storage). With the mode specific wiring harness, other than slightly modding your glove box the system is extremely easy to install.

If you've got a four seat RZR or just want more audio pumping through your system then you'll definitely want to check out the RZR System 3 kit which adds rear speakers and a 4-channel/400-watt amp. If you own something other than a RZR MTX offers kits for other UTV brands and models as well.

Can-Am Complete MTX Audio Kit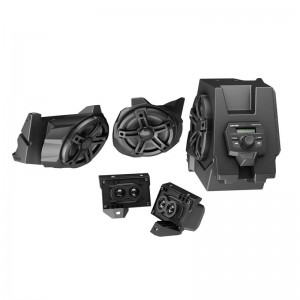 Can-Am partnered with MTX to offer owners of the new Maverick X3 and X3 Max a full system to blast tunes from the front and rear of their vehicles. The Can-Am Complete MTX Audio Kit (p/n: 715002873, MSRP: 1,099.99) comes with a Bluetooth head unit, 6-1/2-inch sub, as well as front and rear speakers. The head unit and sub come with their own one-piece housing that replaces the lower center console for a factory look. The front speakers are hidden out of sight as they mount just below the surface of the dash behind the stock vent/grilles. The rear speakers mount securely in the upper rear corners of the roll cage to provide full surround sound for all passengers.

Yamaha Overhead Audio System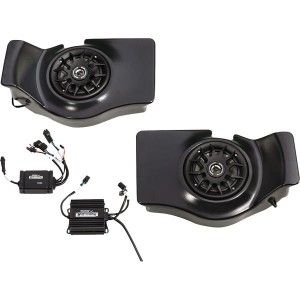 If you own Yamaha YXZ1000R and want to liven up your next ride with some music then this Overhead Audio System (p/n: [mageProductLink sku="2hc-h81c0-v0-00" title=""]2hc-h81c0-v0-00[/mageProductLink], MSRP: $610.99), is a smart way to go. Yamaha tapped SSV Works to create these spacing saving 6-1/2-inch speakers that mount to the roll cage and above the cab area. The speakers not only look extremely clean and well-hidden once installed, but with the audio booming directly down it helps drown out engine noise and makes it easy to hear your music without having to turn the volume up to 11.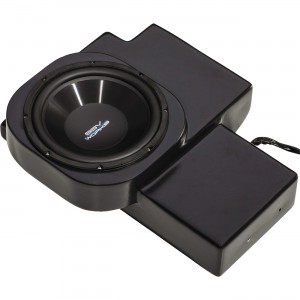 The system comes with an amp and a control unit for the dash. The control unit is Bluetooth ready so you can sync up your smartphone and stream music or use the wired 3.5mm headphone jack to plug in your audio source. The speakers are marine grade so you don't have to worry about them frying out due to harsh weather or getting too crazy in the mud puddles. If you decide that the two speakers just aren't enough you can expand on the system and add [mageProductLink sku="2hc-h81d0-t0-00" title=""]Yamaha's rear speaker pods[/mageProductLink] (p/n: 2hc-h81d0-t0-00, MSRP: $255.99)[mageProductLink sku="2hc-h81d0-t0-00" title=""] and/or powered sub-woofer[/mageProductLink] (p/n: 2hc-h81d0-t0-00, MSRP: $559.99).

Waterproof Bluetooth Speaker by MB Quart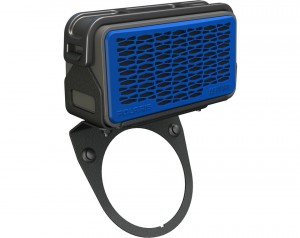 If you want a really simple speaker that doesn't require a bunch of wiring or tearing into the body panels of your UTV then check out this Waterproof Bluetooth Speaker by MB Quart (p/n: 2880458, MSRP: $249.99). Once fully charged this speaker has the ability to stream music for hours on end from your smartphone and it can go with you anywhere you want.

The speaker comes with four mounting configurations so you have a variety of ways you can install it to just about any UTV. Once mounted, a sturdy rubber strap keeps the speaker secure as you bump and jump your way down the trail. Then when you get to camp you can remove the speaker from the mount and bring it inside your trailer, carry it over to the neighbors pad, or just use it as a portable speaker.

Antigravity Batteries Thump Box Bluetooth Speaker System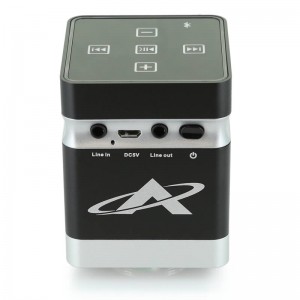 Don't let this little contraption fool you, in the right scenario it can boast some decent beats. Perfect for those who don't want to spend a lot of money on an extravagant speaker system, the [mageProductLink sku="059-132-7046" title=""]Thump Box Speaker[/mageProductLink] from Antigravity is an inexpensive solution to adding some music to your UTV. The Thump Box (p/n: 059-132-7046, MSRP: $69.99) is extremely sturdy with its solid aluminum body and extremely compact, it only measures L 2.25" x W 2.25" x H 3.0". What's really neat about this little speaker is that it uses n that it uses sonic wave technology to transmit sonic vibrations into the surface it's sitting on. That means that you can move the speaker around to different surfaces and with its 25-watt amplified power it will fill the air will great quality audio.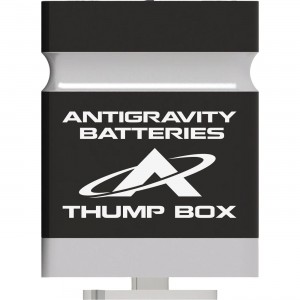 Since it's so portable you can place the speaker on different surfaces to find the place that delivers the best sounding audio. This could come in handy at a rest stop or lunch break when you want to chill and have in impromptu party. You can just set it on the front of your UTV or on top of the hood and it will boost the sound and produce nice full sounding audio. The Thump Box can stream music from Bluetooth devices or you can use the included wired 3.5 mm headphone jack. Additionally, if you want to go for more of a surround sound effect you can use the 3.5mm cable to connect multiple Thump Boxes to each other and really rock out. On top is an illuminated display with easy to use buttons, and with the built-in microphone you can use the speaker to make and accept calls. Also included is a micro USB cable that gives you plenty of options for charging the speaker. On a full charge you can get anywhere from four to six hours of play time.

We've just barely turned the dial with this guide, there ae plenty more speaker kits and audio upgrades available but hopefully we have given you some ideas on how to crank up the fun meter on your next UTV outing.