Rain Gear Guide: Stay Dry And Ride
Chaparral Motorsports
|
October 20, 2017
|
Last Updated: May 1, 2020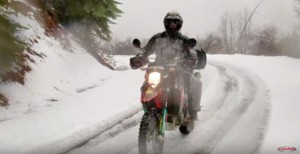 We like to joke that there is no such thing as bad weather, just bad gear. Riding a motorcycle in a wet-t, a pair of soggy cotton jeans, water soaked leathers and boots full of water is not an optimal experience. With a few pieces of good gear, you can ride comfortably and dry through light summer showers or even the worst rainstorms.

The "dress code" if you will for various styles or motorcycling can vary greatly. Aside from the Klim clad Adventure Rider who zips his vents closed and keeps riding in his or her impermeable bubble... the remainder of the riding population is typically pretty vulnerable when the skies open.

Here at Chaparral Motorsports, we have the gear needed to keep you dry, comfortable and safe when the roads get wet.

What we wear really depends on the bike that we are riding and or the type of ride that we are taking. When heading out for an all ride or a multiple day ride, we typically dress differently than we do if running errands or commuting to work. In any case, being prepared is always key to a great ride.

Total Protection 24/7

If looking for a single set-up that will provide protection from all of the elements, a riding suit, which is waterproof from the exterior, would be our suggestion. This gear is much more of an investment that a typical rain suit, but does provide much more than protection from water. This type of gear will typically provide abrasion resistance, impact protection, ventilation, breath ability and a totally waterproof shell when the vents are closed. Adding waterproof gloves and waterproof boots to this suit will give you the total package. If wearing this gear and it begins to rain, simply close your vents and you are good-to-go.

https://youtu.be/0P5dc3mBqpU

On-Call Rain Gear

For those riding spotbikes, V-twins, café racers, metric cruisers, scooters, dual-sport bikes or the like where the external gear is more of a lifestyle choice or statement, we have lightweight compact gear to throw-on over your riding attire to keep you dry. These options might have you looking like a modern day "Gordon's fish guy" but you will be comfortable and dry while riding through the storm. As soon as the weather breaks you can strip off that waterproof outwear and you are back to your stylish self in perfectly dry ride specific clothing and gear.

Elements of a Dry Ride

Let's now explore the various options you have when choosing the perfect rain gear for your specific riding needs. From head to toe we will go over some of our favorite waterproof or rain protection items.

Face Shield or Neck Gaiter


Balaclava

Neck Tube

Neck Gaiter

Jacket & Pants


PVC Rain Jacket

Polyurethane Backed Nylon

Frogg Toggs - Gore-Tex Like Material

Waterproof Exterior - Close your vents and you are good

Gloves


Waterproof gloves.

Over Gloves: Waterproof cover for your existing gloves

Footwear


Waterproof boots

Boot Covers to slip on over your boots (rain booties)

Gore-Tex Socks

Staying dry when riding in the rain is key to keeping you comfortable, alert and fully functional. We hope that this article and video has given you the insight needed to choose the best gear for your next ride.





Kyle & the Chaparral Motorsports Team