LEARN ABOUT THE KTM JR. SUPERCROSS CHALLENGE PROGRAM
Chaparral Motorsports
|
October 10, 2017
[caption id="attachment_65181" align="alignright" width="300"]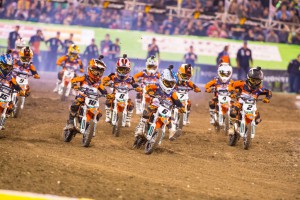 Image: KTM[/caption]

In its sixteen year existence, the KTM Junior Supercross Challenge (KJSC) program has showcased the talents of over 3,000 boys and girls in stadium racing venues worldwide, racing on the very same tracks as their Supercross heroes. While the KJSC highlights these talented minicycle riders from around the world, it also promotes motorcycling as a family activity - exciting and accessible - especially for kids!

From the first practice lap aboard the 2018 KTM 50 SX motorcycle to the final race the KJSC offers a safe, supportive and entertaining environment for all riders, parents and fans. The KJSC is a fantastic opportunity for participants to immerse themselves in the excitement of Supercross from a very unique perspective, and to enjoy the sport as a fun and rewarding experience.



For 2018, the application process is available online. Interested riders must meet the requirements stated in the official rules, which are found on the registration page.

If a rider is selected to race the KJSC, they will receive a Troy Lee Designs gear package which includes a Troy Lee Designs/KTM racing jersey, racing pants, gloves and a limited-edition KTM Racing hat. These items were specially designed and selected to help prepare KJSC stars for the biggest racing experience of their lives. And while only one rider may win the event, all KJSC participants and families will take home memories and this souvenir Troy Lee Designs package. For more details about the 2018 KTM PowerWear collection, visit an authorized KTM dealer or search online at www.ktmusa.com.

Registration for the 2018 KTM Jr. Supercross Challenge opens October 14, 2017. Visit www.ktmjrsx.com for more information on the program.