Different Types Of UTV Tires And Their Uses
Chaparral Motorsports
|
October 5, 2017
|
Last Updated: July 3, 2020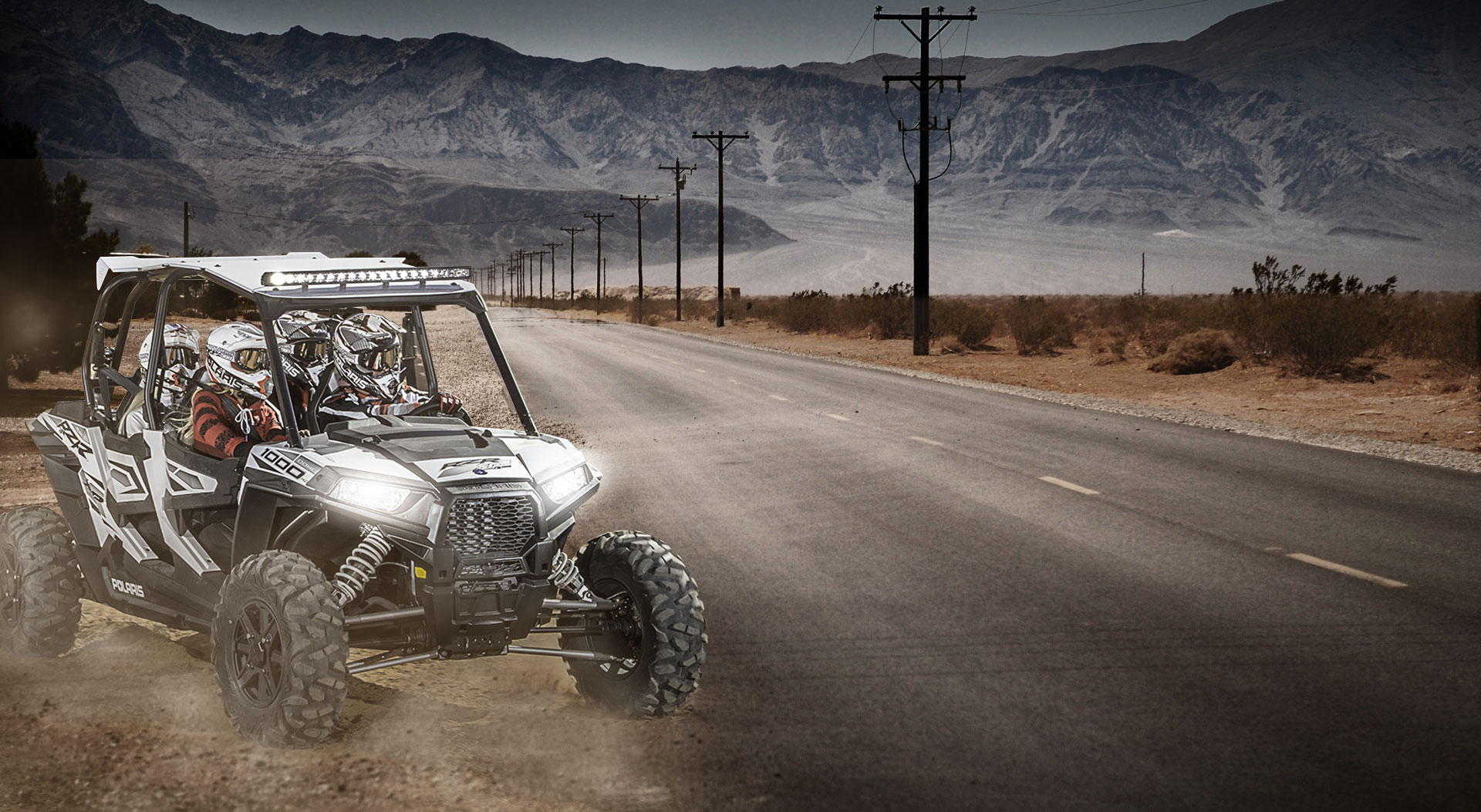 For the most part, the stock tires that come on new UTVs are designed for general purpose or all terrain use, meaning they are can trudge through a variety of terrain types and obstacles, as long as it's not too aggressive. In fact, the majority of the 1000cc sport models such as the Yamaha YXZ1000R, Polaris RZR XP 1000, and Can-Am Maverick come with the same general purpose tire, the Maxxis Bighorn 2.0.
The Big Horn is a highly popular tire that offers good traction and durability; you can even find the Bighorns on a lot of the utility models as well. The outliers where you won't find general purpose/all-terrain tires would be the more niche vehicles that come optimized from the manufacturer for a specific type of terrain. An example would be the Polaris RZR High Lifter Edition and the Can-Am Maverick X mr models which are outfitted with deep lugged tires and other specific components to better enable them to plow through muddy bogs.
You can have a lot of fun with the stock general purpose tires and cover plenty of ground, but if you plan on spending a lot of time or doing some serious action in a specific type of terrain it's best toss on a set of tires that are specifically designed for that type of terrain. Running the wrong tires can not only slow you down but it can cause excessive wear on your vehicle, lead to tire/tread damage, accelerate tread wear, and lead to a lot of down time as to try to get your vehicle unstuck from messy situations. In or to get the best ride and have the most fun you should try to choose side-by-side tires that best suit the type of riding you will be doing.
There are four main types of UTV tires: general purpose/all-terrain, mud, sand, and hard pack/dual sport.
General Purpose/All Terrain Tires:
These tires feature thick, rugged lugs that run about 3/4- to 1-inches tall and are spaced apart to allow them to grip when crawling over rocks and logs while also enabling them to dig in and provide some traction in snow, sand dunes, and mud pits. The spaced lugs make for easy, self-cleaning and prevent rocks and sticks from getting stuck. More of a heavy duty tire they have sidewalls that can often resist punctures from sticks and rocks.
The manufacturers choose to outfit their vehicles with these tires because they do most things pretty well and can handle the terrain that most average users will drive in. Are they the best in the tires for the sand? No, but if you air down you can make your way up and across most dunes and creep through most rock crawling trails.
On surfaces like hard pack dirt and pavement they offer a semi smooth ride but some people may find them to be a bit on the loud side, especially when compared to hard pack/dual sport tires. If you do plan to drive your UTV on the highway, keep in mind that most general purpose tires aren't DOT legal.
Because they are so universal there a wide selection when it comes to general purpose/all-terrain tires. The Maxxis Big Horns might be the go to tire for manufacturers but there are plenty of other in this category that offer good performance in diverse conditions such as the Sedona Buzz Saw XC, GBC Dirt Tamer, ITP Terra Cross, and Ocelot Knight.
Mud Tires:
You can't miss these tires when you see them because of their tall and aggressive lugs which sometimes look like claws. You could group mud tires into three categories: light mud, medium mud and, deep mud, with the lugs getting more robust as you move down the line. The lugs on these tires are pretty heavy duty and have feature tough sidewalls that can take a beating and dig you out of some messy situations. Some mud tires have a taller and narrower profile to allow for clearance in deep pits and ruts and to make it easier to navigate through bogs. The lugs on deep mud tires like the Sedona Mudda Inlaw are extremely large measuring 2 inches tall in the center and 2-1/4-inches tall at the outside edge. Quite a few manufactures create their tread pattern or lugs in an arrow shape to enable the tire to cut through and push the mud off to the sides of the tires.
With their widely spaced tread pattern the sturdy lugs offer excellent traction and help the tire to grip and hook onto roots and rocks as they claw their way through and accelerate the vehicle. On many tires the very pronounced tread pattern extends into the sidewall to provide extra bite in deep ruts. The widely spaced lugs let the soft mud slip right out as the tire rotates to ensure plenty of traction in sloppy mud pits. Many tires feature a 6-ply casing which helps keep thing light and easier to move when you encounter sticky muck that gets caked in between the treads.
Some mud tires like the Ocelot P341 which would be more of a medium mud tire can work pretty good in the snow as well. On flat, harder surfaces the tires that fall into the deep mud categories can provide a rather rough and loud ride.
Sand Tires:
Like mud tires UTV sand tires have a very distinct look with their pronounced paddles. In fact sand tires are not only unique in their design but in the front and rear tread style as well. They are the only tires where the rear tires are completely different than the front. Rear sand tires are deigned to be lighter weight and wider so that they will "float" across the sand. Sand tires or paddle tires as many people call them, get their traction via large scoops that run across the width of the tire. These scoops can be around 1 inches tall or larger and are evenly spaced around the tire so that there is anywhere between 9 to 16 scoops/paddles per tire.
The paddles act like rotating shovels and dig into the sand to help propel the vehicle forward. Since all the traction is provided by the paddles, in between each paddle the tire is bare-this helps keep the weight down. And since you don't really have to worry about rocks or sticks puncturing the tires they are mostly made of 4- or 6-ply, again to keep them light and enable the tires to stay atop the sand. Because they are lighter and more flexible, depending on how low of air pressure you run, there's a greater chance that you can pop a bead-especially if you do a lot of high speed cornering on the dunes-therefore you may want to look into getting a set of bead lock wheels. One thing you don't really want to do a lot of with paddle tires is run them on hard pack or paved surfaces because not only will get a rough ride but you just might end tearing or chunking up the paddles. Some of the more popular paddle tires are the GMZ Sand Stripper and STI Sand Wedge.
Front sand tires are quite different than their rear counter parts. There are a couple styles of front sand tires: ribbed/spiked, completely smooth, or ribbed with paddles. The ribbed design helps the front of the vehicle carve into turns and gives the driver a better feel of the front end and more control. While ribbed tires do help with front end maneuverability, one complaint many people have is that ribbed tires throw up way more sand that can fly back at the driver and passengers. Similar to the ribbed there are spiked that have small rubber spikes (like a dragon's spine) that wrap around the tire.
The smoothed, or buffed, design is typically used on high performance machines. The smooth tires are most often preferred by drivers who do a lot of drag racing or straight up hill climbs and want the absolute lightest tire they can find. That's not to say that you can't turn and carve with smooth tires, you can, it's really a matter of preference. Then there is the combo front which has a rib in the middle for steering and half paddles on the outer edge for traction at the front when running in four wheel drive.
Hard Pack/Dual Sport Tires
Kind of like general purpose tires these tires can do a little bit of everything, but depending on what the terrain is they might perform as well as the general purpose tires. Most tires in this category mimic the design and tread pattern you'd find on offroad truck tires. Hard Pack/Dual sport tires are some of the most durable tires you can find, some are steel belted and many fall into the 8-10 ply range, which also makes them heavier as well. In fact, because of their toughness and all-around performance you'll see hard pack/dual sport tires used on a lot of race team in the Baja 500 and WORC Racing circuit.
These tires feature stout lugs that can withstand a beating while gripping and biting into various surfaces. However, unlike general purpose tires where the lugs are widely spaced, the lugs on these tires are smaller in height and width. The tread patter is also arranged in a much tighter formation that provides more surface area. The wide surface area on a tire like the Tensor Regulator delivers great feel and traction on hard pack surfaces and enables the tires to grip really well in corners.
The other big difference between hard pack/dual sport tires and general purpose tires is that quite a few of the hard pack tires like the extremely popular GMC Kanati Mongrel are DOT rated, meaning they are legal for street/highway use. And because of the compact tread design these tires deliver a much smoother and quieter ride at high speeds as compared to general purpose tires.
One thing to note about DOT tires, just because your tires are street legal does that mean your UTV can be legally driven on surface streets or the highway. Not all states allow you to drive a UTV on public streets or highways and the ones that do often require other things such as turn signals, a horn, and possibly a vehicle inspection in order to make your UTV street legal.
So which tires are right for you? Well, like we stated at the beginning, if you are going to be spending a lot of time in very specific terrain like sand dunes or mud bogs then for best results, the least headaches, and the most fun match your tires for those conditions. If you're doing mostly flat hard pack driving, rock crawling, hitting light mud or snow, tip toeing around some dunes, or trail hopping where you'll be jumping on the highway for high speed stretches then and a good set of hard pack/dual sport tires may be best for you. For the best all-around tire where you are going to be hitting trails, rocks, snow, mud, or some dunes and you still want a rather smooth ride on hard surfaces, general purpose tires are the way to go.