Five Under Six: Top Five Motorcycles Under $6,000
Chaparral Motorsports
|
September 15, 2017
|
Last Updated: July 3, 2020
Everyone loves lists right, well, except maybe for To Do lists. For the most part however, top five lists are a fun way to kill some time and start a debate. And that's exactly what we are hoping to do here, get you talking about whether or not you agree with this list of our favorite top five motorcycles that can be had for under $6,000.
First things first, in this list we are going to only take into consideration street legal motorcycles, so no dirt bikes. Secondly, in order to get a nice broad collection of styles and riding configurations we tried to pick at least one bike from each of the following categories: sport bike, naked bike, cruiser, dual sport, and pocket bike. Thirdly, to answer the question many of you might be asking "Why did you choose $6,000 as the price point," it's because when it comes motorcycles, sport bikes are one of the most popular styles and when it comes to the big four Japanese manufacturers (Suzuki, Kawasaki, Honda, and Yamaha) they all have entry level sport bikes that fall into the $4,000-$5,999 range.
Sport Bike: Yamaha R-3 MSRP: $4,999/$5,299 ABS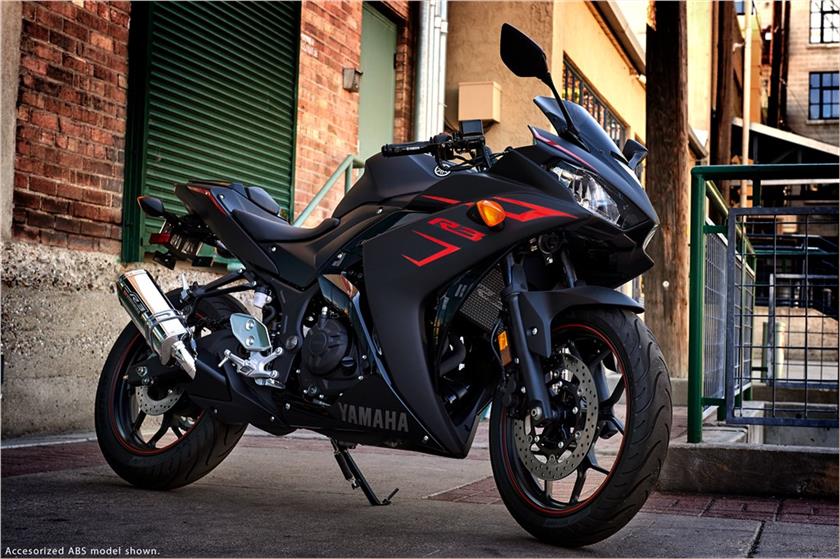 Accessorized ABS model shown
While its 321cc in-line twin engine might not excite those more experienced with high horsepower sport bikes, the Yamaha R3 does top out with the most displacement amongst the Honda CBR300, Suzuki GSX 300R, and Kawasaki Ninja 300. Those extra cc's help put the R3 at the top of the horsepower food chain against its competition, pushing out nearly 37hp and about 20 lb-ft of torque. With its full faired dress, for five grand you get liter bike styling based off a long lineage of achievements and accolades from its big brother the R1. Toss in an extra $300 and you can add ABS to the R3 for even better braking performance.
Whether you're an entry-level rider looking for sleek styling or a skilled canyon carver interested in getting into track racing without sacrificing your large displacement bike, a sub 400cc motorcycle fits the bill nicely. Weighing in less than 370 pounds (wet weight) the R3 is agile, easily flickable, and is very well balanced. Sitting at about 30 inches the seat height and clip-on handlebars give riders a sporty riding position which is comfortable and aggressive but isn't overbearing for riders with shorter legs. For the entry level rider the R3 brings manageable power without being so overwhelming that it would get too out hand and scare a new rider away. For the experienced rider looking to jump into organized track racing on the weekends the R3 delivers enough power to get you excited in the turns while building confidence and perfecting your skills as you click through the gears of the 6-speed transmission.
Naked Bike: KTM 390 Duke: MSRP $5,299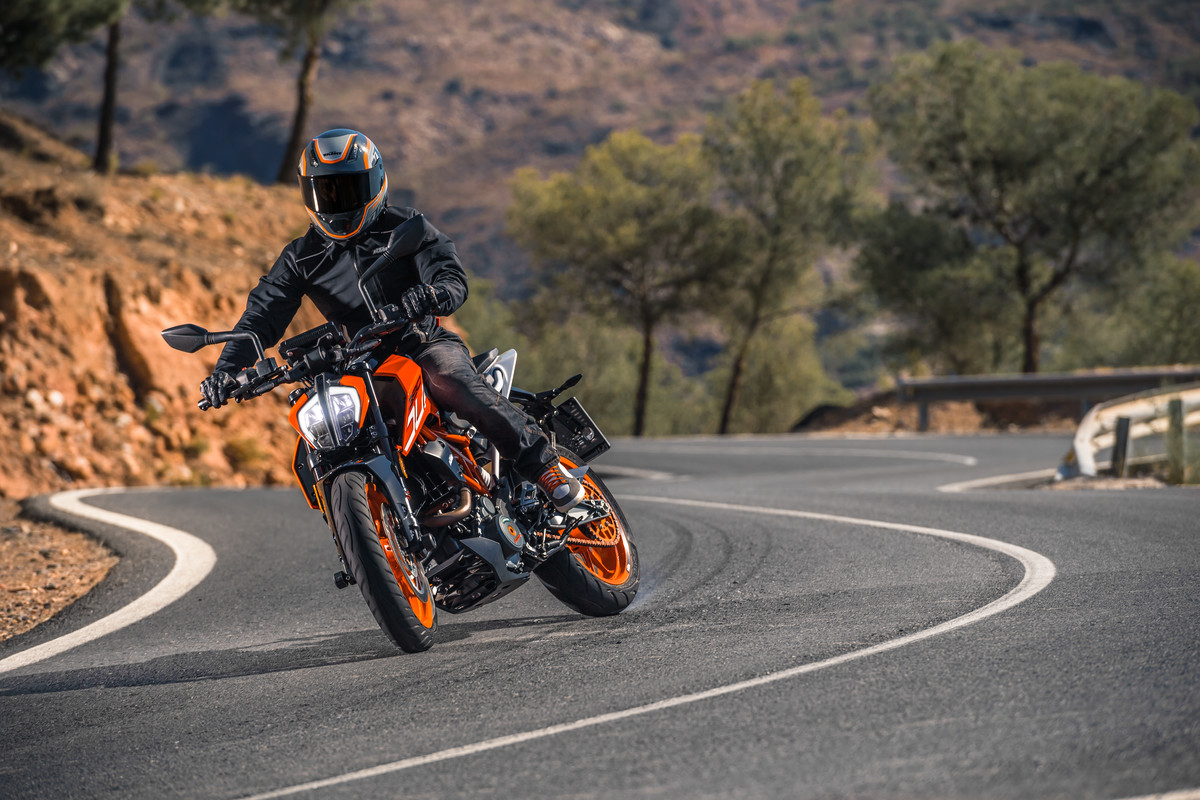 Less is absolutely more with the KTM 390 Duke. For a brand that typically falls at the higher end of the spectrum on pricing, you get a great amount of bang for little buck with the Duke-especially when you consider the bike received a slight revamp for 2017. Modern and minimal bodywork with precise lines expose the industrial looking steel trellis frame helping the bike exude a mix of beauty and strength. A new and slightly larger 3.5 gallon, steel gas tank at the center of the backbone improves overall range (previous was 2.8 gallon) without disrupting the silhouette of the bike. Up front rider safety leads the way with an ultra-bright LED headlight that we can only assume was styled after the head of a praying mantis. In fact all lighting is LED, helping draw less power while still illuminating brightly.
Even though the 373cc liquid cooled, four-stroke, single cylinder engine was untouched in the 2017 update, KTM did punch up the fun meter with a tad bit more power via a larger air box and redesigned muffler that now hugs the right side of the bike. In addition, power delivery was smoothed out with a retuned fuel map, a throttle-by-wire system, and slipper clutch. So now not only is the bike getting about 44hp/27lb-ft torque but it's all coming through in a more responsive and predictable manner.
While the 2017 Duke does have some added bulk (a little more than 20 pounds) KTM addressed this by tightening up the overall stance, shortening the wheelbase to 53.4 inches and reducing the trail to 3.7 inches. New upside down WP 43 mm open-cartridge front forks help suck up bumps and keep the front tire locked to the pavement. So even though the bike may feel heavier, it responds and handles quickly and effortlessly and still feels light at the bars and over top with a well-balanced center of gravity. ABS comes standard but braking has been improved with a larger, 320mm Brembo front caliper.
Quite a bit of improvement for only $300 more than last year's model right? But wait there's more! For the MSRP of $5,299 you get a new 5-1/4-inch TFT display that is full color and customizable. Besides showing you a bevy of information, the display is light sensitive to provide optimal viewing at all times of the day. You can also upgrade the display with an optional Bluetooth package that allows you connect to your smart phone which allows you to answer calls and manipulate audio functions through handlebar switches.
With all these great features, upgrades, and performance enhancements, with a price tag at less than $5,500 the Duke 390 is a hard motorcycle to pass up; not only figuratively but literally as well.
Cruiser: Yamaha SR400: MSRP $5,999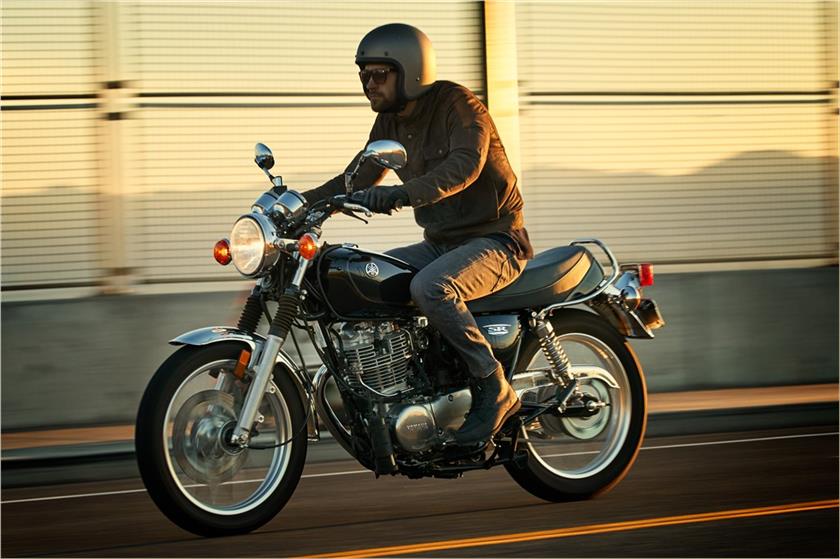 As we continue to warp forward into a future of soul sucking gadgetry, the SR400 is a refreshing nod of nostalgia. The SR400 might have electronic fuel injection but that's about as modern as it gets-heck it has analog gauges and a rear drum brake by golly. Ideal for those who like to really be one with their motorcycle, the SR400 is a purist's dream come true as it's outfitted with a kicker pedal. None of that push-to-start nonsense; just like the old adage goes, if you can kick it you can ride it. Okay, so it's not all that tough to kick the 399cc, air-cooled four-stroke single cylinder engine to life. There's a small window (kick indicator window) on the top right side of the engine that lets you know when the piston in in the optimal position to kick the motorcycle to life. There's also a compression release lever on the left side of the handlebars that makes kicking the bike to life even easier.
Putting down horsepower and torque somewhere in the low to mid 20s, the 399cc mill won't blow you off the back of the 2-up seat at a stop light, but it's plenty of oomph to comfortably click the five-speed trans through the gears to highway speed and still have a bit of muscle left over to wring it out in top-gear around a slow moving truck. But then again it's not really horsepower or speed that draws people to this motorcycle, it's the simplicity and retro styling of the classic '70s era UJM that makes people want to throw a leg over the SR400. Loaded with plenty of shiny bits to complement its classic lines, such as the front and rear steel chromed fenders, Mickey Mouse turn signals, slender exhaust, and passenger grab bar, it's easy to appreciate the simplicity this bike. Plus it has a ton of potential for customization. With a few simple mods you could have a fun little café racer or a trouble making scrambler itching for a roll in the dirt.
Dual Sport: Honda CRF250L Rally: $5,899-non ABS model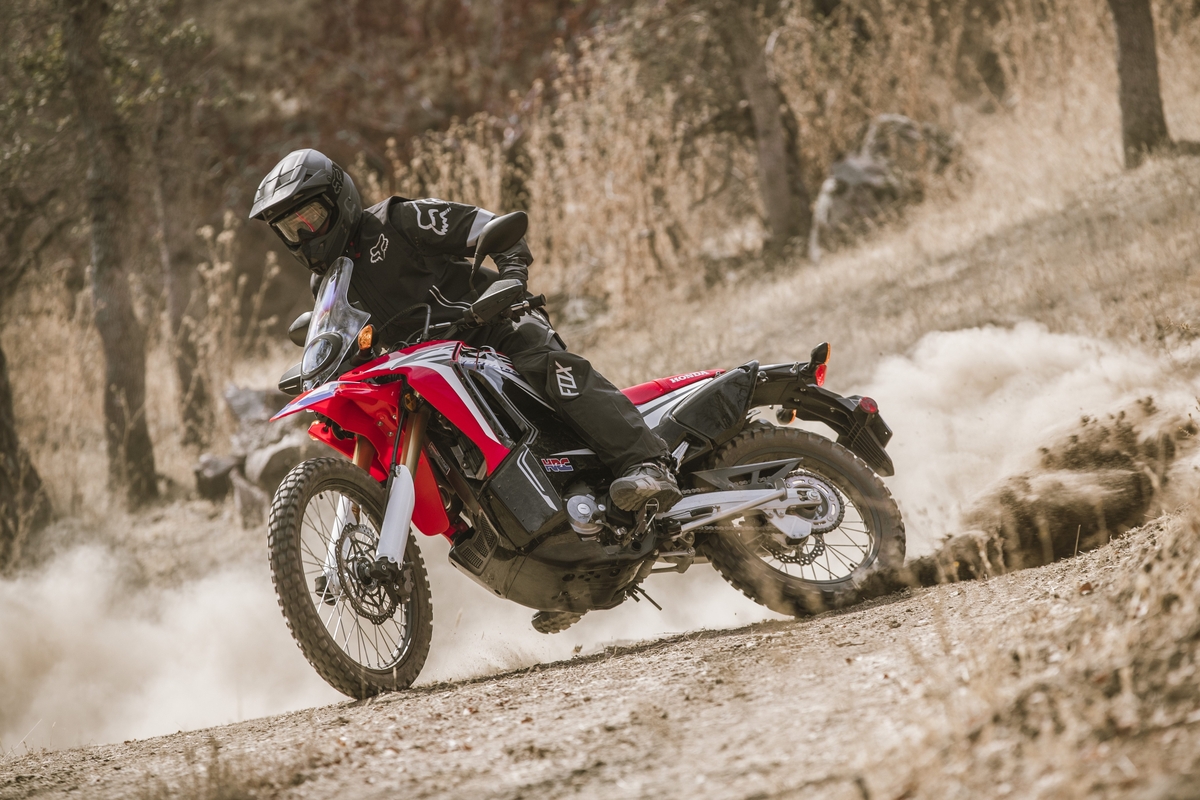 It's nearly impossible to look at the Honda CRF250L Rally and not want to jump on the saddle and just head for the hills and see what kind of trouble you can get yourself into...and out of. And that's exactly what this bike is all about, getting you from spot to spot and taking you on adventures you've always dreamed of. With its bodywork inspired from the Africa Twin and HRC's CRF450 Dakar Rally bike, the CRF250L Rally offers big adventure bike styling in a much more manageable and affordable dual sport package. Beyond its sporty, offroad looks, the 250L Rally utilizes the same frame and liquid cooled, 249cc, single cylinder, four-stroke engine found in the CRF 250L model, delivering the reliability and ridability Honda is known for. In fact for 2017 Honda made some improvements to the performance of the CRF250L's engine by upping the throttle body size, changing up the air box, and going with a lighter and revised exhaust systems-all of which were implemented into the Rally model as well.
Whether it's cruising 70mph on the highway in sixth gear or chugging along a mountain side single track trail, the Rally can get you just about anywhere and everywhere. Sitting proudly with 10 inches of ground clearance and a 35-inch seat height this small displacement dual-sporter has AVD bike features such as a skid plate, handguards, 21-inch front and 18-inch rear spoked wheels wrapped in knobby tires, and plenty of suspension travel, 11-inches up front and 10.3-inches at the rear. You also get full body coverage and a decent size windscreen. Best of all, with a curb weight of 341 pounds, you get all these features without the stress and energy of maneuvering a hefty, large displacement ADV bike through precarious situations.
Protected behind the windscreen is a frame-mounted digital info center that provides you with RPM, speed, mileage fuel gauge readings as well as all your basic indicators. The only beef we have with the Rally is the odd old school aviator goggles that pass for headlight housings. The faux carbon fiber pattern on the rubberized coverings is a nice touch, but the different sized dual headlight setup looks like a wonky-eyed character from an Adam Sandler movie. Other than that minor detail the Rally offers a lot of punch for little price, it's lightweight, agile, easy to handle for all skill levels, can tackle open highway speeds, and looks like it's ready to rock the Dakar.
Pocket: Honda Grom: $3,349-non ABS model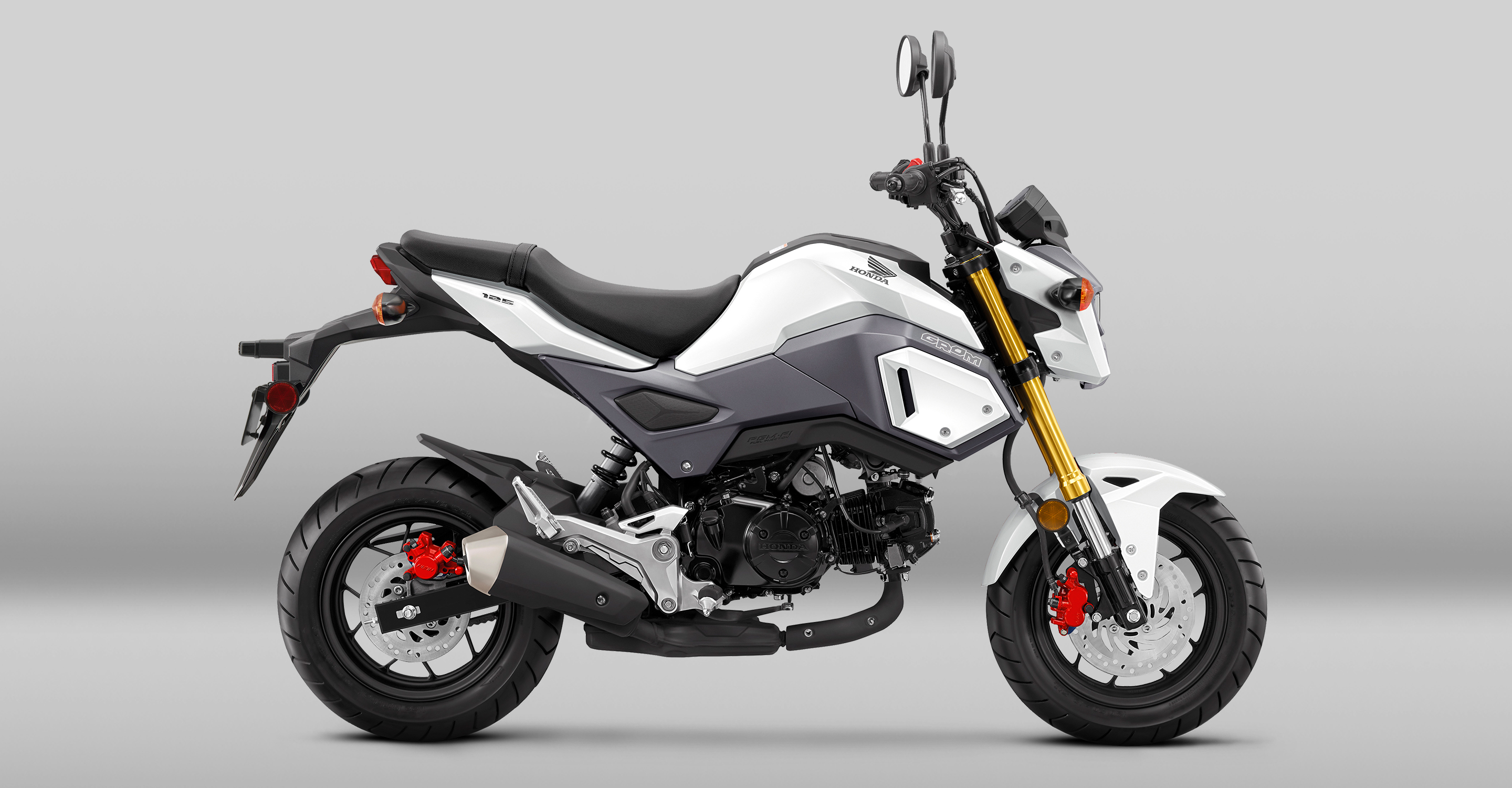 Having already established a cult-like following in the scooter segment with its bare bones Ruckus, Honda hit back with another small offering, this time delivering a sub 200cc displacement two-wheeler to its Sport category with the introduction of the Grom. In short time the 125cc Grom has made a big impact in the custom scene with an abundance of aftermarket parts such as suspension upgrades, extended swingarms, body kits, exhausts, and engine hop ups.
Outfitted with sporty styling, the Grom can slip in amongst a line-up of larger displacement street bikes and still get nods of approval, while the bright red calipers at either end give off the illusion of high performance Brembo stoppers. Sporting a small footprint with its 47-inch wheel base the Grom is a master at snuggling into the tiniest of parking spaces, making it a great choice for college students, city dwellers, and commuters. Even though it may be compact lengthwise, for those that are of average height it still offers a decent riding position with its 30-inch seat height and mid controls. And while it does have a two-up seat, with the fuel-injected, 124.9cc, air-cooled, single-cylinder, four-stroke putting out just under 10hp, flogging the Grom is definitely more fun as a solo activity.
Some may chuckle at the horsepower, but weighing in at less than 230 pounds, the Grom has some spunk, making it easy to whip the front wheel towards the sun. Sure your top speed will probably barely crest 60mph and you might not be able to legally ride on freeways or highways in certain states, but the ability to zip around and hoon the bike with supreme ease will make side streets and frontage roads all the more exciting. Add in the fact that you can get about 134 MPGs out of the 1.4 gallon gas tank and the Grom delivers big on satisfaction and enjoyment with a fun-size package and price.