American Motorcyclist Association Urges Extra Travel Caution During Labor Day Weekend
Chaparral Motorsports
|
September 1, 2017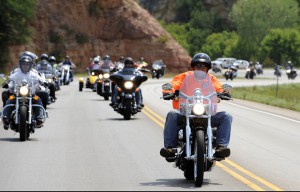 PICKERINGTON, Ohio -- As millions of motorists, including motorcyclists, take to the highways for the long Labor Day weekend celebration, the American Motorcyclist Association urges extra caution and courtesy.

"Motorists and motorcyclists, alike, must remain mindful of those nearby in traffic," said AMA President and CEO Rob Dingman. "The excitement of the holiday weekend and the rush to get to your destination can be distractions by themselves. For motorists, children in the car, smartphones and other devices can take the driver's concentration off the road.

"Riders and drivers should remain sober, avoid distractions, wait an extra second after the traffic signal turns green and take a good look before changing lanes," Dingman said.

To help ensure a safe holiday, the AMA recommends that car and truck drivers:



Keep a close eye out for the increased number of motorcyclists on the roads,

Keep the driver's area distraction-free,

Leave early to avoid the temptation to speed,

Designate a non-drinking driver or plan for alternative transportation.

Motorcyclists are encouraged to:



Take more frequent breaks to remain rested and alert,

Minimize onboard distractions, such as music players and other gadgets,

Never ride while impaired,

Provide an extra safety cushion of space between your bike and the vehicle you are following,

Wear the proper protective gear, including a helmet certified by its manufacturer to meet the DOT standard.

"We want everyone to arrive safely at their destination, so they can fully enjoy this holiday weekend," Dingman said. "Taking a little extra time and a little extra care can contribute to a significantly safer experience."