How To Survive Riding A Motorcycle In A Heat Wave
Chaparral Motorsports
|
July 7, 2017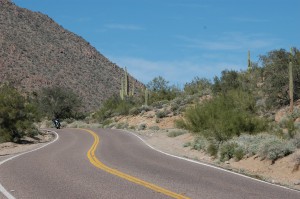 We're approaching mid-July, the peak of summer, and it seems the sparks from the 4th of July have lit a fire in the skies above Southern California and Western Nevada. With a potential record-setting heat wave looming over the Western end of the country it can take a lot of will power to gear up and hop on the motorcycle.

Motorcycle gear is a matter of choice, except in states where things like helmets and eyewear are required, so when it comes to riding in extreme heat some people might forgo the AGATT mantra and opt for cooler attire like a t-shirt and shorts. With this guide we hope to convince those people that with the right gear, you can cover yourself from head to toe and still be comfortable-even when riding through the scorching Nevada desert.

First things first, let's talk about your overall physical health and well-being. Before you even attempt to ride your motorcycle in extreme heat you should know the signs and effects of heat stroke and heat exhaustion. The most important thing to know is that heat stroke can be a serious medical condition and if you are experiencing symptoms you should immediately call or get emergency medical services.

According to the Center for Disease Control these are the symptoms of heat stroke and heat exhaustion and what to do if you experience them: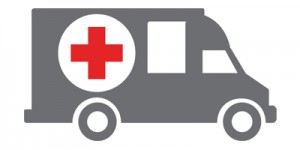 Heat stroke Symptoms
High body temperature (103°F or higher)

Hot, red, dry, or damp skin

Fast, strong pulse

Headache

Feeling dizzy

Nausea

Feeling confused

Losing consciousness (passing out)

What to do:
Call 911 right away- heat stroke is a medical emergency

Move the person to a cooler place

Help lower the person's temperature with cool cloths or a cool bath

Do not give the person anything to drink

Heat Exhaustion symptoms:
Heavy sweating

Cold, pale, and clammy skin

Fast, weak pulse

Nausea or vomiting

Muscle cramps

Feeling tired or weak

Feeling dizzy

Headache

Fainting (passing out)

What to do:

Move to a cool place

Loosen your clothes

Put cool, wet clothes on your body or take a cool bath

Sip water

Get medical help right away if:
You are throwing up

Your symptoms get worse

Your symptoms last longer than 1 hour

Ok, so now that you know what to look for and what to do if you are getting overheated, here are some tips on how to best dress for riding in the heat.

Head
A fullface motorcycle helmet might not sound like the best thing for extreme heat riding, but it offers the utmost in head protection in case of an impact and helps guard you from sunburn on your forehead and cheeks. Many of today's motorcycle helmets come with great ventilation systems that draw air in from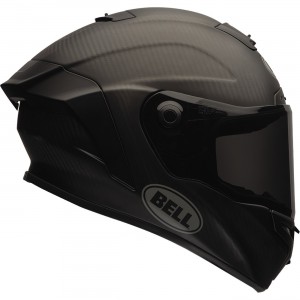 front vents and then expel air out through exhaust vents in the back. The new [mageProductLink sku="650-7069674" title=""]Bell Race Star[/mageProductLink] is an excellent helmet for high temp riding due to several specific features. First of all it has a ton of intakes at the chin, the brow, and top scoop just above the forehead. At the chin bar there is a piece that can be removed to allow direct air to flow to the chin or you can put the plug in and it will direct the flow up and over the front of the face. There's three exhaust vent locations with a set just behind the crown of the head, another set at the lower backside of the head, and a final set incorporated into the back of the neck.

The Race Star has a three piece liner that was created to significantly improve safety by specifically addressing high, low, and medium speed impacts. Another unintended benefit of the segmented liner design it that it has extensive channeling that allows for air to pass through for a more all-over cooling effect. Another unique feature of this motorcycle helmet is that it features a liner comprised of Virus' Cooljade material. The Cooljade infused material helps to decrease skin surface temperature up to 10 degrees Fahrenheit as well as offers wicking characteristics to help keep you cool and comfortable.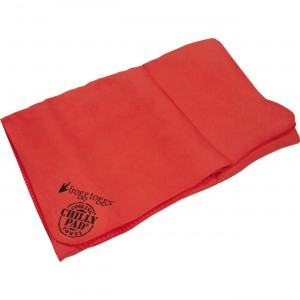 Neck
Just add water to the[mageProductLink sku="350-6165" title=""] Frogg Toggs Chilly Pad Cooling Towe[/mageProductLink]l and reap the benefits of its evaporative cooling effects. Wrap this around your neck and tuck it into your helmet or under your shirt as you ride and the wind hitting the towel will relieve the heat while also protecting the back of your neck from sunburn. Simple, lightweight, and ultra-compact this towel can easily be a tucked away when not in use and a great relief on or off the bike when needed.

Chest/Back
Adding extra layers isn't typically the best idea when riding in triple digit temps, but the [mageProductLink sku="2830-0117" title=""]HyperKewl Deluxe Sport Cooling Vest[/mageProductLink] is one of the smartest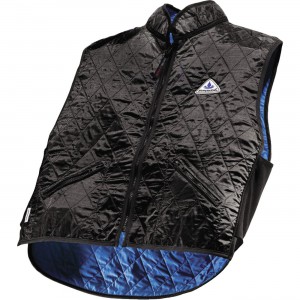 pieces of motorcycle riding gear you can invest in for summertime riding. The quilted vest features a water repellent outer and a polymer embedded fabric on the inside which once dunked in water will retain moisture for anywhere between five to ten hours. As the wind blows against the damp vest it will help your chest and back feel much cooler than the ambient temperature. Slip this motorcycle vest on underneath your riding jacket and it will help you manage your core temperature.

Upper Body
Nothing beats a great fitting leather motorcycle jacket. The only problem is, even with zippered vents leather jackets don't breathe that well and the leather itself can get pretty warm when subjected to direct sunlight. When it comes to summertime riding a mesh motorcycle jacket can make it much easier to endure an all-day ride. Mesh jackets have come a long way with high quality materials and stitching methods that hold up exceptionally well to abrasion. Most jackets also come outfitted with removable armor in the elbows, shoulders and back. With their highly breathable design you could throw on a mesh jacket with all the padding in place and still get plenty of airflow. Basically you get nearly all the cooling benefits of riding in a T-shirt without road rash or sunburnt arms.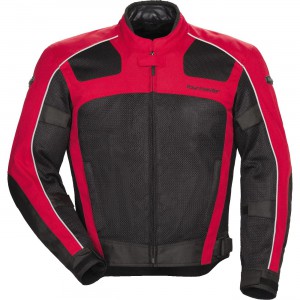 The [mageProductLink sku="03-8751-0301-04"]Tour Master Draft Air Series 3[/mageProductLink] Vented Textile Jacket is a great summer jacket as it offers durability with Armor-Link mesh material combined with 600D polyester in high impact areas. You get impact protection with C.E. approved armor and a tailored fit with adjustable tabs at the biceps, forearms, cuffs, and waist. If by chance you get caught up in a freak summer storm the jacket comes with a waterproof liner that can be zipped into place.

Hands
Sweaty hands simmering in a pair of leather motorcycle gloves is no way to enjoy a ride. Once again the high ventilation characteristic of mesh material comes into play when it comes to outfitting your hands. The [mageProductLink sku="231-0088-x-s" title=""]AGV Sport [/mageProductLink]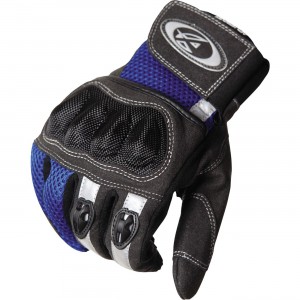 [mageProductLink sku="231-0088-x-s" title=""]Mercury Vented Textile Gloves[/mageProductLink] feature a backhand that is a mix of mesh and nylon while the palm area is comprised of durable Clarino synthetic leather. This combination of materials offers great ventilation for your hands while also providing protection in the event of a crash. Intake vents over the index and pointer finger help deliver a steady stream of fresh air to the top of the hand while a hard knuckle protector and padded palm area ensures comfort and a layer of extra safety upon impacts.

Legs
I would never advise you to ride a motorcycle in shorts, but toss on a pair of the [mageProductLink sku="033-3403-3" title=""]Scorpion EXO Drafter II Vented Textile Pants[/mageProductLink] and you probably won't notice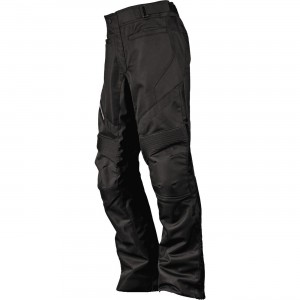 much of a difference. These motorcycle pants have durable Poly mesh on the entire front (except for the knee area) which means you'll have a massive amount of air flowing directly to your legs. For abrasion protection and high wear resistance the knees and backside feature 600 Denier Nylon. There's removable Exo Tec C.E. approved armor at the knees that is perforated giving you the best of both worlds, padding and protection.

Feet/Socks
Most people will just slip on a pull of cotton socks, slip on their motorcycle boots and hit the road. It's not a bad thing, but there's a better way. You can retain a lot of heat in your feet and I don't know about you but when my feet get hot they get sweaty, itchy, and smelly. Try out a pair of [mageProductLink sku="020-3431-0157" title=""]Alpinestars Road [/mageProductLink]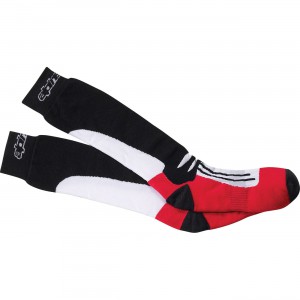 [mageProductLink sku="020-3431-0157" title=""]Racing Summer Socks[/mageProductLink] and you just might find your feet will thank you for it. These motorcycle socks are made from Coolmax fabric which utilizes technical polyester fibers that aid in breathability. In addition to the Coolmax material, Alpinestars designed these socks with strategic mesh panels to promote cooling and the sole features Nostatex material to help wick away moisture to keep your feet dry and odor free.

Feet/Boots
Did you know that you can get mesh motorcycle boots? There are several boot companies that make perforated motorcycle boots; TourMaster, Firstgear, and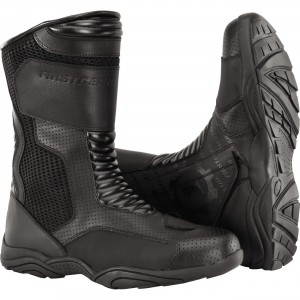 Sidi are just t few. Of the three just mentioned, [mageProductLink sku="043-2144-x-41" title=""]Sidi's Tour Air Vented Boots [/mageProductLink]probably offer the most ventilation with about 75 percent of the boot constructed from Sidi's proprietary 1.7mm thick, perforated Technomicro outer material. Besides having a massive amount of built in air conditioning, with this full length side zipper and Velcro closure, these boots are extremely easy to slip out of a the end of a sweltering ride. Good quality construction, a non-slip lugged sole, as well as plenty of ankle, heel toe protection, these boots have everything you'd expect from a typical pair of motorcycle boots.

Hydrate
The most important thing to do when riding in the heat is stay hydrated. That can sometimes be difficult to do on a motorcycle. Most people would just throw on a hydration pack. While it's not a bad idea, wearing a hydration pack does bring up some issues. First of all it adds extra weight to your back and shoulder area. Secondly, no matter how small or compact they are, hydration packs don't breathe, thus negating some of the benefits of wearing a mesh jacket. So here's a solution. Instead of wearing the hydration pack, pull the bladder and hose system from your hydration pack and stuff it all into a tank bag. Depending on the size of the bladder you use you might need a rather large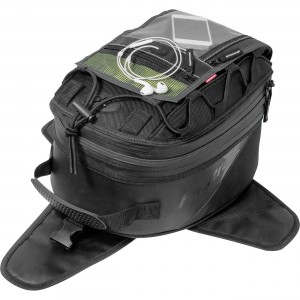 tank bag. The[mageProductLink sku="310-2199" title=""] Fastrax Backroads Series Tank Bag[/mageProductLink] from Dowco is a decent size and can be made even bigger with its expandable top section. Most tank bags come with an audio/earphone port but this bag has the added benefit of a hydration port as well, making it easy to access the hose to your hydration bladder when needed. With super strong magnets and long reaching straps this motorcycle tank bag gives you two mounting options. Water resistant with waterproof and lockable zippers, a large clear vinyl top pocket for your phone, plenty of storage, and a backpack like sling, this tank bag solves a lot of problems.

Keep it Upright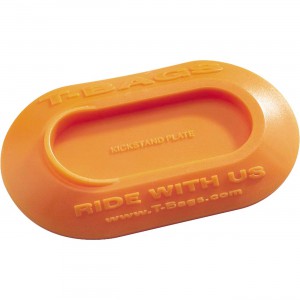 One thing you might not think about until it's too late is the fact that the hotter the ambient temperature gets the softer some surfaces like asphalt can get. That means, when you stop for lunch and kick out your kickstand, when you come back your bike might not be in the same upright position you left it in, but rather lying on its side on the parking lot. This frightful scenario can be especially true with extremely heavy touring bikes and baggers. All that weight sitting on the small footprint of your kickstand combined with hot asphalt is the perfect recipe for disaster.

To help keep your motorcycle upright when parking on hot asphalt or any softer surfaces (like grass or dirt) for that matter, your best best is to use something like a kickstand puck or this [mageProductLink sku="310-5001" title=""]Kickstand Boot[/mageProductLink] from T-Bags. With its wider surface, the Kickstand Boot will help displace the weight of your motorcycle across a broader patch of asphalt making it less likely for the kickstand to sink in. Extremely light and compact, it's made from heavy duty PVC and measures in at 6" H x 1" W x 3.5" D, you can keep this Kickstand Boot in your saddlebag, stash it in your tank bag, or tuck it away in a compartment on your fairing if you have one.

In the event that you don't have a Kickstand Boot you can always use a crushed soda can or even a flat piece of wood to help keep the shiny side up.