Honda Donates Two Africa Twins To Redondo Beach P.D.
Chaparral Motorsports
|
May 24, 2017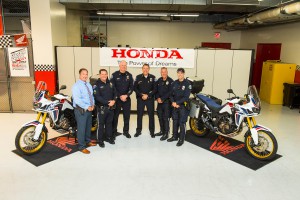 TORRANCE, Calif. (May 23, 2017)
- American Honda donated two Africa Twin adventure motorcycles to the Redondo Beach Police Department yesterday during a ceremony at the company's offices in Torrance, California.

The donation was to support the recently launched City of Redondo Beach Police Foundation, which funds new technologies to help advance the vision of the police department. American Honda Community Relations had already assisted the foundation as a founding sponsor, donating a pair of Pioneer 700 side-by-side vehicles that are currently being used by beach and community units.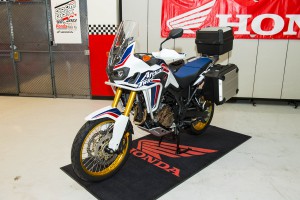 More recently, officers began considering the possibility of transitioning from their current police motorcycles to an adventure-bike platform, with the idea that their relative agility, lighter weight, and increased suspension travel would make them well suitable for police work. Police Chief Keith Kauffman approached Honda with the idea, and after officers successfully tested a pair of units at a Ride For Kids event, Honda decided to move ahead with the donation.

The donated Africa Twins are equipped with automatic Dual Clutch Transmission (DCT), which could enable officers to focus more of their attention on riding and police work. In addition, the units have been equipped with a number of Honda Accessories, including hard luggage and a top box. With the help of noted bike customizer Roland Sands, the police department expects to make a number of additional modifications targeted to add additional law-enforcement functionality.

"One of the things that the police department is really focused on is our new vision statement: 'We are the community, leading the way in law enforcement," Chief Kauffman said. "That's why when we look at partnering, we're going out to the experts. If we want to be one of the most innovative law-enforcement departments in the country, we have to push the needle, and Honda's generous donation of these Africa Twins will help us to take a big step toward that objective."

"We're pleased to provide the Redondo Beach Police Department with these Africa Twin models," said Chuck Boderman, American Honda Vice President, Motorcycle Division. "Redondo Beach is a neighbor of our home city of Torrance, and we support the City of Redondo Beach Police Foundation's work to develop and incorporate technologies not typically used for police duties. We hope that these motorcycles will help the department's officers to carry out the important work they do for our community."

Chaparral Motorsports is an authorized Honda dealer.