If You Can't Make It, Fake It
Chaparral Motorsports
|
April 25, 2017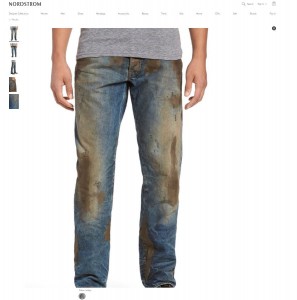 Apparently those in high fashion think it's cool to look like you went out and had fun getting dirty or do manual labor for a living, as evidenced by these $425 Barracuda Straight Leg Jeans that are being sold by Nordstrom. Once again the fashion industry, and Nordstrom in particular, has blown the minds of the general public with a garment that you'd think it was Fake News. Unfortunately this is the world we are living in now with fake muddy jeans.

There are so many things wrong about this besides the absolute madness of the price tag on these jeans-let alone ones covered in fake (I'm guessing) dirt. First of all, for anyone who doesn't know how to get a pair of jeans to look like this on their own, you're an idiot! may I suggest you spend a day on a dirt bike or go muddin' with some ATV dudes. Better yet, go volunteer with a local charity that does things like cleans up your neighborhood, builds housing for those in need, or manages a community garden. Basically, go out and have real fun or do real work, don't try and fake it.

For $425 you better be getting jeans made from unicorn fur and that fake dirt better be laced with kryptonite. There are motorcycle jeans with built-in armor, reinforced seams, and Kevlar® materials incorporated into them that don't cost nearly as much as these jeans and they look a thousand times better.

The description for these jeans is absolutely priceless, it reads: Heavily distressed medium-blue denim jeans in a comfortable straight-leg fit embody rugged, Americana workwear that's seen some hard-working action with a crackled, caked-on muddy coating that shows you're not afraid to get down and dirty. Right, because nothing says "I'm not afraid to get down and dirty like a pair of fake dirt-caked pants." Seriously, how dense can people be?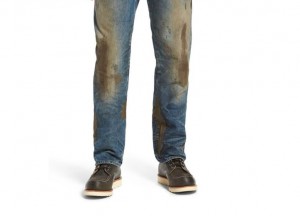 Probably the funniest thing about this entire deal is the boots the guy is wearing in the image. I mean, you might want to play hard working, blue collar dress up with your jeans, but the footwear, that's a big no no! You gotta have on the fresh, brand new work boots without a scuff on them and snow white soles if you're gonna score a date with the hipster barista down at the local coffee spot.

Can we really be surprised by this though? Just last month Nordstrom was selling jeans with "windows" cut into them so people could show off their knees. You know because the knees are the windows to the soul in the new millennium.

DuPont™ and Kevlar® are trademarks or registered trademarks of E.I. du Pont de Nemours and Company