Ken Roczen's Scary Off At Anaheim 2
Chaparral Motorsports
|
January 23, 2017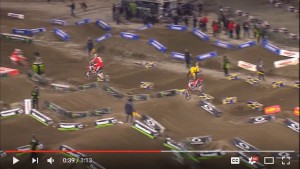 Three rounds into the 2017 Supercross season and we experience one of the scariest offs in that past few years, when Honda Factory rider Ken Roczen took a hard slam. The nasty spill occurred half way through the 450 main as Roczen was lining Cole Seely up in his sights to take make a move for second place, after a seventh place start, when he launched off a triple and got bucked flying some 50-plus feet with only his hands on the bike before he finally let go to separate himself from the bike before slamming hard into the face of a double. Warning the video and accompanying image from Roczen's Instagram isn't for the squeamish.

https://youtu.be/VWvcU6iXbv4

From where I was sitting (behind home base) when he landed Roczen was in between two jump so I couldn't see him and it seemed like it took a long time before medical personnel could actually get the cart to him to haul him off the track. Thankfully right before he was taken off the track I did see Roczen standing with the aid of others. An early report from Racer X right after the race stated that Roczen had suffered a compound fracture of the left arm. If you know anything about broken bones, you know whenever you hear the word compound it's not good and can be a pretty gnarly sight.

Just a few hours ago, Roczen posted on his Instagram page an update from the hospital and it's a pretty serious injury to the left arm with a dislocated wrist, dislocated elbow, and compounded radius. The post/image is below (warning it's a little graphic).



It's a very unfortunate outcome for Roczen especially based on the season he was having so far winning the two opening rounds with a six point lead over Ryan Dungey. Roczen and the brand new Honda CRF 450R were very impressive in the first two rounds with him wining A1 with a 16 second lead, and then following up with a great battle against reigning 2016 SX champion Ryan Dungey at San Diego. Many fans were considering this to be Roczen's dream season in which he would finally able to capture a SX title, unfortunately that won't be the case.

As it stands we don't know how long Roczen will be out, but we wish him the best and speedy and healthy recovery.