Can-Am Introduces The Maverick X3: Industry's First 72" Wide Side-by-Side
Chaparral Motorsports
|
August 17, 2016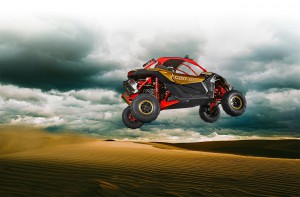 Once again Can-Am has shaken up the side-by-side world with the introduction of another industry first, and this time it's a big one-literally-as the new Can-Am Maverick X3 X RS is this first factory-built UTV that measures 72" wide. Two years ago Can-Am boosted itself to the top of the horsepower tower amongst its competitors with the announcement of its two seater Maverick X ds and four seater Maverick Max X ds models that came with the industry's first factory-installed turbochargers. With its wide width the turbo-boosted Maverick X3 X RS has been specifically designed to provide solid performance enhanced platform that is optimally tailored for dune and wide-open desert riding.

[caption id="attachment_60158" align="alignright" width="300"]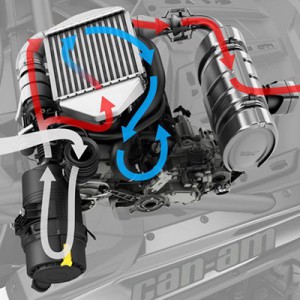 Three oversized, out-of-the-way intakes feed the engine and the CVT with clean air and keep temperatures low and deliver fumes to a sport exhaust out back.[/caption]

Actually there are three models in the twos-seater (no announcement of a 4-seater model has been made) X3 lineup, the Maverick X3 Turbo R, X3 X DS, and the wide boy, the X3 X RS. All three of the X3 models feature a Can-Am designed turbo mated to the company's inline triple-cylinder 900cc Rotax ACE engine. The potent combination produces an industry leading 154hp at 7,500 RPM and 113lb-ft of torque a 7,000RPM, resulting in 0-60MPH in about 4.9 seconds. Horsepower-wise, the X3 puts down about 33 more ponies than the Maverick Turbo models, and 10 more horsepower than Polaris' Turbo RZR models. To manage the power of the boosted engine and ensure power delivery is smooth and reliable the Rotax Engine is connected to a shiftless QRS-X CV transmission. For long lasting performance the drivetrain features an overbuilt drive belt, a strong three-pulley design, and no prop shaft, all of which results in a gear-on-gear system that is durable and requires no maintenance. Everything has been carefully calibrated to work with the turbo to virtually eliminate lag, without shifting or torque interruption.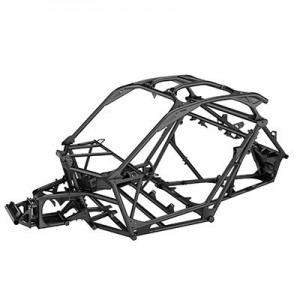 The X3 family is based around a dual-phase 980 steel frame, which according to Can-Am is 20-percent lighter than its closest competitor while offering 53-percent better torsional stiffness. With a greater tensile strength and elongation compared to high-strength low-alloy (HSLA) steels of the same yield strength, dual phase steel is used in a variety of automotive applications with the higher level of tensile strengths such as the 980 variety used for passenger safety cage areas. The long wheel-base frame is extremely light and strong for exceptional control and handling characteristics.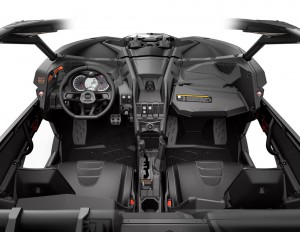 All three models provide an "in-the-car" feeling thanks to a low seating position provided by low-slung, one-piece molded seats. The seat positioning lowers the center of gravity and delivers a confidence-inspiring ride by helping the driver and passenger feel more connected to the vehicle. Driver and passengers of all heights can get comfortably seated via the four-way adjustable erogprint seats. The seats can be raised 2" and can slide forward/backward 6". The wraparound cockpit gives the driver the feeling of piloting a track oriented sports car with its centralized brake and gas pedals and race-inspired flat bottom steering wheel (steering wheel tilts up or down 25 degrees.).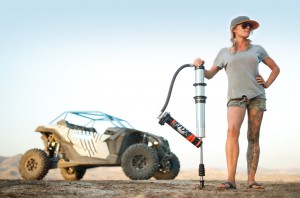 Besides the chassis and powertrain the X3 family shares other similarities such as Tri-Mode Dynamic Power Steering (DPS™), two driving modes, selectable 2WD / 4WD with Visco-Lok X auto-locking front differential, quarter doors, and redesigned trophy truck inspired TTX suspension. The all-new four-link TTX suspension delivers up to 24-in of travel (varies by model) and features a trophy truck-like trailing arm and three links dedicated to keeping the wheels perpendicular to the ground. The new suspension ensures high-speed, confidence inspired driving by delivering crisp steering and very little bump steer. The few things that separate the three models from one another mostly lie in the wheels, ground clearance and suspension setup.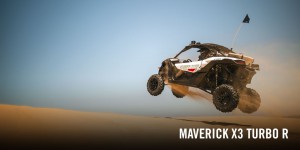 Maverick X3 Turbo R

The Maverick X3 Turbo R is available in white and comes with 14" aluminum wheels and 28" Maxxis Bighorn 2.0 tires. Front suspension is handled by Fox 2.5 Podium Piggyback QS3 shocks that feature compression adjustment. Also up front are double A-arms with sway bars. Rear suspension comes via 4-link Torsional Trailing-arms with sway bars and Fox Podium Piggyback shocks with QS3 compression adjustment and bottom out control. The front and rear suspension have 20" of travel. This car's dimensions are: Ground Clearance: 14", wheelbase 102", length 131", width 64" height 66". MSRP $22,999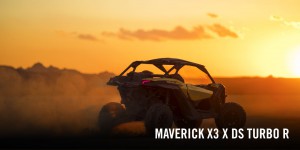 X3 X DS

The Maverick X3 X DS is available in Circuit Yellow or Triple Black painted. Similar to the X3 Turbo R this model also comes with 14" aluminum wheels, however the wheels are of the beadlock variety and instead of 28" Bighorns it comes with 29" tires. Up front fully-adjustable FOX 2.5 Podium RC2 HPG piggyback shocks and double A-arms with sway bars handle all the bumps with 20" of travel. Outback are matching Fox 2.5 Podium RC2 shocks that provide extra comfort with bottom-out control adjustment. It also has 4-link Torsional Trailing-arms with sway bars and 20" of travel in the rear. The X3 X DS has the same dimensions as the X3 Turbo. MSRP $24,999


X3 X RS

The top of the model line X3 X RS is available in Triple Black or Gold and Can-Am Red. As stated earlier the X3 X RS is the world's first factory 72" wide side-by-side. The X3 X RS has 14" beadlock wheels that are shod with 30" Maxxis Bighorn 2.0 tires. As the wide bodied, dune destroyer of the family the X3 X RS is loaded with premium suspension components such as reinforced, boxed-in, trophy truck inspired double A-arms with sway bars.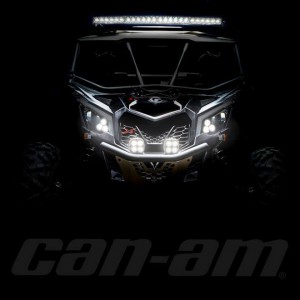 The front suspension is connected to Fox Podium RC2 PHG Piggyback shocks with bypass and dual-speed compression and rebound. FOX 3.0 Podium RC2 HPG shocks with remote reservoir with bypass and dual-speed compression and rebound are found in the rear. Similar to the other two models the rear is setup with 4-link Torsional Trailing arms and sway bars. The X3 X RS has 22" of travel up front and 24" at the rear. The dimensions are: Ground clearance: 15", wheelbase 102", length 132", width 72", height 67". MSRP $26,999.