Yamaha Announces All-New YFZ50 Youth ATV
Chaparral Motorsports
|
June 8, 2016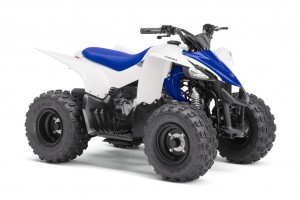 KENNESAW, GA--(Marketwired - June 08, 2016) - Yamaha Motor Corp., USA, announces the all-new YFZ50 youth ATV, introducing riders ages 6-years-old and up to the fun and exciting world of sport ATVs. With new styling based on the popular championship-winning YFZ450R, the all-new entry-level YFZ50 brings Yamaha sport ATV performance and quality to more families and the next generation of motorsports enthusiasts.

Built to Yamaha style and standards, the new electric-start YFZ50 mounts a 49.4cc air-cooled 4-cycle SOHC engine with a continuously variable transmission (CVT) on an all-new lightweight chassis. The 50cc-class machine combines an exciting acceleration feeling, comfortable ride, and ease of use for new riders, plus integrated parental controls for added peace of mind during supervised riding. The CVT transmission delivers a smooth start and fun acceleration feeling to help young riders develop their off-roading abilities.

Room To Grow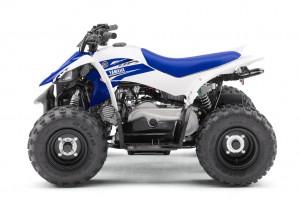 The YFZ50's chassis incorporates a comfortable and roomy rider position to allow young, developing enthusiasts to grow and adjust their riding posture and position, as well as affording years of enjoyment. Newly designed shocks provide superior handling and comfort, increasing the fun and performance of the sporty ride.

Parents can feel confident introducing their 6-year-old to ATV riding with parental controls integrated into the machine, including adjustable RPM and throttle limiters, as well as a tether switch capable of shutting off the engine from a pull-string if or when needed.

Make Offroading A Family Affair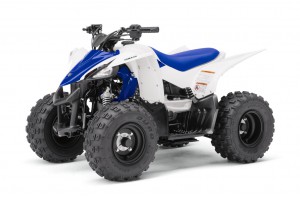 "Off-roading is a family activity, and Yamaha is now providing riders 6 years and up the opportunity to get involved on the sporty and dependable YFZ50," said Steve Nessl, Yamaha ATV/SxS group marketing manager. "The YFZ50 allows parents to begin mentoring their kids in proper ATV riding technique and safety habits, while introducing them to the fun and exciting world of sport ATVs."

The 2017 YFZ50 comes in Team Yamaha Blue / White at a $2,099 MSRP.

Chaparral Motorsports is an authorized Yamaha dealer.