Michael Dunlop Sets New Lap Record At Isle Of Man TT
Chaparral Motorsports
|
June 7, 2016
If you ever thought about going to the Isle of Man Tourist Trophy (IOMTT) Races this year would have been the best year to do it, as you could have witnessed history as Michael Dunlop put down the fastest lap in course history with a time of 16:58.254 on the 37.73 mile course.

There's a multitude of craziness behind the record Michael set this past Saturday. First of all his record was the first time anyone had completed a lap in less than 17 minutes, and he did it twice--on the first two laps of the race. His average speed around the course aboard his Hawk Racing BMW was a jaw-dropping 133.392 mph-if you've ever seen a video from the Isle of Man TT race you know that any speed over 90 can be a hair-raising experience. Dunlop's record in the Superbike TT race was a blistering 1:15.643 faster than the old race record. Along with achieving the fastest lap record, Dunlop went on to win the race, marking his 12th career TT victory.

Jump on board and witness history-if you have the nerves.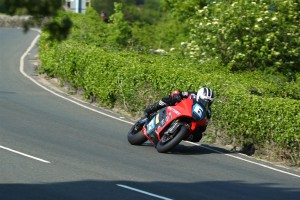 Michael's brother William is also making his mark at this year's TT races having cleared a 115.43mph lap and a time of 19:36.707 aboard an electric Victory RR during the second practice of the TT Zero Category. The time marked a milestone for Victory racing as it's the first time the team has achieved a sub 20-minute lap at the TT. Last year was the first time the Victory team raced the IOMTT Zero event and the team rode away with a third place finish with a 111.62mph lap with its Empulse RR motorcycle.

According to Victory, William piloted the all-electric Victory to a top speed of 165mph through Crosby and 158.6mph through the Sulby speed trap. He was the fastest through the Grandstand hitting 146.1pmh. The Victory team credited its notable lap time to changes made to the final gearing, pressure change in the Metzeler RaceTec K2 tires, and some minor front suspension adjustments.

The Dunlop name is like royalty in Irish motorsports with Michael and William's father Robert, and uncle Joey both icons in the racing circuits. Joey holds the record for most TT wins with 26, while Michael previously held the record number of wins at the North West 200 with 15 until this past May when Alastair Seeley surpassed him and marked his 17 win.