Guy Martin Defeats The Wall Of Death With World Record Speed
Chaparral Motorsports
|
March 29, 2016
Oh you rode your motorcycle across the country? That's cute. Guy Martin just sustained more than 5Gs of force while riding nearly 80mph in a circle of wooden planks on a motorcycle he built himself. On Monday, the motorcycle madman set the world record for the fastest speed on a wall of death. Martin was originally going to go for the record aboard a modern Indian Scout but in the end opted for 750cc BSA Triple that he built himself. Once up to speed Martin was able to reach his record of 78.15 mph while sustaining 5.2Gs. The record was shown on the UK's Channel 4 which you can see here-and as you can tell from Martin's jiggling head, running circles on wooden planks at nearly 80mph is no easy feat.




Another world speed record for #GuyMartin - 78.15mph. Massive congratulations.#WallOfDeath https://t.co/wi0boqpjoB
- Channel 4 (@Channel4) March 28, 2016
For those unfamiliar with The Wall, aka silodrome, aka motodrome it's a carvinal/circus motorcycle attraction that started in the US more than 100 years ago. Made from wood, the circular "tracks" were usually anywhere from 20-36 feet in diameter and about 14 feet tall. The riders rode Indian Motorcycle's Scout models, (these days many wall riders still opt for vintage Indians as their steed of choice). Riders start by circling the bottom of the wooden cylinder and then once they have enough speed to "stick" to the wall they can then ride up the perpendicular wall and ride with their bodies and motorcycle parallel with the ground. As they circle around the riders hit speeds of about 20mph and perform tricks such as sitting side saddle, riding with no hands, and weaving up and down the wall as they snatch dollar bills from onlookers hands. Often times there will be more than one rider/motorcycle circling at a time and some attractions even mix in go carts to add to the thrill of the show. It's definitely not a place where you want to get distracted on the attempt with shoddy motorcycle tires.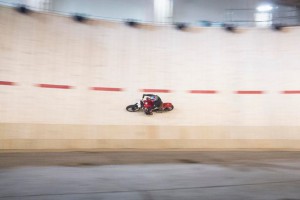 After training with the UKs best and most well-known Wall of Death rider, Ken Fox, it was determined in order for Martin to successfully achieve his record ride a wooden cylinder much larger than the traditional size would be needed. Martin's goal was to achieve a speed of 80mph and to do that type of speed on a standard size silodrome he would have to endure nearly 10Gs-similar to what fighter jet pilots experience. Therefore a much larger wall was built that measured 40 meters in diameter. A wall of that size also meant Martin had to reach a faster speed on the bottom before he could begin to climb and stick to the wall.

Early in the morning Martin reached his goal of 80mph, however later in the day he made several attempts, one of which he reached 71mph and then greyed out (a state of vison loss before blacking out) but was able to maintain control and bring the bike back down safely. He eventually hit his record speed of 78.15mph.

Martin commented that his record ride was one of the craziest experiences of his life. A wild ride indeed, Martin's incredible record comes a little more than a year after he broke his back after slamming against the tarmac at more than 130mph while leading the Ulster GP in Ireland.

A non-average man often doing non-average things, it was back to his average-guy job as a truck mechanic the following morning. "Back to work tomorrow," Martin was quoted by Motorcycle News as saying. "I've got a R620 (Scania) with a headlight problem that needs sorting in the morning."

He might be a nut a, but he's one nut that's more determined, more skilled, and braver than most other motorcycle enthusiasts or professional racers for that matter. I guarantee if I attempted this I'd puke in my helmet before I even got up on the wall.