Motorcycle Theft Prevention: Protecting Your Prized Possession
Chaparral Motorsports
|
March 16, 2016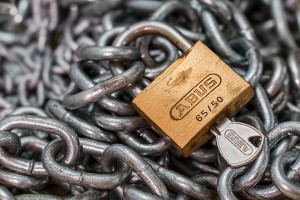 According to a report released by the National Insurance Crime Bureau back in October 2015, the good news is that motorcycle thefts have decreased by 6% in 2014 compared to 2013 even though overall motorcycle sales increased by 4%. Even better news is that from 2011-2014 motorcycle thefts decreased by 8%. So while more motorcycles are being sold, less have been getting stolen. The bad news is, criminals would still rather waste their time and energy trying to steal your motorcycle rather than legally purchase one like everyone else.

Here are a few other facts gleaned from that report: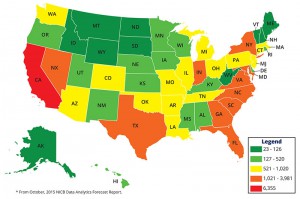 -42,856 motorcycles were stolen in the U.S. in 2014 / On the positive side, from 01/01/2014 through 06/30/2015, 17,757 or 41% of the 42,856 bikes were recovered.

-Motorcycles are more likely to be stolen in warmer months. In August 2014 12% (4,965 motorcycles) were stolen and in July 2014 11% (4,850 bike) were stolen.

- California, Florida, Texas, South Carolina, North Carolina, New York, Indiana, Nevada, Georgia, and Maryland ranked 1-10 respectively with the most m/c thefts by state in 2014. These 10 states accounted for 58% of total thefts in the US.

-- In 2014 California had the most recoveries statewide (2,764). Nevada had the highest rate of recovery (40%) for the top 10 theft states.

-Las Vegas, NV, New York, NY, San Diego, CA, Miami, FL, San Francisco, CA, San Antonio, TX, Houston, TX, Indianapolis, IN, Los Angeles, CA, Albuquerque, NM, Austin, TX, Columbia, SC, Phoenix, AZ, Philadelphia, PA, Orlando, FL ranked 1-15 respectively as the cities with the most m/c thefts in 2014. These cities accounted for 7,523 of the 42,856 motorcycles stolen.

There's no absolute way to keep your motorcycle (or pretty much any vehicle for that matter) from getting stolen, but if you take a few precautions you can help reduce the chances of your motorcycle being a target for theft.

What Can You Do?


Lock your ignition and forks. Additionally, use a cable lock or disc lock to secure your bike or lock it to an immovable object.

Whenever possible park your motorcycle in a locked garage--out of sight out of mind. If you can, block your bike in with another vehicle to make it harder for thieves to get the bike out.

When parking on the street park in a well-lit area with high foot traffic. If possible, avoid parking between vehicles or near/against hedges that can provide cover for thieves.

When staying at a hotel/motel try to get a room on the ground floor and park right in front of your room (we've even heard of people sneaking their bike into their room-once it's cooled down of course). If you're staying at a large complex, ask if you can park in front of the hotel entrance in view of the night clerk (a visit from Mr. Andrew Jackson or even a pizza might help convince a lonely night clerk to pay extra special attention to your pride and joy).

If you have to park in a parking structure try to park in view of a security camera.

If you park your motorcycle outside your house install a motion light to help deter thieves. Cover your motorcycle with a non descript (no branding, no bright colors) motorcycle cover.

When locking your bike up lock it something heavy, difficult to move, or something that can't be taken apart: e.g. a cement filled pole, heavy steel, or another motorcycle.

If you're really paranoid you might even consider installing a hidden kill switch or create some kind manual manipulation that makes your bike inoperable to an unsuspecting thief e.g. remove the main fuse.

Types of Motorcycle Theft Deterrent Devices:
Disc Locks
Disc locks are often the smallest and easiest to pack on a ride with you. They're called disc locks because they are designed to secure through the venting holes/slots on your brake rotor(s) to prevent someone from rolling/riding your bike away. There are a variety of different shapes and styles. The key things to pay attention to are the size of the holes or slots in your rotor and make sure that the pin or shank on the lock you choose will fit. Also, if you get a lock that slides onto the disc make sure the lock is long enough to reach a hole or slot in the disc.

The Kryptonite Kryptolok DFS 10 Disc Lock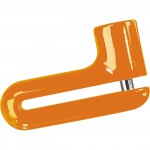 [mageProductLink sku="313-2062" title=""]The Kryptonite Kryptolok DFS 10 Disc Lock[/mageProductLink] is an extremely popular disc lock. It features a hardened drop forged steel body with a 10mm diameter pin, 8mm slot width and 77mm slot length. The lock comes with a carrying pouch that you can secure to your bike or toss into you back pack.



Kryptonite Evolution Disc Lock Premium Pack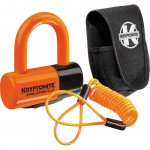 The Kryptonite Evolution Disc Lock is an extremely heavy duty option that offers a little more versatility than DFS 10 lock as it can be used to secure a chain, cable or possibly even a neck lock on some motorcycles. The lock features a 14mm hardened MAX-Performance steel shackle that resists cutting and leverage attacks and a reinforced anti-drill/pull cylinder protection system. The [mageProductLink sku="313-2111" title=""]Kryptonite Evolution Disc Lock Premium Pack[/mageProductLink] is a great buy because it comes with a carrying pouch and Hi-Vis orange disc lock reminder cable that you can loop around the end of your handlebar so you don't forget to remove the lock when you're ready to leave.

Cable/Chain locks
As the name implies these are heavy duty security devices that are designed to secure your bike by looping them through your motorcycle frame and/or wheels. For best results you should use a cable or chain to secure your bike to a heavy or immovable object or lock several bikes together.

Kryptonite Kryptoflex 1018 Key Cable Lock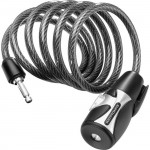 [mageProductLink sku="313-2058" title=""]The Kryptonite Kryptoflex 1018 Key Cable Lock [/mageProductLink]measures 6 feet long and is made up of a heavy-duty 10mm braided steel cable with a waterproof vinyl skin to protect your bike's surfaces. The Lock head rotates 360 degrees for easier handling during lock up and removal. The nice thing about a cable lock is that you can run it through items like your helmet and jacket to secure them to the bike as well. Cable locks like this can be looped around a sissy bar or stored in a saddlebag or backpack for easy carrying while riding.

OnGuard Akita Series 15 foot Cable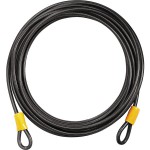 If you're going to be riding with a group the OnGuard Akita Series 15 foot Cable is a smart choice. A little more weight to carry than the Kryptoflex 1018, this Akita cable offers 15 feet of steel braided cable making it easier to lock up multiple bikes or loop through a steel structure. This cable doesn't come with a lock so you'll have to provide your own.



Kryptonite New York Chain and Evolution Series 4 Disc Lock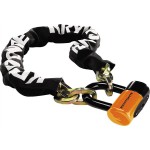 For extreme situations there's the[mageProductLink sku="313-2112" title=""] Kryptonite New York Chain and Evolution Series 4 Disc Lock[/mageProductLink]. With this you get a chain comprised of 6-sided, 11mm, hexagonal, heat-treated, boron manganese steel chain links and a 14 mm hardened max performance steel shackle with double deadbolt locking mechanism. The chain is just over 5-1/2 feet long and is should probably be carried in a saddlebag (or around your neck if you're into Run DMC).

Alarms
Alarms are a great theft deterrent. We've all been woken up in the middle of the night due to a car alarm squealing away, so we know how annoying they can be-just think how loud it is when you're right next to the vehicle.

Bully Billet Steel Alarm Disc Lock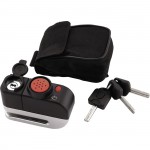 If you want an easy, inexpensive, and more universal application alarm then the [mageProductLink sku="313-2243" title=""]Bully Billet Steel Alarm Disc Lock[/mageProductLink] should be right up your alley. Similar to the Kryptonite Kryptolok DFS 10 Disc Lock, this will slide over and secure to your brake rotor. The big difference is this lock has a movement sensor integrated into it that emits a 110 decibel alarm when the lock is disturbed. Not only can this help scare a thief away but if you forget to remove the lock you'll definitely remember as soon as you move the bike.