Home Coming: Chad Reed's Back On Blue
Chaparral Motorsports
|
February 10, 2016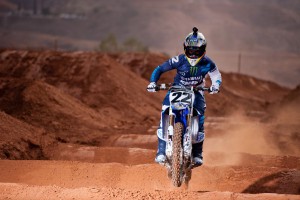 They say age is just a number. As we head into the sixth round of the 2016 Supercross season no one is living up to that sentiment more than Chad Reed. On paper he's the eldest competitor of the 2016 450 SX class at 33 years old, however, on dirt Reed is racing like his age is right in line with his number plate. While the majority of the class is anywhere from three to 12 years younger, the only place age has played a factor is in experience. This year marks Reed's 13th season racing Supercross, and as any veteran or even novice racer can tell you, nothing is more valuable than the knowledge gained from experience.

Factory Ride
It's all those years of racing and acquired knowledge that probably explains how Reed was able to seal up a factory ride with Yamaha and co-sponsors Monster Energy, Chaparral Motorsports, and Valli Construction only three days before the season opener in Anaheim and still be able to throttle his way to a sixth place finish. Most younger or less experiences riders would have let a last minute major deal signing like that weigh on their mind, thus affecting their performance.



Fast as Ever
Since the weekend opener, Reed has continued to ride smooth and consistently. In week two at San Diego's Petco Park Stadium he hammered through the lineup at the start of the main event to win the SupercrossLive.com Holeshot Award; and after slipping to fourth place battled his way back to finish in the number two spot just seconds behind race winner Ryan Dungey. Week three was another excellent showing and another second place finish behind Dungey. As it stands now, we are heading into the sixth race of the season and Reed isn't showing any signs of fatigue, only straight determination. Having not finished outside of 6th place so far, Reed is sitting in 5th place with 103 points, tied with Eli Tomac.

Back to Blue
In regards to his Factory Yamaha YZ450F ride, this a home coming for Reed. After winning two national Supercross titles in his home country of Australia, Reed began racing full time in the U.S. on factory Yamahas in 2002. That partnership proved to be extremely successful with Reed winning an East Coast Lites Championship, and two Supercross Championships.

The Yamaha/ChapMoto Connection
Just like Yamaha and Reed, Yamaha and Chaparral have had a very fruitful connection as well. Back in the late '90s/2000, Chaparral campaigned the Supercross series as a privateer Yamaha team with Jeremy McGrath aboard a YZ250. In 1998 McGrath won the 250 Supercross Championship; and while it was his 5th title, it marked the first time ever that a privateer team had won a Championship. The team went on to follow that achievement up with two more wins.
While Yamaha has provided support for Supercross teams over the years, this is the first time since 2009 that they've had an official Yamaha factory Supercross team. This year is also the first time since its '98/'99/'00 three-peat that Chaparral has supported a Supercross team.

Still Hungry
With his 34 birthday approaching in March, the topic of retirement is regularly brought up. Although he's been asked plenty of times, Chad hasn't confirmed whether or not this will be his final Supercross season but has stated that he is still extremely passionate and dedicated to putting in all the hard work it take to be able to pull up to the line and compete for race wins and championships. He has also stated that he is happy to be wrapping up his racing career (when he feels he's ready) with Yamaha.

Fan Favorite
Besides a ton of accolades and success, over his racing career Reed has also gained a huge following of fans from not only Australia and the U.S. but the world over. He is constantly a huge crowd favorite any time he lines up to race. With the culmination of Reed being back on Yamaha where started in the U.S. and won two championships, and with Chaparral's involvement, essentially all the pieces are in place for a story book ending to an illustrious career, whenever that may be.

Sidebar:
Fast Five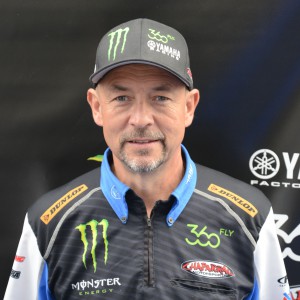 Chad Reed's mechanic, Mike "Goose" Gosselaar, has been in the industry for quite some time and has had a lot of success spinning wrenches and helping riders win races and championships. We were able to fire off a few quick questions to Mike in between practice and prepping for San Diego's second Supercross race.

TWM: During the season what part is replaced most frequently? How often?

MG: Clutch plates are changed before every heat race and sometimes before the main event. All plastics, chain, chain slider parts, and brake pads are replaced every race as well.

TWM: What kind of pre-race routine do you perform on the bike?

MG: The whole bike (chassis) comes completely apart for inspection and is reassembled from the ground up.

TWM: When building this race bike, where were you able to achieve the biggest weight savings?

MG: Our biggest weight savings come from some key factory parts and with extensive use of titanium hardware.

TWM: Barring a major incident, do you use the same frame throughout the entire season? If not, how many frames do you typically go through?

MG: For a 17 round Supercross series, we use the same frame throughout the season, unless there are some unforeseen circumstances.



TWM: Is there some kind of specification or tweak that Chad likes, and that fans may find interesting to know?

MG: Chad really likes a quiet exhaust pipe. It seems to help him maintain his focus on his riding.

Sidebar:
Reed's Career Highlights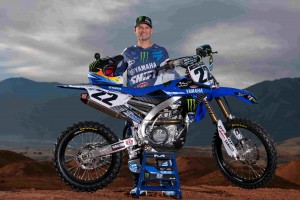 2009

AMA 450 Motocross Series Champion

Australasian Supercross Series Champion

2008

AMA/FIM Supercross Series Champion

Australasian Supercross Series Champion

2007

2nd Place - Supercross Championship

2006

3rd Place - Supercross Championship

4th Place - X Games, Supermoto

2005

Bronze Medal - X Games, Supermoto

2004

AMA 250cc Supercross Series Champion

Action Sports Athlete of the Year Nominee, ESPY Awards

6th Place - X Games, Supermoto

2003

FIM World Supercross Championship

2002

AMA East Coast 125 Supercross Champion

2000

Australian Supercross Champion

1999

Australian Supercross Champion