Toby Price Solidifies Dakar Rally Lead
Chaparral Motorsports
|
January 16, 2016
[caption id="attachment_58131" align="alignright" width="300"]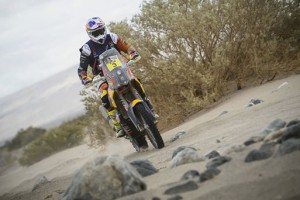 Toby Price 2016 Dakar Rally Stage 10[/caption]

Thursday's Stage 11 of the Dakar Rally in South America saw Australian Toby Price extend his overall lead in the motorcycle division. With only two stages left, Price holds a lead of over more than 35 minutes over Stefan Svitko of Slovakia.

Meanwhile, Honda rider Paulo Goncalves of Portugal crashed out of Thursday's stage. Goncalves had been fighting for a spot on the podium throughout the race.

Wednesday's Stage 10 took riders through the dunes of the Fiambala desert in Argentina. Price had a relatively comfortable lead of 29:53 over Svitko after a marathon Stage 9. So he decided not to push too hard during stage 10. Price finished third behind Svitko and Kevin Benavides of Argentina.

Price saw his lead diminish to 23:12 over Svitko after Stage 10. But as, Cycle News reported, he didn't appear too worried.

"I took it easy because my motorcycle struggled in the heat yesterday," Price said. "I also focused on navigating. It was very difficult at around the 30 km mark, so I took my time around that spot and I think that's where I lost some time. In the last two days I've probably learned more than in my last six rallies. For sure it's built my confidence up a bit and it shows I can navigate."

Paulo Goncalves' Luck Runs Out
[caption id="attachment_58130" align="alignright" width="300"]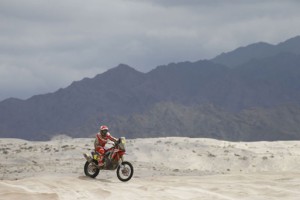 Paulo Goncalves 2016 Dakar Rally Stage 10[/caption]

Goncalves finished fourth in Stage 10, just 14 seconds behind Price and seemed poised to secure a spot on the podium. But after the stage was over, race officials handed the Portugese rider a 39:56 penalty, which dropped him from third place overall to eighth. The penalty was not explained by officials or Goncalves' team.

Goncalves' luck would worsen during Stage 11. The rider crashed around the 118 km mark and was found unconscious. He was subsequently airlifted to a hospital, but the nature and extent of his injuries weren't reported.

Price had another strong outing during the stage. He trailed teammate Antoine Meo of France at the first two waypoints but chipped away at Meo's lead. The stage lead would change hands between the two a couple times before Meo would win the stage by 18 seconds over Price. Despite finishing second, Price managed to extend his lead to 35:23 over Svitko.

Though a crash or mechanical failure could certainly keep Price from the overall win, the real battle seems to be for the second and third spots.

[caption id="attachment_58129" align="alignleft" width="300"]
Ricky Brabec 2016 Dakar Rally Stage 10[/caption]

Svitko and Meo sit 35 and 43 minutes behind Price, respectively, in second and third place. But Pablo Quintanilla of Chile (fourth place) and Benavides (fifth) are nipping at their heels. After over 40 hours of racing, only 12 minutes separates second place from fifth, with two stages left.

Meanwhile, American Ricky Brabec is making quite an impression in his first ever Dakar Rally. Brabec has strung together a series of top 10 finishes and sits in seventh place overall, 1:12:08 behind Price. Brabec said he didn't want to fall prey to the desert on Stage 10, so he played it safe so he would be able to continue on to the finish.